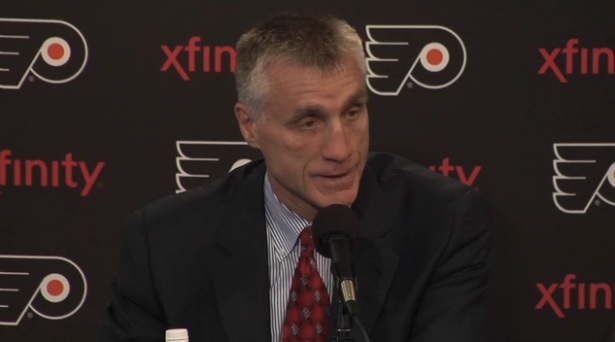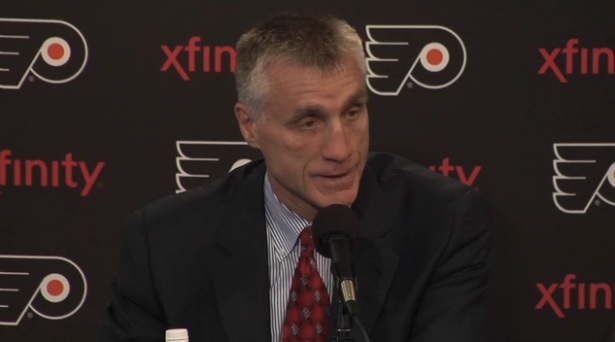 Former Philadelphia Flyers general manager Paul Holmgren endured a lot of criticism during his tenure, as would be expected of any manager who failed to bring a championship trophy to Philadelphia under his (or her) watch. In the eight years he ran the show, the Flyers qualified for the postseason six times, advanced to the Semifinals four teams, made it to the Eastern Conference Finals twice and reached the Finals once.
In spite of this record, he has often been said to be "bad at his job."
When the Flyers hit rock bottom last November in a 9-0 shutout loss against the Washington Capitals, several Flyers bloggers took the opportunity to point out all of the mistakes and mis-steps of the Holmgren era, including the blogs the 700 Level and Flyers Faithful.
At the expense of sounding like a Homer (forgive me), I thought it might be fair to list ten of the best moves he made as general manager in contrast to the lists outlining his blunders. The list is chronological and not ranked based on "quality" (why skirt with controversy?).
1. Trade Peter Forsberg for (Essentially) Scott Hartnell, Kimmo Timonen, Ryan Parent, Scottie Upshall and a 3rd Round Draft Pick

Paul Holmgren became general manager of the Flyers on October 22, 2006 after then-manager Bobby Clarke resigned following some questionable offseason decisions and a 1-6-1 start to the season. Per the book Orange, Black and Blue: The Greatest Philadelphia Flyers Stories Never Told by Chuck Gormley:
"I had enough of the daily grind. Twenty years is a long time to be doing what I did. It can get monotonous at times, like any type of business. I was avoiding anything controversial or anything I'd walk away feeling crappy about. I no longer wanted to fire people. It had just run its course with me." – Clarke
The team finished in 30th place that season with an overall 22-48-12 record. Holmgren certainly had his work cut out for him to rejuvenate the line-up.
On February 15, 2007, Holmgren pulled off the first of a two-part trade that has been considered one of the best in the team's history- sending then-captain Peter Forsberg to the Nashville Predators in exchange for defenseman Ryan Parent, forward Scottie Upshall, a first round pick and a third round pick. The Flyers eventually sent the first round pick back to Nashville in exchange for the negotiating rights for defenseman Kimmo Timonen and Scott Hartnell, who have skated with the Flyers ever since.
The irony of this being one of the most lauded moves by the organization is that they originally didn't want to trade Forsberg, but rather sign him to an extension (!).
From Orange, Black and Blue:
"Before trading him… Ed Snider, Paul Holmgren and Peter Luukko met with Forsberg in an attempt to convince him to stay in Philadelphia beyond the 2006-07 season. 'We all tried from different angles,' Holmgren said. 'We ganged up on him. We didn't want to do this deal, but we couldn't afford not to do it.' "
The Flyers have Forsberg's selflessness to thank for not backing them into a corner, as he offered them the possibility of signing with the team again in July but wanted to see if he could have his feet corrected before signing any new contracts with anyone. He played 33 more NHL games in his career.
2. Trade Alexei Zhitnik to the Atlanta Thrashers for Braydon Coburn
The Forsberg trade helped the Flyers move one veteran for talented youth, but the team would need more than one lopsided trade to turn their fortunes completely around.
Thankfully, the Atlanta Thrashers still existed in 2007.
On February 24, 2007, Holmgren traded veteran defenseman Alexei Zhitnik to the Atlanta Thrashers for defenseman Braydon Coburn. Zhitnik played just one more season and 82 games with the Thrashers before leaving for the KHL. Coburn, who had appeared in just 29 games that season for the Thrashers, has skated in 537 games since with the Flyers as a top four defenseman, averaging 22:04 per game with the Flyers.
3. Trade for Vaclav "Vinny" Prospal
It is never easy for a manager to know whether it's worthwhile to give up assets at the trade deadline for a playoff rental. There is always the potential for it to hurt the organization in the long-term, but adding depth to the roster in advance of a playoff run is forgivable is certainly an understandable move.
Vinny Prospal hadn't been a Flyer for nearly a decade when the team sent a second round draft pick and defensive prospect Alexandre Picard to the Tampa Bay Lightning in exchange for his services. Prospal found instant chemistry with Danny Briere and tallied 14 points in 18 regular season games and 13 points in 17 postseason games as the Flyers fought their way to the Eastern Conference Finals, one season removed from last place. Briere finished the playoffs with 16 points in 17 games played.
Picard played in 181 more NHL games as a member of five different organizations. His last game in the NHL was during the 2011-12 NHL season for the Pittsburgh Penguins.
The player drafted with the second round pick- Richard Panik- has appeared in 75 NHL games with the Tampa Bay Lightning. He has proven to be a top AHL player but hasn't developed into an NHL regular.
4. Trade Everything for Chris Pronger
Hours before the 2009 NHL Entry Draft, news spread that the Flyers had made a blockbuster trade with the Anaheim Ducks to acquire future Hall of Fame defenseman Chris Pronger.
The Flyers had floundered against the Pittsburgh Penguins in the Stanley Cup Quarterfinals just weeks before, allowing 18 goals in six games. The team had tried to rush the development of its previous first round draft pick, defenseman Luca Sbisa, but Sbisa simply wasn't ready.
The Flyers sent Sbisa, forward Joffrey Lupul and two first round draft picks in exchange for Pronger.  Sbisa is still with the Ducks and has become a solid NHL defenseman, though he hasn't developed into a top pairing blueliner. Lupul is now with the Leafs and remains as great a forward as he always was… when healthy.
The two players drafted using those picks were defenseman John Moore (21st overall in 2009) and center Emerson Etem (29th overall in 2010). It's too early in either player's career to judge their full merits, but neither has turned out to be such a slam dunk that the Flyers are regretting the pick loss.
Pronger's presence on the blue line turned out to be exactly what the team needed. Pronger averaged over 25 minutes a night that first season, and he and his defensive partner Matt Carle scored 16 goals and 90 points between the two of them.
It's difficult to discuss Pronger these days without bringing up either the lengthy contract extension still hurting the team or his career-ending injury, but the trade was exactly what the Flyers needed to revitalize the blue line.
5. Sign Ian Laperriere to a Three Year, $5.25 Million Contract
Not every free agent signing or trade needs to be a blockbuster. One of Holmgren's quieter moves in the 2010 offseason was the signing of fourth liner Ian Laperriere. Aside from one 20-goal season with the Colorado Avalanche, "Lappy" had carved out a role in the NHL as a penalty-killing defensive forward  that was unafraid to drop the gloves if needed.
Laperriere was a perfect fit on a fourth line with faceoff specialist Blair Betts (also signed that offseason) and Dan Carcillo. He might have only scored a modest 3 goals and 20 points, but the team relied on him heavily as a role player and mentor.
Laperriere's short tenure in Philadelphia changed from fan-favorite to legend after two horrific incidents involving blocking shots with his face. Nobody wanted to see Laperriere get hurt, but the way with which he put his life on the line just to prevent a goal resonated with many fans.
Laperriere's playing career ended prematurely as a result of his injuries, but the Flyers also gained an excellent front office staff member who is now serving as an assistant coach under Craig Berube.
6. Pick up Michael Leighton off Waivers… a Second Time
Michael Leighton's career in Philadelphia may have lasted a few seasons too long, but it should go without saying that if Holmgren hadn't picked up Leighton off waivers from the Carolina Hurricanes in mid-De
cember, the basement dwelling Flyers would never have had a chance to make it to the playoffs. Leighton provided stability in net after starting goaltender Ray Emery suffered an unforeseen hip condition that nearly ended his career while Brian Boucher struggled in the early goings.
Leighton suffered an injury in mid-March and wasn't available to play until Game Four of the Stanley Cup Semifinals. In his first game back, Boucher was unceremoniously crushed by Ryan Parent and was done for the remainder of the playoffs. Leighton backstopped the Flyers to a legendary comeback, winning four straight against the Boston Bruins.
Leighton's winning ways continued against the Montreal Canadiens, including back-to-back shutouts.
We all know how the season ended, but Flyers fans wouldn't have been able to enjoy the ride without Leighton.
7. Trade Ole-Kristian Tollefsen and a 5th Round Draft Pick for Ville Leino
Ken Holland, general manager of the Detroit Red Wings, had a potential problem on his hands.
Holland needed to clear salary cap space in order to bring an injured Johan Franzen back into the line-up, and the obvious player to move was 26 year-old Finnish winger Ville Leino. Leino had only scored 7 points in 42 games, but was struggling largely because he was a skill player being used as a checking line forward.
The organization knew there was a risk of him being claimed off waivers, so on February 6, 2010, the Red Wings sent Leino to the Flyers in exchange for seventh defenseman Ole-Kristian Toleffson and a 2011 fifth round pick. Tollefsen was placed on waivers after the trade and cleared.
Leino didn't see much ice time until the playoffs, but he immediately showed chemistry with Danny Briere and Scott Hartnell. Leino scored 7 goals and 21 points in 19 playoff games, tying a rookie record set by Dino Ciccarelli.
Leino also added 19 goals and 53 points the following season, all while playing on an $800,000 contract. The Flyers nearly re-signed him during the 2010-11 season, but waited until the offseason to see how their cap space played out after acquiring forward Kris Versteeg in a trade (said trade did not make this list). Leino went on to sign a six-year, $27 million contract with the Buffalo Sabres. He did not score a single goal in 58 games played last season.
8. Sign Undrafted Goaltender Sergei Bobrovsky
There has been a lot of frustration and face-palming directed towards Holmgren for how Sergei Bobrovsky, now a Vezina-winning netminder for the Columbus Blue Jackets, was traded away for draft picks because the organization decided to invest heavily in goaltender Ilya Bryzgalov (a signing that did not make this list for humangous reasons).
What is often forgotten is that Bobrovsky could still be toiling away in the dregs of the KHL if Holmgren and his scouting staff had not signed the then-22 year-old to a three year entry level contract.
"Bob" had received some attention from North American scouts following his international playing career in the World Juniors tournament, but fears that he would never make the trip across the Atlantic scared many teams away from drafting him.  In two seasons with the terrible Novokuznetsk Mettalurg, Bobrovsky had a 16-42-5 record.
One can lament the way in which Bobrovsky was handled by then-coach Peter Laviolette in his rookie season and then traded away prematurely, but it should be acknowledged that it was ultimately Holmgren's decision to sign Bobrovsky in the first place.
9. Sign Jaromir Jagr to a One-Year, $3.3 Million Deal
The talk for weeks leading up to the 2011 NHL offseason was that Jaromir Jagr was considering a return to the NHL. Up until July 1, everyone expected Jagr to sign with the team that drafted him, the Pittsburgh Penguins. The sense of betrayal from Penguins fans that transpired as a result of Jagr's surprising signing to the Flyers, in and of itself, was priceless.
Yet Jagr turned out to be a perfect complement to a [practically] brand new team filled with unproven youth. Playing on a line with Claude Giroux and Scott Hartnell, Jagr scored 19 goals and 54 points while Hartnell reached a career high of 35 goals.
The organization chose not to re-sign him in the subsequent offseason, presumably for both financial reasons and to give young winger Jake Voracek more ice time (with which he has developed nicely). Jagr will still be playing in the NHL through next season, though, and his comeback started with the Flyers in a deal that worked well for him, the team and the fans.
9. Sign Undrafted Forward Matt Read
Holmgren made it a habit of signing undrafted players from the CHL, NCAA and international leagues to make up for the team's lack of draft picks during his stint as general manager. The habit of trading away early picks has lessened in the last four seasons, as the organization appears to finally be buying into the idea that, hey, these pick things are kind of important!
For all the misfires (Mike Testwuide, Luke Pither, Andrew Rowe, Jared Ross, etc.), the organization occasionally finds a diamond in the rough. Read is arguably the second best undrafted player from his tenure (see #8 for the best).
Read was signed after four years at Bemidji State University. In his rookie season with the Flyers, Read scored 24 goals and 47 points. He has become one of the most reliable two-way forwards in the system, capable of sliding up and down the line-up as needed. A recent cost-effective extension has ensured that he will be a valuable member of the team for years to come.
10. Trade a 2015 3rd Round Pick and Michael Leighton for Steve Mason
A cautious optimist by nature, I'm hesitant to crown goaltender Steve Mason the franchise's savior after one strong season and three stellar playoff games.
However, the trade that was ridiculed by many pundits a little over a year ago (including yours truly) has now provided the team with a reliable goaltender for the foreseeable future after two headache-filled seasons with Ilya Bryzgalov.
Mason's value had plummeted from his rookie season to his final season with the Columbus Blue Jackets. Per a recent article by Dave Isaac of the Courier Post, Mason considered hanging up the skates before he was traded to Philadelphia.
"If I hadn't been traded last year at the deadline and my contract was up, I probably would have been done. I'd had enough. I did not like hockey one bit. Hockey was putting me in a place where I wasn't a happy person. I was depressed. I didn't enjoy life in general because hockey was putting such a strain on my life… Coming to Philly made me love hockey again."
Mason finished his first season in Philadelphia with a 2.50 goals-against-average and 0.917 save percentage in 61 regular season games. In his three playoff appearances, he recorded a 0.939 save percentage (along with his first ever postseason win).
* * * * * * * * * *
Over eight seasons as general manager, Paul Holmgren's moves were often a mixed bag. Some contracts were brilliant (see Wayne Simmond's and Sean Couturier's contract extensions), some were interesting risks (Nikolai Zherdev, Ray Emery's first contract), and others were (heck, are if you consider Andrew MacDonald's hasn't even kicked in yet) just mind-boggling. Some trades were steals while others clearly tipped the scales in the other direction (missin' you, James).
The team is certainly closer to a Stanley Cup now than when he took the reins in 2006, but the rollercoaster nature of his tenure and the lack of consistency from season-to-season as seen with franchises like the Chicago Blackhawks, Boston Bruins, Detroit Red Wings and Pittsburgh Penguins has left many fans impatient.
Hopefully Hexy can continue and advance the strong work that Holmgren started, even if he couldn't end 39 years of misery.
Honorable Mentions
Richards/Carter trades- They've been discussed to death. They've worked out just fine, but I don't feel like getting into an argument over this so it remains off the list of "best" trades.
Trade Joni Pitkanen, Geoff Sanderson and Cameron Abney to Edmonton Oilers for Jason Smith and Joffrey Lupul – Deal worked out well in terms of revitalizing the roster, but Smith played just one season and Pitkanen has turned into a decent NHL defenseman (when healthy). Lupul was a vast improvement to the top six, but was it enough for this to be one of Holmgen's best trades? Maybe.
Signed Danny Briere- Great player, but signed via free agency so it required a terrible contract to get him here.
Trade Darroll Powe to the Minnesota Wild for a 3rd round pick- This doesn't make the list because it's such a minor move, but man, how do you make that deal if you're Minnesota?