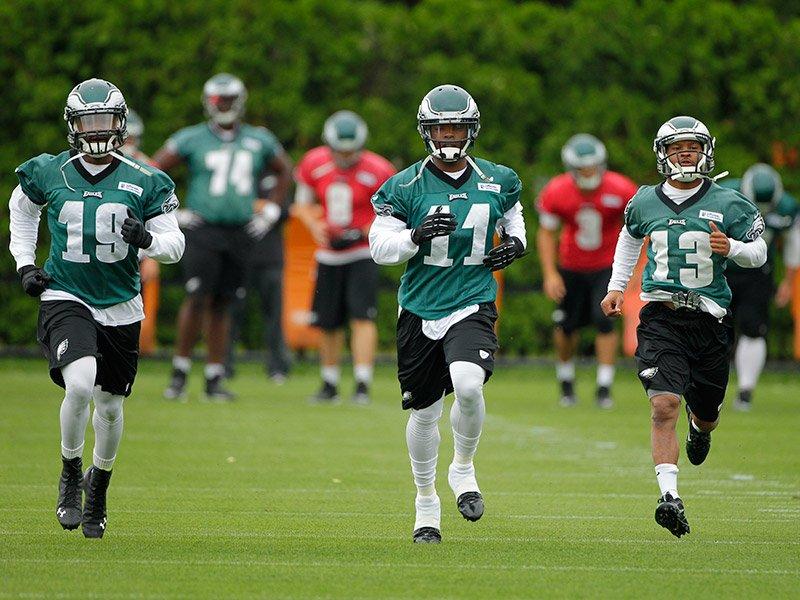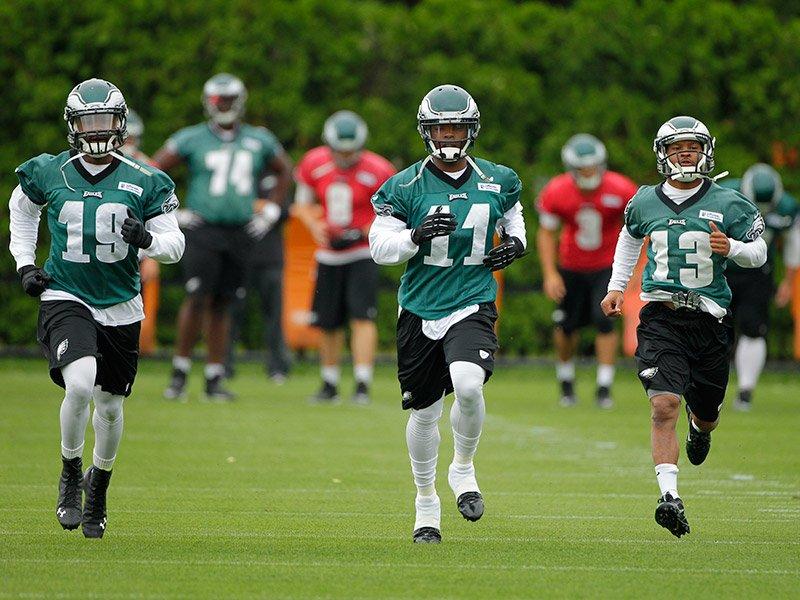 This year's group of Eagles rookies is very impressive from an intelligence and character standpoint.  I sat and listened to each of them when they addressed the media for the first time and I was tremendously impressed.  I expect them to make an impact immediately because I can see that Chip Kelly and his staff have a clear role for them in 2014.
First round pick Louisville outside linebacker Marcus Smith seems to have the speed and athletic ability to be a very good player.  He notched 14.5 sacks in his senior year, so despite the fact that everybody thought he was going to be selected in the second round, the guy can rush the passer.  I think he will show us he was worth a first round pick.
I got a good look at him at the Eagles Nova Care Complex and I could see that he needs to get in the weight room and get stronger.  I expect him to be a pass rush specialist this year, while backing up Trent Cole.  He may be able to force the Birds to give him more time, if he uses his speed to come around the corner and get to the quarterback like I think he can do. He's athletic enough to do a good job in pass coverage as well.
Second round pick Vanderbilt wide receiver, Jordan Matthews, is a player, who will find ways to be productive on the NFL level.  He's not amongst the fastest in the league, but this young man is fast. He's not as big as Detroit's Calvin Johnson, but Matthews has very good size.  I like his combination of size, speed, smarts and toughness.  Guys like that find a way to get the job done.
He will have a big size advantage working against the nickel corners in the league who cover slot receivers.  Matthews will have a big advantage when it comes to blocking them on running plays and the Vanderbilt star will be able to use his size to push off to get open across the middle.
This young man is tough and that will help him tremendously as he learns about what it takes to succeed in the NFL.  I expect solid production out of him in his first season.
Third round pick Oregon wide receiver, ,Josh Huff, should also be able to be productive immediately in the first year as a fourth receiver, because he's running the same offense he ran in college.  I'm not talking about being a star, but I think he can contribute.  This young man is small from a height standpoint, but he's got great speed and change of direction.
I expect Chip Kelly and company to get him the football in open space and let him operate.  Huff knows how to get open to be productive in this offense because he'll be comfortable in the role that Kelly has for him because he's already operated in it.
When we talked to him during the rookie camp, he was coaching fellow rookie wide receiver Matthews and the other young wide receivers because he's played this offense for years.
You're going to see more and more NFL defensive backs like Florida's Jaylen Watkins,  the Eagles fourth round pick.  He plays both the cornerback and safety positions and he has a tremendous combination of size and speed.  Watkins can cover like a corner, but still come up and tackle like a safety.
He's got the size and speed to do both, which will allow the Eagles plenty of opportunities to get him on the field.  I don't know where he's going to fit in better, but this young man will be on the field early and often.
I don't see Watkins being a starter this year, but I do expect him to be on the field as much as a nickel back, which will be at least 50% of the defensive plays.
Oregon defensive end Taylor Hart fits the role of a defensive end in the Birds 3-4 defense because he's got the great size at 6'6" and he's got the long arms to separate from blockers to get to the football.  Hart was drafted to be part of the rotation on the defensive line and I expect to get on the field as a backup this year.
Hart is effective against the run, but I don't expect much out of him as a pass rusher.  The Eagles defense is designed to put the outside linebackers in position to rush the passer, but Hart will be asked to push offensive linemen into the face of opposing quarterbacks.  He's got good strength but he will need to get stronger in order to be a standout.
Fifth round pick Stanford safety Ed Reynolds has a great understanding of how to play the safety position.  We're going to find out whether that football intelligence will allow him to shine in the NFL. This young man not only has the intelligence, but he has tremendous instincts.  I could see him getting his hands on the football.
The young man is an outstanding open field tackler, but he doesn't have the great size and speed of the league's best safeties.  Don't be shocked if he gets on the field if the other safeties aren't playing well, because he has great intangibles.
Chances are Reynolds will be backing up this year for the most part and contributing on the special teams, but don't rule out him getting on the field.  He will be expected to be one of the core special teams players and will likely have to make the team on his special teams production.
Wisconsin nose tackle, Beau Allen could be s starter and major contributor in his first year because he is a prototypical nose tackle, which the Eagles defense needs.  Allen is a huge space eater, who seems to be unmovable against double-teams, when plants himself on the defensive line.
Don't expect him to get near the quarterback, but who cares, Allen will only be on the field on run downs.  This young man will free up middle linebacker DeMeco Ryans to have a big year making tackles behind the line of scrimmage.