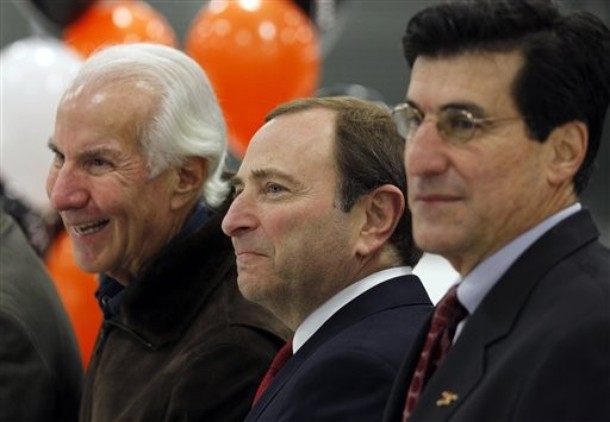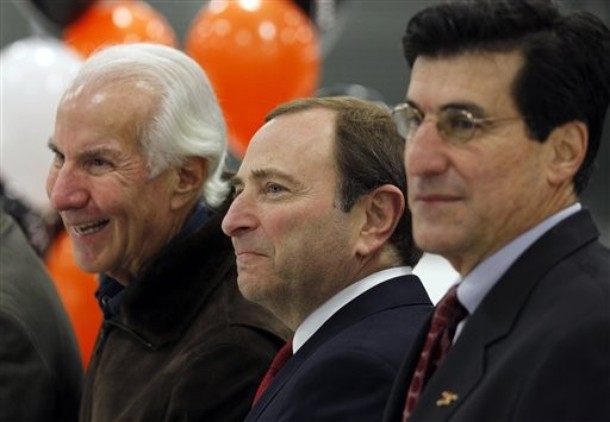 Hockey players are considered among the "toughest" athletes when it comes to playing through pain. Forward Derek Stepan of the New York Rangers finished a game in the Eastern Conference Finals with a broken jaw and missed just one game on their way to the Stanley Cup Finals.
Gregory Campbell of the Boston Bruins was immortalized during the playoffs last season for finishing a shift with a broken leg.
Ian Laperriere became a fan favorite of the Philadelphia Flyers when he regularly risked his health to block shots, even when it ultimately cost him his career.
Although Philadelphia Flyers owner Ed Snider never played the game, he has owned the team since its inaugural season in 1967. It was revealed today by the Flyers organization that Snider has been taking treatments for cancer.
From Dave Isaac, USA Today:
"Snider recently completed treatment for a non-life-threatening form of cancer and has continued to work through the process.

'He is happy and healthy,' said Comcast-Spectacor spokesman Ike Richman.

Snider's involvement with the team and Comcast-Spectacor, which he first founded as Spectacor in 1974, was never compromised by either the condition or the treatment.

Richman said the company had no further comment on Snider's illness.
It speaks to Snider's own toughness that he continued to work through the treatments. While the report indicates it is a "non-life-threatening form of cancer," chemotherapy is not an easy procedure for the human body to endure.
Best wishes to Snider on a quick and full recovery.
* * * * * * * * * *
The Oshawa Generals organization announced a bevy of news this evening following the end of the CHL season.
Flyers' 2012 first-round draft pick Scott Laughton received the Generals' MVP award. He finished the season with 40 goals and 87 points in 54 regular season games along with 4 goals and 11 points through 9 playoff games. Laughton will play next season with either the Lehigh Valley Phantoms in the AHL or the Flyers, depending on his performance at training camp.
Flyers' 2011 fourth-round draft pick Colin Suellentrop was named the Generals' defenseman of the year. Suellentrop was not signed by the Flyers and remains an unrestricted free agent.
Finally, the organization also announced that former Flyer Eric Wellwood has been hired as an assistant coach. Wellwood skated in 31 NHL games between the 2011-12 and 2013 NHL seasons.
Wellwood's career ended prematurely following a freak leg injury during an AHL game that reportedly sliced 70% of his Achilles tendon. The Flyers signed him to an AHL deal this past season to give him time to recover, but it seems that he could not get his skating back to a professional level.
* * * * * * * * * *
Randy Miller of NJ.com reported this morning that the Flyers organization has reached out to 2013 third-round draft pick Tyrell Goulbourne for a professional contract. Unfortunately for the 20 year-old, the Flyers are only offering an AHL deal at this time.
Goulbourne was a questionable selection last season due to his limited talent ceiling and the place at which he was selected. Goulbourne finished this past season with 17 goals and 37 points in 68 games played.
Goulbourne's best traits are his physical play and "energy". There is a reasonable chance that he makes the NHL as a fourth liner some day, but it is that limited ceiling that raises the question of why he was selected so high.
The argument that the organization used to defend his physicality and "energy" is that they did not have another pick until the fifth round and were hesitant to pass on him, especially when they saw him as a player that had higher likelihood of making the club in the future.
For what it's worth, Goulbourne is often compared to fourth liner Zac Rinaldo. Rinaldo's highest points total in any junior season was 17 points.
Although one has to hope that Goulbourne does in fact excel enough at the pro level to warrant a spot on the Flyer roster some day to justify his selection, kudos to Ron Hextall for not flatly signing him to an entry level contract when it is not necessarily warranted at this time.
Goulbourne's agents are recommending he hold out for an NHL two-way entry level contract and threaten to continue an overage season with the Kelowna Rockets of the WHL if one is not offered.