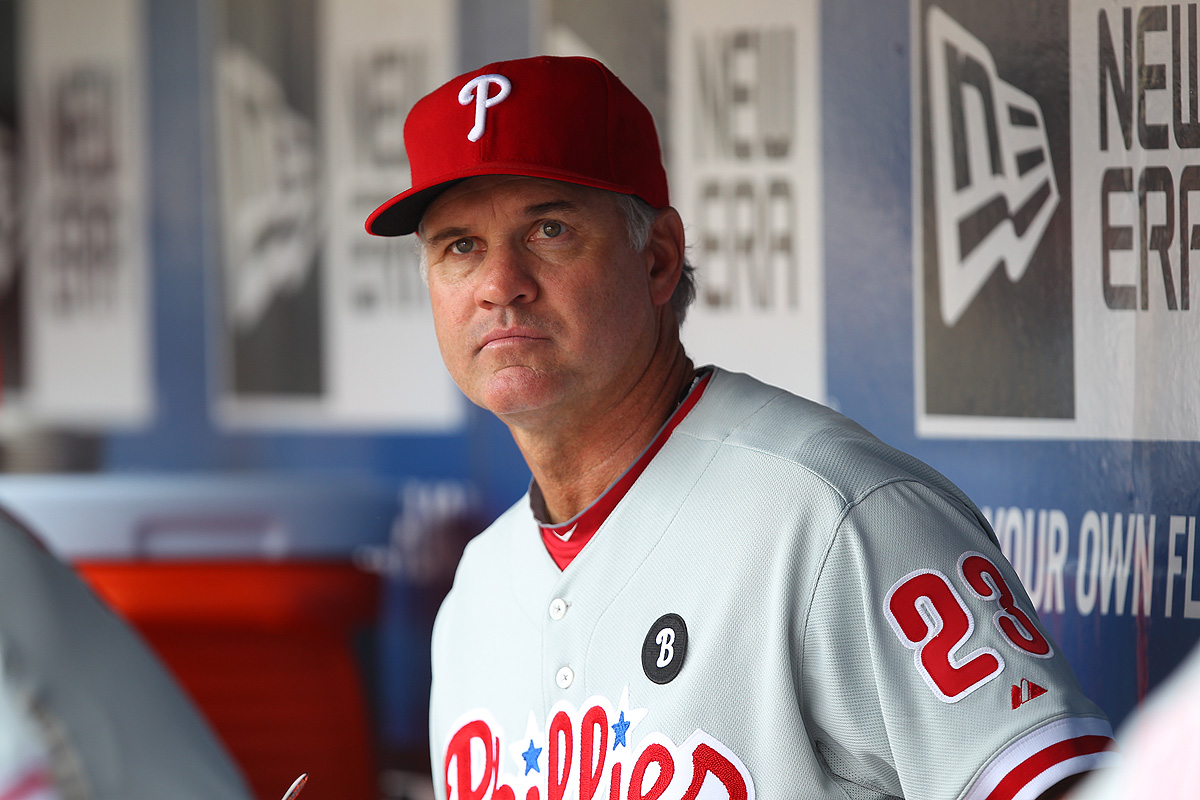 The two biggest names on the Phillies' coaching staff are not satisfied with the mediocre play as of late.
After going 4-7 on the team's 11-game homestand, manager Ryne Sandberg held a team meeting while bench coach Larry Bowa expressed further concern about certain players through the media.
"It was a serious meeting," said Sandberg. "And it was a sense of urgency right now. It's important right now. It's time right now to do something about it. It's about getting the job done, playing better, full games to allow us to have a chance to win the game. When you knock on the door numerous times, the odds are that you'll have a chance to win the game. It's important right now."
Larry Bowa said that the Phillies "aren't playing big-league baseball" right now. He went on to rip certain players on the roster, including Domonic Brown and Roberto Hernandez.
"A coach shouldn't be angrier than the players right now," Bowa said. "I hope they're angry."
Regarding Brown, Bowa expressed concern about how upbeat and carefree Brown has been despite barely hitting .200 on the season. "I don't know how he does that because if it were me, I'd be going nuts right now," Bowa said. "The big thing you have to be concerned about is take away a six-week period from the equation, and the numbers aren't very good. He did most of his damage in those five or six weeks. He made the All-Star team. In fairness to him, he's hit some balls hard lately, but he's not playing the way he is capable of. I just think there's more in there than that. Ryno's playing him every game. I think we're going to find out one way or another if this guy can play up here. That's what you have to do. Sandberg has been pretty patient with him. We have to keep going and see what happens."
"Roberto Hernandez has to go deeper than five innings," Bowa said. "This is the big leagues. This isn't double A. This isn't triple A. The pitchers have to go more than five innings. If you have a big-league uniform on, you have to go more than five innings. What happens? It trickles down."
Meanwhile, while his team's record continues to fall further below .500 and his coaching staff struggle to keep things afloat, Phillies' Village Idiot General Manager Ruben Amaro Jr. made a delusional claim that the team is improving.
"We're getting closer, we have to — there's no question we didn't play good baseball, and that's not the kind of brand of baseball that we were hoping or expecting from our players in a variety of different ways" Amaro said. "We'll see how this road trip goes for us. Every single day we're evaluating what it is that we need and what it is that we need to do."
Getting closer? Closer to what?
The only thing the Phillies are getting close to is a summer with an empty ballpark.
One game after a serious team meeting, the Phillies suffered yet another embarrassing defeat complete with anemic at-bats and mediocre pitching. Meanwhile, one of the only promising young players the team had to work with suffered an injury. Darin Ruf, who Ruben Amaro recently decided to send down to the minors, injured himself in a game and will likely go to the disabled list.