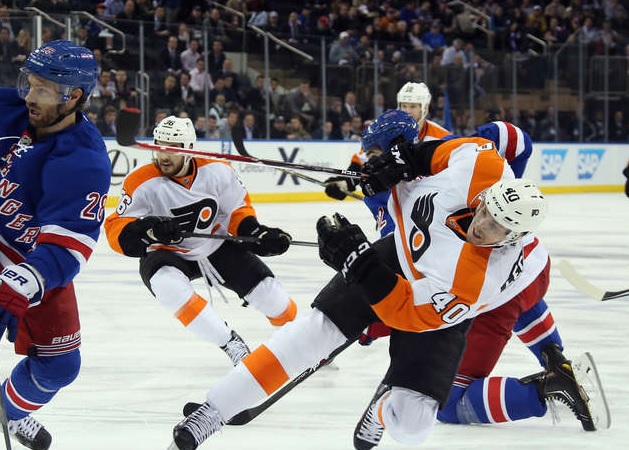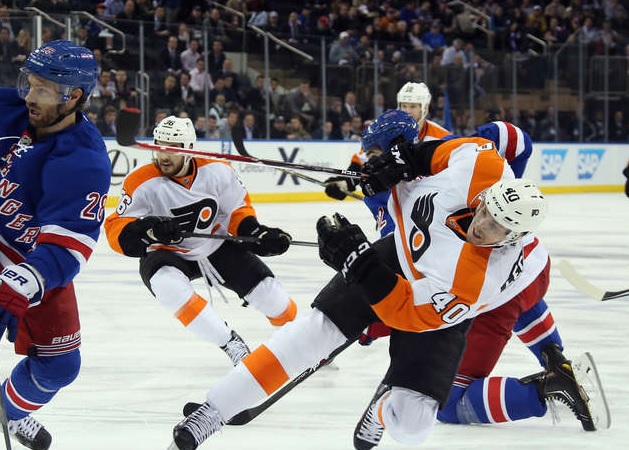 It has been reported through multiple outlets that Philadelphia Flyers general manager Ron Hextall has had discussions with forward Vinny Lecavalier's agent, Kent Hughes, about the future of his client in the City of Brotherly Love. The conclusion that everyone seems to keep circling around to is a trade.
Per Darren Dreger of TSN:
"So the word on the street is yes, Lecavalier most definitely is in play. But keep in mind that he has a no-move clause. I know that his agent, Kent Hughes, has already talked to Hextall about the possibility of moving his client. There are no specific teams yet, there's no list, but if they want to move him they are going to have to go to Vinny and identify a specific place."
Lecavalier signed his five-year contract expecting to play second-line center with Peter Laviolette as his head coach. If he remains with the Flyers through the remainder of his contract, though, he will likely be relegated to either the fourth line or as a winger on another line, all under the auspices of head coach Craig Berube.
It seems that Lecavalier wants out, but by virtue of his pricey contract (four more years at $4.5 million per season) and his no-move-clause, finding the right fit will pose a challenge for Hextall.
What are Hextall's options?
The simplest solution is the least desirable- buy out his contract. Per Capgeek, a buyout of the 34 year-old will affect the Flyers' salary cap as follows:
2014-15:               $1.5 million
2015-16:               $3.0 million
2016-17:               $3.0 million
2017-18:               $2.5 million
2018-22:               $1.0 million
Accepting cap penalties for the next eight years is not ideal, to say the least. The magnitude of the penalties in the early years also makes a buy out virtually unworkable for a team that spends regular against the cap limit.
The second option is to trade Lecavalier, but retain a portion of his salary in the transaction. The collective bargaining agreement signed between the NHL and NHLPA in early 2013 allows for organizations to retain up to 50% of a player's salary and cap hit in order to facilitate a trade. This mechanism was intended to make trades easier in the salary cap era.
Assuming the Flyers are able to find a buyer for Lecavalier, they could be looking at a cap hit of up to $2.25 million for the next four seasons. In this scenario, the Flyers are punished with up to $9 million of cap penalties versus $10 million over the next four years if they outright buy him out, as well as with no cap penalties in the following four seasons.
The difficulty of finding a trade partner is two-fold. It requires finding an organization that has a perceived need for a veteran centerman as well as a team that Lecavalier will accept a trade to (the no-move-clause strikes again).
Where do we start?
Contending Teams (West): Anaheim Ducks, Chicago Blackhawks, Colorado Avalanche, Dallas Stars, Los Angeles Kings, Minnesota Wild, San Jose Sharks, St. Louis Blues
The majority of these teams wouldn't be here if they were in need of expensive depth, but one organization has already identified "second line center" as a position in need of upgrading- the Chicago Blackhawks. Unfortunately for the Flyers, the 'Hawks are known for using advanced statistics in their decision-making process, and it seems unlikely that they would address their top six void with Lecavalier.
The Dallas Stars have their top centers in Jamie Benn and Tyler Seguin, but they could potentially use an upgrade at third line center with forward Rich Peverly questionable to return following a cardiac arrest on the bench last season that forced him to shut down for the remainder of the season. Whether Lecavalier fits that role or not is another debate, but an opening is there.
Contending Teams (East): Boston Bruins, Columbus Blue Jackets, Detroit Red Wings, Montreal Canadiens, New York Rangers, Pittsburgh Penguins, Tampa Bay Lightning
A good number of these teams are already dealing with older, overpriced centermen on the decline- R.J. Umberger in Columbus, Stephen Weiss in Detroit, Brad Richards in New York, Danny Briere in Montreal, etc. Not surprising half of these are former Flyers…
Bubble Teams (West): Nashville Predators and Phoenix Coyotes
The Predators have been thrown out as a team that could be a good fit, considering Peter Laviolette has been hired as their new head coach. Elliotte Friedman of CBC suggested it first:
"Pure speculation on my part, absolute guesswork: Paul Holmgren said this week one of the reasons Vincent Lecavalier struggled is because Peter Laviolette, who recruited him, left, and Lecavalier wasn't a fit in Craig Berube's system. Is there a trade fit now that Laviolette is in Nashville? Flyers would probably have to eat a good chunk of his salary, but Holmgren and Poile have a history of getting deals done."
Nashville doesn't necessarily have an opening there, but they also aren't dominant down the middle either. If this deal were to happen, it would only likely work with the Flyers retaining salary based on Nashville's internal budget (along with some short memories about another player currently crushing their budget).
There really isn't a fit in Phoenix based on their existing centermen and contracts.
Bubble Teams (East): New Jersey Devils, Ottawa Senators, Washington Capitals
Devils general manager Lou Lamiorello will never trade with Philadelphia. The Capitals don't have a need for another centerman either.
Ottawa could be a fit, though. The Senators' captain, Jason Spezza, has made it known that he would like to be traded. This opens up a position for their second line (unless the organization is ready to promote young centerman Mika Zibanejad). What works in Philadelphia's favor is that the Senators' organization does not use advanced statistics in their decision-making. If Nick Bonino is a potential target for a Spezza trade, in spite of the stats working against him, surely Lecavalier at a discount cap hit and low cost for acquisition would be just as advantageous. As Ottawa is a notoriously low-budget team, Lecavalier might not be a bad fit with salary retained either.
Bottom Dwellers (West): Calgary Flames, Edmonton Oilers, Vancouver Canucks and Winnipeg Jets
                It is in this group that there could be the best fit for Lecavalier in terms of ice time and center position, and perhaps the worst fit in terms of likelihood that he would actually accept a trade here.
The Flames have already put together a package for Jason Spezza, but it doesn't seem likely the Sens' current captain will move here. The Flames don't seem to expect Michael Cammalleri to re-sign there either. With virtually no depth down the middle, Lecavalier would be a decent stop gap option in a trade.
Additionally, the team is rumored to be willing to part with right winger David Jones. Jones, 29, has two more seasons under contract at $4 million per season. The Flyers have more of a need for a left winger this offseason, but if a swap of Jones for Lecavalier could be worked out, it would arguably be better than just retaining half of Lecavalier's salary.
The other team in Alberta, the Oilers, is also in the middle of trade talks. Their biggest goal this offseason is overhauling the defense, with speculation circulating that they are trying to work out a deal with the Leafs for their captain, Dion Phaneuf. Second line center Sam Gagner seems to be a big part of that discussion. If this scenario does play out, the Oilers will be in need of a centerman to replace him. Considering the young age of the rest of the roster, adding Stanley Cup-winning Captain™ Lecavalier makes him marketable as well.
The Canucks, like the Senators, may be a fit only because they are actively shipping out their first line center, Ryan Kesler. Pure speculation, but new Canucks general manager Jim Benning doesn't seem like the type of manager to take a run at Lecavalier early in his tenure. The Canucks are a team that could stand to get younger, not older.
Similarly, the Jets don't really have a need to upgrade their center position. Mark Scheifele is young and the organization would receive too much heat if they demoted him already.
Bottom Dwellers (East): Buffalo Sabres, Carolina Hurricanes, Florida Panthers, New York Islanders, Toronto Maple Leafs
The Sabres are out of the running simply because it's the Sabres. They won't be contenders for years. The Hurricanes don't have any openings to consider a trade, and for the Islanders, see: Sabres, Buffalo.
The Panthers are an interesting option because it could return Lecavalier to the Sunshine State (not that Miami is "close" to Tampa Bay), but they also don't really need any centermen unless they're looking for a veteran presence down the middle.
The Leafs are stubbornly defiant when it comes to self-evaluation. They don't seem to have concerns with Tyler Bozak as their top line center, so who knows what's going on with that organization. It's a crapshoot knowing what they'll do other than that it probably won't result in playoff success.
In summary, the best options for finding a new home for Lecavalier are either the Edmonton Oilers or the Calgary Flames, and it's unlikely that the veteran will accept a trade to either. Some other realistic options include the Dallas Stars, Nashville Predators, and Ottawa Senators.
Lecavalier could just as easily mimic his former teammate Martin St. Louis and demand a trade to only one team.
The "X-Factor" in this discussion is that it is a buyer's market for veteran centermen this season. In addition to Jason Spezza and Ryan Kesler, the San Jose Sharks are shopping Joe Thornton while the Los Angeles Kings are open to moving Mike Richards and his behemoth contract (another swing and a miss for Paul Holmgren). This is for just the centermen we know are available.
In this market, the Flyers are going to have to accept that they aren't going to get much value, if anything, in return for Lecavalier. It's also unlikely he will be moved before free agency, as most organizations will probably want to see how the market shakes out before accepting Lecavalier's services, even at half-price.
No matter what happens, one has to hope that Lecavalier finds a team he is comfortable with finishing out his career. Philadelphia just wasn't the fit anyone thought it was.