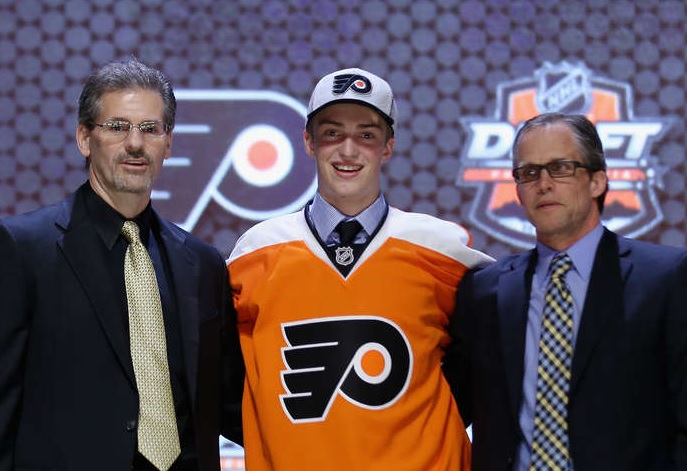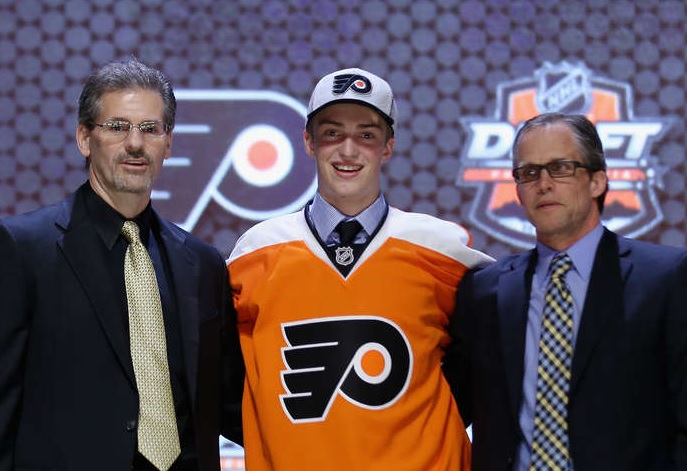 There was ample chatter throughout the day with regards to trades before and during the 2014 NHL Entry Draft.
The Anaheim Ducks acquired centerman Ryan Kesler from the Vancouver Canucks in exchange for former Flyer Luca Sbisa, forward Nick Bonino and their 24th overall pick.
The Pittsburgh Penguins traded winger James Neal to the Nashville Predators for forwards Patrick Hornqvist and Nick Spaling (between Neal and Orpiks' departure, who else but Sidney Crosby is left on their roster for Philadelphia fans to hate passionately?).
Finally, the #1 overall pick… remained with the Florida Panthers.
Many teams outside the top 10 were reportedly making aggressive pushes to move up, including the Philadelphia Flyers, but the asking price was simply too much for players that, while very talented, didn't match the generational skill of a Gretzky or a Lindros or a Crosby.
Ron Hextall ended up holding onto the 17th overall pick- a safe mode, for certain, but he didn't need to make a "splash."
Many pundits had suspected during the 2011 and 2012 NHL Entry Drafts that the Flyers would select a defenseman to restock their barren farm system. Each time, they drafted centermen instead (Sean Couturier and Scott Laughton).
The expectation this season was for the organization to restock their winger depth. Instead, the Flyers added to their pool of defensive prospects by selecting Travis Sanheim of the WHL's Calgary Hitmen.
Sanheim, 18, was a very fast riser throughout the rankings this season, not unlike the Flyers' first round selection in 2013, Samuel Morin.
Sanheim's rankings, mid-season and final:
NHL Central Scouting: 167th;  53rd
International Scouting Services: N/A;  30th
Craig Button, TSN:   49th;  8th
The story on Sanheim: he's a 6′-3″, 190 lbs. defenseman who is very difficult to beat one-on-one. He's not as impressive offensively as Sewell, NJ native Anthony DeAngelo was in this draft (DeAngelo would be selected a few picks later by the Tampa Bay Lightning), but Sanheim still managed 5 goals, 29 points and a +25 rating in 67 WHL games versus DeAngelo's 15 goals, 71 points and -34 rating in 51 OHL games played.
Sanheim is not likely to make the roster for a few seasons, but unlike fellow Flyers defensive prospects Morin, Robert Hägg and Shayne Gostisbehere, there doesn't seem to be anything "risky" about this pick. He needs a little more time to grow into his frame and improve his offensive abilities, but he projects to be a very good defenseman who can log a ton of minutes.
At best, he is described as another Ryan McDonagh. At worst, he's another Braydon Coburn. No matter how things play out, this seems to be a good pick for Philadelphia to continue developing their defensive talent from within,
One odd bit of trivia that hasn't been fully explored yet is that, per Tim Panaccio of CSNPhilly, Sanheim is related to Ron Hextall. What that means in the grand scheme of things is anyone's guess.
Barring any other craziness tonight, the Draft will continue on Saturday morning at 10:00 a.m. The Flyers have the remaining selections:
2nd Round- 48th overall
3rd Round – 86th overall
5th Round- 138th overall
6th Round- 168th overall
7th Round- 198th overall
It will be interesting to see how Hextall approaches the later rounds compared to Paul Holmgren, but I'd suspect fewer pugilists and at least another goaltender.