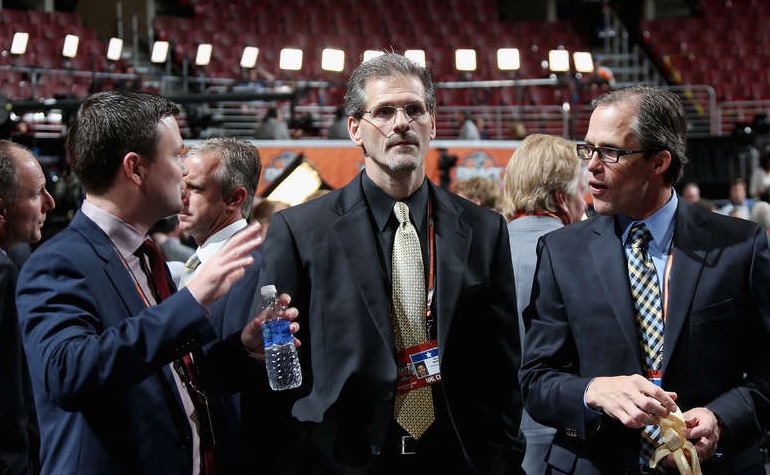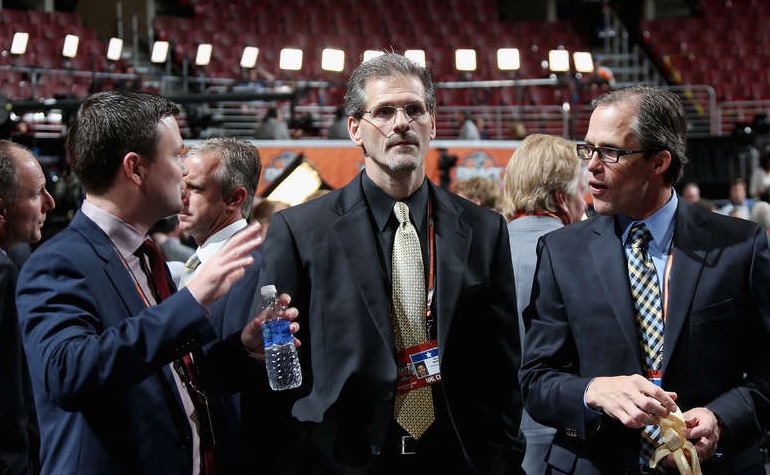 The 2014 NHL Entry Draft continued Saturday morning with rounds two through seven. The Flyers had fairly strong draft classes in 2011 and 2012, though the jury is out on the selections from 2013.
The best way I can describe the 2014 draft class for Philadelphia is "Curious."
For one, the Flyers did not draft a single goaltender. The #1 and #3 ranked European goalies per NHL's Central Scouting were available at the Flyers' 3rd round selection, but the organization passed. As of now, it's the weakest area of their talent pool, with only Anthony Stolarz (2012) and Merrick Madsen (2013) in the system.
The Flyers also steered away from previous trends by selecting a number of smaller, if not still talented players. This is not to say there were any "bad" selections as much as the organization didn't shy away from players for whom a size below 5′-10″ would have previously been a red flag.
The selections:
48th Overall- Nicolas Aube-Kubel – Center/Right Wing
Nicolas Aube-Kubel was the 40th ranked North American skater and 3rd ranked Quebec Major Junior Hockey League (QMJHL) player per NHL Central Skating. Although he is 5′-11″, he is a highly skilled, quick skater that worked this season on improving his two-way play. The Flyers heavily scout this league, with first round selections of Claude Giroux, Sean Couturier and Samuel Morin as a few examples. Aube-Kubel scored 22 goals and 53 points for Val d'Or, so there is room for him to grow offensively, but he certainly has the skills to make the NHL some day. That ceiling is just a question mark.
86th Overall- Mark Friedman – Defenseman
Mark Friedman was supposed to attend Bowling Green State University last fall, but a slip-up with his credits forced him to postpone that decision for a year. He is listed as either 5′-10″ or 5′-11″ depending on what you read, but to his credit, he's scored 75 points in 115 USHL games as a defenseman. His selection came a bit earlier than he had been otherwise projected, but the Flyers clearly wanted to add another puck-moving defenseman to their farm system. They'll have four years with which to decide whether to sign Friedman, but he could be a sleeper pick if he continues to progress.
138th Overall- Oskar Lindblom – Left Wing
Lindblom was projected to go much earlier, so to select this big Swedish winger in the 5th round is a great selection. He split time this past season between the Brynäs junior team and professional team (0 goals in 4 games played). He seems to be a similar player to Tye McGinn- that is, plays a hard game and has good puck handling skills, but may not have the skating or speed to excel at the professional level. He'll likely stay in Sweden next season.
168th Overall- Radel Fazleev – Left Wing
Fazleev is a teammate of the Flyers' first round selection, Travis Sanheim. The Flyers likely have a good read on his talent level, though the ceiling may not be nearly as high. Fazleev, a 5′-11″ Russian winger who moved to Calgary to advance his game, scored 5 goals and 25 points in 38 games played in his first WHL season, losing a good amount of time to a wrist inury in January. If he finds a role at the NHL level, it will likely be in a bottom six position.
198th Overall- Jesper Pettersson – Defenseman
Pettersson is a Swedish defenseman that turns 20 in three weeks. If he was not drafted today, he would be a free agent in future seasons. It's not surprising why he was passed over in previous drafts- he's only 5′-8″. His height hasn't prevented him from already making it to the Swedish Hockey League, where he's already played 62 games. The Swede doesn't have the size or the puck-moving abilities to be "elite," but he is characterized as having a great work ethic, energetic, and unafraid to mix things up. Even if the overall package may not present a great case for the NHL, he's an interesting player to have in the system.
* * * * * * * * * *
It's impossible to grade a draft class until it's determined just how many players actually break into the NHL. Sanheim looks to be a very safe pick while Aube-Kubel projects to have a good shot at making the NHL. The remaining players will require further time to evaluate, though they have varying probabilities of actually making an impact at the professional level.