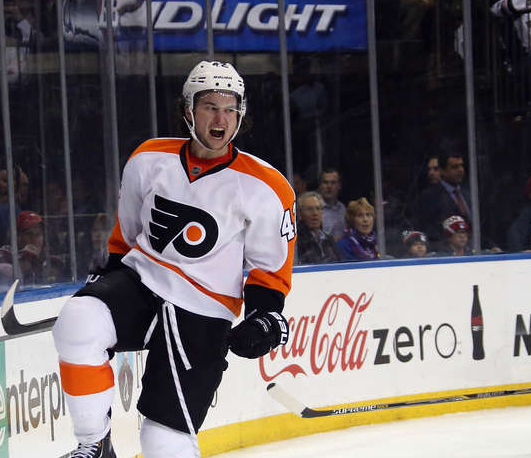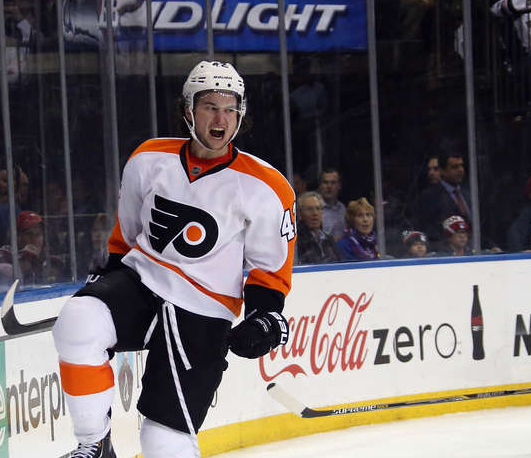 Philadelphia Flyers general manager Ron Hextall took care of immediate business on Tuesday with the re-signing of back-up goaltender Ray Emery. Following up the AHL depth signings of goaltender Rob Zepp and centerman Blair Jones, Hextall and his staff continued on Wednesday plugging in additional Flyers and Lehigh Valley Phantoms depth players.
Right winger Jason Akeson, extended a qualifying offer on Monday, was officially re-signed to a one-year, two-way contract. The exact price tag has not been disclosed at this time, but it is likely to be less than seven figures. Akeson has a realistic shot of making the Flyers as a bottom six forward with the skills to bump up to the second line in the event of injuries.
Left winger Tye McGinn, who was also qualified on Monday, was traded to the San Jose Sharks for a 2015 3rd round pick. McGinn's departure comes as no surprise, as Hextall openly discussed left wing options for the Flyers without mentioning McGinn at all. Originally a 4th round selection in the 2010 NHL Entry Draft, the return is reasonable and gives the Flyers a 3rd round selection in what is expected to be a very deep draft (the Flyers' 3rd round pick was traded to the Columbus Blue Jackets for Steve Mason).
As the seventh defenseman (assuming Oliver Lauridsen is the eighth), the Flyers signed veteran defenseman Nick Schultz to a one year, $1.25 million contract. Schultz, 31, has had a surprisingly long NHL career (he was formerly a top pairing defenseman for the Minnesota Wild) with 881 NHL games to his credit. He hasn't put up very good numbers, in terms of both production and advanced statistics, but could be serviceable in the event of an injury.
Schultz wasn't necessarily the cheapest or most talented option available. It seems that his experience was what attracted the Flyers the most, regardless of whether it's unbelievable to think that he's two seasons away from breaking the 1,000 game threshold. At the very least, it wasn't a two-year deal similar to those proffered by Paul Holmgren to former Flyers Andrea Lilja and Bruno Gervais.
Finally, the Flyers signed two more players to two-way contracts- forwards Andrew Gordon and Zack Stortini.
Gordon, 28, has scored 3 goals and 7 points in 55 NHL games. In 426 AHL games, however, he's tallied 323 points. Just last season, Gordon scored 23 goals and 56 points for the St. Johns IceCaps (they lost in the AHL Finals to the Texas Stars). Assuming Akeson "graduates" to the Flyers, Gordon will most likely be the leading scorer and top line right winger for the Phantoms.
Stortini, 28, fills the role on the Phantoms of team enforcer. Stortini inexplicably has 257 NHL games to his credit, though the 725 career penalty minutes probably has something to do with it.
There was no movement on the Vinny Lecavalier front, though there have been reports that the Nashville Predators have continued discussions with the Flyers that would presumably be with regards to #40's services.