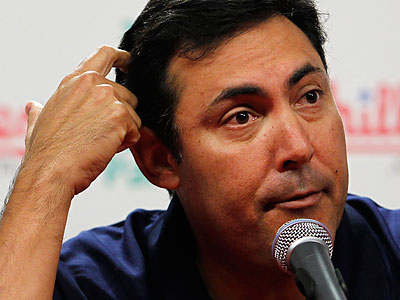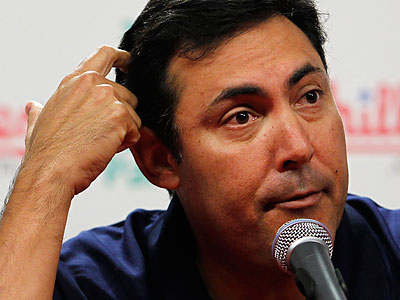 It just gets worse and worse.
A team that is destined to miss the playoffs for the third consecutive year, currently residing in the basement of the N.L. East with a miserable 47-61 record was unable to make a single move before the July 31st non-waiver trade deadline.
That's right, Phillies' village idiot General Manager Ruben Amaro Jr was unable to work out a single trade.
Despite the fact that Amaro and anyone with a pulse could have seen months ago that this team had absolutely no shot to accomplish anything, and had ample time to prepare for this deadline and work out deals with other teams, the bumbling general manager wasn't even close to making a single move.
And so the deadline has passed.
No fresh talent has been acquired.
No hope for the 2015 season exists, with a terrible roster whose core will only age another year and see their talents degenerate further.
How could this happen? What has lead to the outrageous mess that this team has become? When I look at this situation, there are three main points that stick out to me that brought the team to the point where they can't make a single move at a trade deadline to try and improve themselves for the future.
Terrible Contracts With Ridiculous Vesting Options
Guys like Jonathan Papelbon or Marlon Byrd have been performing very well this year, and they might have had a lot of value for contending teams…if not for a major problem within their contracts.
Vesting options.
When drawing up the contracts for Papelbon and Byrd, Ruben Amaro saw fit to include easily attainable vesting options for 2016 in both of their contracts. No matter how much money of their deals that the Phillies' offered to eat, any team interested in these guys were just completely scared away by the idea of paying Papelbon and Byrd significant money. What team wants to potentially have a burnt out Jonathan Papelbon with his personality on their roster for $13 million in 2016? No one with half a brain.
Even the contracts for Jimmy Rollins, Chase Utley, Cliff Lee, and A.J. Burnett have similar options in their deals that just destroy their value.
A General Manager That Doesn't Know How To Sell
Ruben Amaro just flat out doesn't understand how to sell.
I believe that Amaro has been gunshy about selling ever since the 2009 Cliff Lee deal and the 2012 Shane Victorino and Hunter Pence deals blew up in his face. He's too afraid of letting go of big names like Utley and Rollins without receiving some absolute can't-miss prospects.
Amaro's failure to evaluate Phillippe Aumont, Tyson Gillies, J.C. Ramirez (Cliff Lee deal), Josh Lindblom, Ethan Martin (Shane Victorino deal), or Tommy Joseph (Hunter Pence deal) has just killed this team. Amaro also missed badly when scouting Ben Revere in the Vance Worley deal. He doesn't know how to find diamonds in the rough of team's farm systems, and this has led to him overvaluing the players he currently has and thus has him asking for the moon with every player he has to sell.
Two straight years now, the Phillies should have been in a full-scale sell mode, and Amaro has for two years in a row failed to make a move.
The same old names remain, and get worse and worse (and Amaro extends their deals). No new talent comes in.
An Ownership Group That Fears Letting Go Of The Past
David Montgomery, team president and voice of the team's ownership group has stated numerous times that the team isn't interested in a full-scale rebuild.
Montgomery says that they "owe it to the fans" to try and remain as competitive as possible. But the reality is that Montgomery fears parting with the team's biggest names with the idea that no Chase Utley or no Jimmy Rollins means no fans in the stands.
Moving guys like Chase Utley and Jimmy Rollins was never truly a realistic option for just this reason.
Montgomery is in for quite the rude awakening. Citizens Bank Park is doomed to become a ghost town and a wasteland for the rest of this summer and next season as well. No one wants to come out and see this garbage, and even the most diehard of Phillies' fans should stay far away from the ballpark until some significant and legitimate change occurs.
Final Thoughts
Its absolutely outrageous that the Phillies couldn't make a single move.
Add those three factors I mentioned above together, and you get the result that you see today: a losing team with deep-rooted problems that was completely incapable of making a single move to acquire any kind of talent, and thus has no hope for the future.
No one expected the Phillies to acquire elite prospects.
But we expected that at the very least, the Phillies would move on from some of these veterans and give themselves at least a little flexibility to improve themselves next off-season. We expected to see some kind of sign that there's some sense of urgency within the organization to fix things. We got none of that.
Whether you are a buyer or a seller, the trade deadline is one of the best opportunities to acquire talent. And Ruben Amaro and the Phillies completely and utterly failed.
This is completely unacceptable, and it really says a great deal about how frightening the future looks for this franchise.