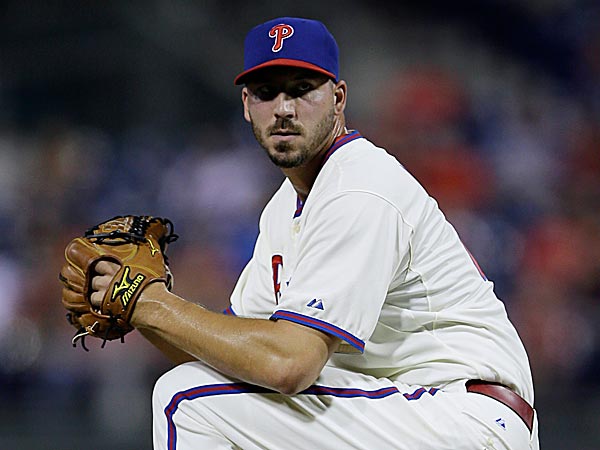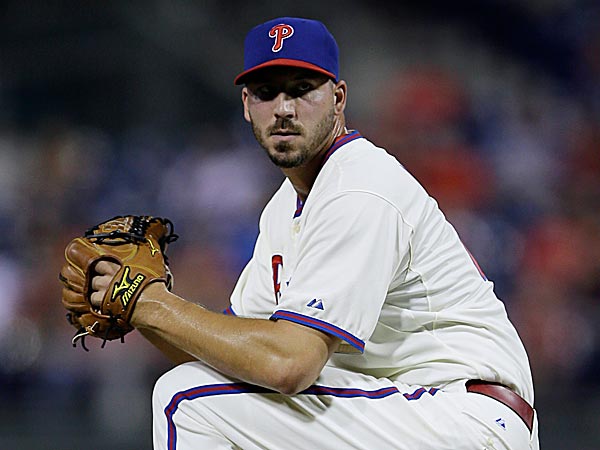 On Saturday night, disappointing reliever Phillippe Aumont completed another horrifying appearance in the major leagues.
Aumont was lit up by the Nationals for six earned runs on eight hits and a walk in just two innings of work. And he was quickly sent back down to Triple-A following the conclusion of the game.
Aumont has been up and down for several brief periods this year. He's made five appearances, and given up runs in all but one of them.
Aumont's line for the year? He's allowed 12 runs (all earned) on 14 hits and five walks in just 5.2 innings over five appearances for an ERA of 19.06.
Ouch.
At this point, its pretty safe to assume that the centerpiece of the 2009 Cliff Lee trade to Seattle will never pan out. While the physical talent has always been there, Aumont's confidence has been all but destroyed at this point. He's a mental mess, and just can't figure things out any time he gets the call to the big leagues.
At this point, I'd be very surprised if we see Aumont in a Phillies uniform in the major leagues ever again. Right now, the team seems very likely to release him at the season's end, making village idiot General Manager Ruben Amaro Jr.'s failure in the 2009 trade all but complete.
Its not all Aumont's fault, however.
The Phillies have done a terrific job at screwing him up ever since they acquired him.
The first mistake was in 2010, when they tried to convert him to a starter. In 21 starts, Aumont posted a wretched 3-11 record with an abysmal 5.68 ERA. The Phillies pulled the plug on that disaster of an experiment, and returned him to the bullpen. He actually enjoyed some pretty strong success the following season, finishing with a 2.68 ERA and seven saves in nine chances, paving the way for him to earn his first major league assignment the following year.
Aumont had a decent showing at the end of the 2012 season, giving some hope that he would be able to assume to larger role in the bullpen in 2013. While he started that season on the big league roster, a couple of rough early appearances got into his head. He stopped trusting his 95 mph fastball, and started walking a lot of hitters. Before long, he had pitched his way back to the minor leagues, and hasn't been able to recover ever since.
This year, the Phillies have been completely impatient with him, and have jerked him around so many times that any hope of saving him is likely gone.
They first called him up at the beginning of June, but sent him down after allowing four combined runs in back-to-back appearances against the Mets. Last week, Aumont got another call-up, but once again he's been returned to the minors after just three appearances and eight more earned runs on his conscious.
My issue here is that the Phillies should have just kept him here and let him pitch for the remainder of the season. At this point, there's nothing he can accomplish in the minor leagues. The only way he can get over his current issues, is to face major-league hitting consistently, and work through his problems over time. He's not going to figure things out overnight. He needs time, and he needs work.
Maybe Aumont struggles for a few more weeks…but after taking his lumps, getting comfortable, and establishing himself a little bit, maybe by the end of September he begins to find himself and figure out what works and doesn't work at this level.
In all honesty, I don't believe Aumont will ever be able to turn himself into a quality major league reliever. But with the season a lost cause, I would have been all for letting him play out the string and either show something or sink for good. Doesn't the organization owe it to themselves at this point to leave no stones unturned and find out what they can about the young players in their system?