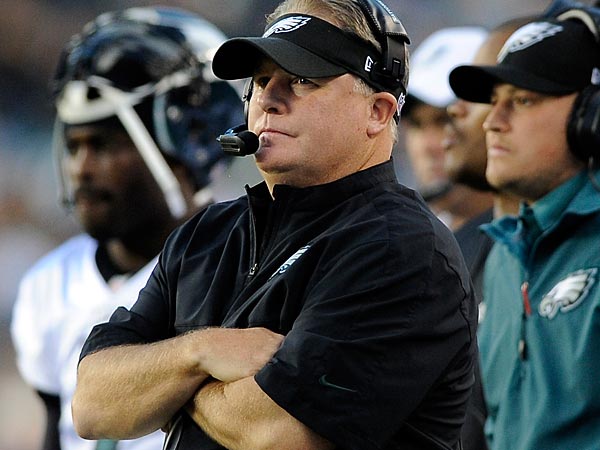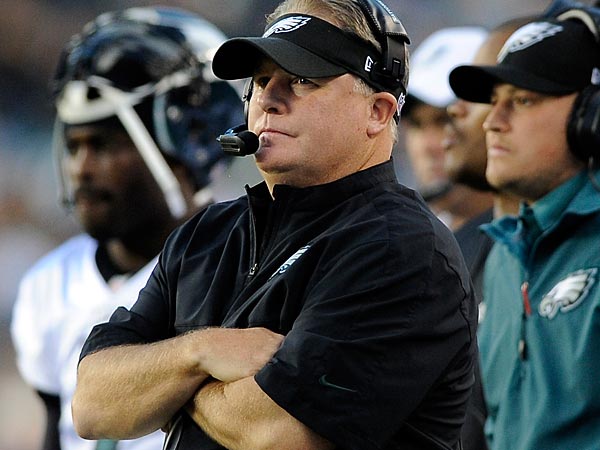 Quarterback
Nick Foles comes off of a breakout-season where he rose from an unknown commodity to a starter in the NFL who many believe has considerable upside and could continue to thrive in Chip Kelly's system. He's got plenty of quality weapons to work with and an excellent offensive line to protect him.
Chad Henne is a decent veteran starter who is probably a little better than most people believe him to be. He's been sentenced to many terrible teams in his career between Miami and Jacksonville. He does a decent job of working with what little he's got and managing the offense, but he's never going to win any shootouts.
Advantage: Eagles
Running Back
LeSean McCoy has evolved into one of the league's premier running backs, and he's now complimented by the shifty pass-catcher Darren Sproles. McCoy is the heart and soul of the Eagles' offense, and quite possibly their most indispensable player. This will be the first extended look that we get at what Darren Sproles can do for this offense.
Toby Gerhart gets his first opportunity to start in the NFL after serving as Adrian Peterson's backup for his entire career. However, he's got a really weak offensive line supporting him, so its hard to see him being that impactful in his first year with the Jags.
Advantage: Eagles
Wide Receiver/Tight End
Jeremy Maclin and Riley Cooper are healthy, and sitting atop the starting lineup with Brent Celek and Zach Ertz splitting reps at the tight end spot to give the Eagles a number of quality targets to work with. Rookie Jordan Matthews and veteran Brad Smith (a guy who Kelly loves) also figure to play significant roles when the Birds go to three and four receiver sets.
The Jaguars have a lot of talent in their receivers, but they're also extremely raw. This will be the first NFL regular season game for guys like Marqise Lee, Allen Robinson, and Allen Hurns. These guys may develop into quality players as the year goes on, but its tough to expect them to do much in their first outing. The Jags have very little to offer at the tight end position, with veteran Marcedes Lewis as the starter and former Eagle Clay Harbor as their second.
Advantage: Eagles
Offensive Line
The Eagles sport one of the most talented lines in football with three Pro-Bowl caliber players in Jason Peters, Evan Mathis, and Jason Kelce. This is a dominant group that does a great job controlling the point of attack and opening up holes in the running game. They are however without right tackle Lane Johnson, who will be replaced by Allen Barbre, who has struggled in the preseason.
The biggest problem with the Jacksonville offense is their offensive line. They've got holes in most of the positions, with inexperience and a lack of talent throughout the unit. They'll start two rookies, including center Luke Bowanko. Bowanko, a sixth-round pick, doesn't have the job because he outplayed anyone, Mike Brewster (the team's first choice) played himself out of a job in the preseason. Left tackle Luke Joeckel and veteran guard Zane Beadles are the only two guys that should actually be starters in this league. This is a major disadvantage for the Jaguars, and its a key area for the Eagles to exploit.
Advantage: Eagles
Defensive Line
Fletcher Cox and Cedric Thornton are still growing in the 3-4 defense. Along with nose tackle Bennie Logan, this group has gotten decent in run defense, but they're still pretty weak in contributing to the pass rush. Vinny Curry should also see plenty of snaps in passing situations.
The defensive side of the ball is where things get much better for the Jaguars, and the defensive line is their biggest strength. Defensive tackle Sen'Derrick Marks was a mainstay last year, and he's now joined by two of Gus Bradley's old players from Seattle, Chris Clemons (also a former Eagle) and Red Bryant. This is a group that is fit to challenge the Eagles' offensive line.
Advantage: Jaguars
Linebackers
I think the Eagles' group of linebackers is a little underrated. DeMeco Ryans is still a playmaker and a great leader. Connor Barwin is solid against the run, can cover a tight end, and also help out in the pass rush. Mychal Kendricks is a guy with tremendous potential that I think is primed for a breakout year. Aging veteran Trent Cole is the one guy I don't necessarily feel good about in this group, but he's still very much a serviceable player at this point in his career.
Paul Posluszny plays at a Pro Bowl level for Jacksonville. He's the anchor in the middle, and helps make the guys around him better. Geno Hayes and Dekoda Watson are the outside linebackers, but they haven't proven themselves to be anything other than average.
Advantage: Eagles
Secondary
Bradley Fletcher and Cary Williams may just be average starters, but they should be able to handle the rookie Jaguar receivers. We'll get our first look at what free-agent signee Malcolm Jenkins can really do to help improve this defense.
Safety Jonathan Cyprien is on his way to becoming a star for the Jags. The rest of this secondary is still very young and looking to establish themselves. Last year's sixth-round pick Josh Evans starts alongside Cyprien at safety, while third rounder Dwayne Gratz and veteran Alan Ball man the corner positions.
Advantage: Eagles
Special Teams
Rookie Cody Parkey won the kicking job from Alex Henery in the 11th hour of the preseason, now he'll get his first test in the regular season. Nolan Carroll is set to handle kick returns for the injured Josh Huff, while Darren Sproles should field punts. Donnie Jones is coming off of a top year, and is one of the elite punters in the game, capable of pinning down a team deep in their own territory.
The Jaguars are solid in their kicking game with veteran Josh Scobee. Jordan Todman handles return duties, and averaged just 27.4 yards per return a year ago.
Advantage: Eagles
Intangibles/The Pick

Gus Bradley is doing a good job molding the Jaguars into a tougher team, but they're not ready to be a good team just yet.
I believe in Gus Bradley as a head coach, and I think that as long as the organization stays patient as he gathers more talent, in time he's going to do some very good things for this franchise. But for the time being, Bradley's Jaguars are just outmatched in terms of talent.
With the season opener in Philadelphia, the Eagles will be ready to come out and get the year started with a solid win. The Jacksonville defense is good enough that they may keep it a closer game in the first half, but as the game goes on I expect the Eagles' offense to slowly pull away while Chad Henne and the young, inexperienced players of the Jacksonville defense fall behind.
Advantage: Eagles
Projected Score: Eagles 30, Jaguars 13