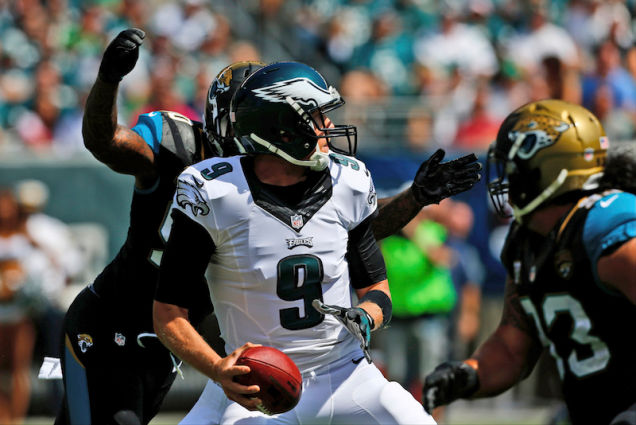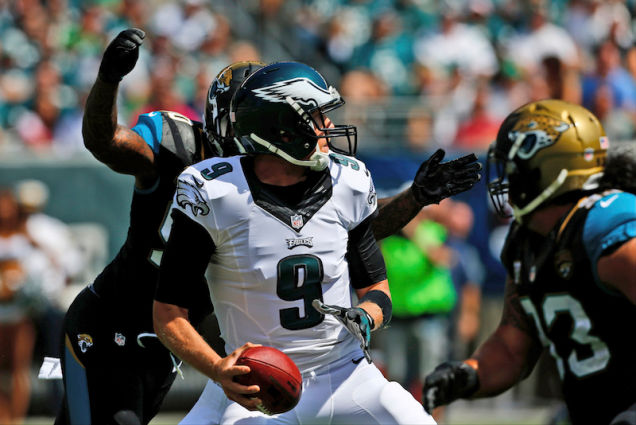 In the press box at Lincoln Financial Field many of the reporters, who cover the Philadelphia Eagles were saying quarterback Nick Foles had that "deer in the headlights" look about him.  It had everybody in the stadium talking about last year's Dallas Cowboys game.  His play was flat-out pathetic in the first half.  Still in the long run, it might wind up being a good thing.  I believe Foles   learned how to work his way out of a slump.
There was no question that it was the same situation as a year ago and his performance in the first half yesterday, was as bad as a quarterback could play.  He turned the ball over two times and it led to two Jacksonville touchdowns.  His accuracy was so bad, he couldn't hit the broad side of a barn with a pass.
For some reason, Foles has games when he can't see the entire field, which is usually one of the his strengths, when he is playing well.  The young QB usually sees the entire field in much the same way Magic Johnson saw the basketball court.  If a teammate came open, he got him the ball.  For Foles, the game yesterday was identical to that Dallas game a year ago, he couldn't see the entire field, so he waited and waited and waited and waited with the football in his hand.
Some quarterbacks who aren't seeing the field very well, will take chances with the football, but that's not the way Foles plays the game. If he's not seeing the football field well, he will hold the football and hold the football and hold the football.  Yesterday he was holding the football and it cost the Eagles two fumbles and two early touchdowns.
I think Foles may have figured out what he needs to do when he finds himself in the situation again.  I think he came upon it in the second half.
The solution involves checking the ball down to his running backs and tight ends.  It's a matter of taking what the defense gives you. Foles has to remember this in the future because you can't just throw the ball up from grabs and you can't just hold onto the ball.  Check the ball down to some of the best receivers on the team like Darren Sproles and Zach Ertz.
By checking it down, he's able to avoid making the big mistakes by getting the ball out of his hands to the underneath receivers and at the same time, he is able to get into a rhythm.  I've seen some of the greatest quarterbacks in the history of the NFL use this technique to get themselves going.
Hopefully, Foles will remember the lesson he learned the next time, he finds himself out of sync.