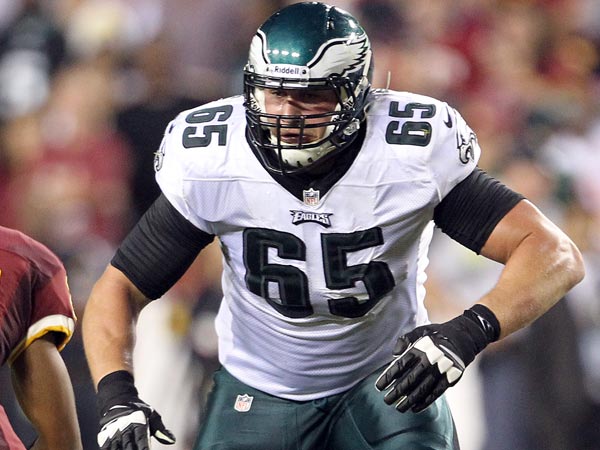 This is a very important game for Nick Foles. We've got to see him come out and prove that he can play a clean game with no turnovers. Against a very average Houston pass defense, the stage is set for the quarterback to come out and enjoy a very productive afternoon. 
J.J. Watt and Arian Foster are tremendous talents, but the Houston team as a whole just isn't very good.
Ryan Fitzpatrick is about as mediocre a starter as you can find in this league. He can't get the Houston aerial attack going, and this offense basically goes as far as Arian Foster can take them week to week.
Just how good has Foster been this year? He's got six 100-yard games in seven starts, and has found the endzone nine times.
That said, the Eagles shouldn't sleep on Andre Johnson. The talented wideout still has a lot of good football left in him. Before last week, Larry Fitzgerald was making very little impact, but exploded once matched up against the terrible secondary. The same opportunity is going to be there for Johnson today.
Can't understate how important the return of Jason Kelce is for this offensive line. David Molk has done a fair job in his absence, but Molk is so undersized that it really puts the Eagles at a disadvantage in certain situations.
I don't know how long Todd Herremans is going to be able to go with a torn bicep. That's an excruciating injury to play through, and I would be very surprised if he's able to finish the season.
Chip Kelly has done so many puzzling things this year in terms of playcalling. We've seen consistently baffling redzone playcalling and play design throughout the year, especially in the redzone. How are the tight ends on this team not being utilized more, especially Zach Ertz? I understand that the state of the offensive line has required the team to use the tight ends more as blockers, but I just think its inexcusable for a bright guy like Kelly to not find ways to get a weapon like Ertz more involved.
LeSean McCoy hasn't had 20 or more receiving yards in a game since Week 2.
I really think Kelly needs to think long and hard about using Chris Polk as the team's primary goalline back. Of course, McCoy is the much more talented back, but picking up short, tough yards is one area of weakness in his game. McCoy is a finesse runner that is much more suited to excel in the open field, while Polk is much more of a bulldozer that just runs straight ahead. Teams across the league use certain running backs as goalline specialists over their featured guys, and I don't think its unreasonable for the Eagles to do the same.
After getting burned by speedster John Brown a week ago, a guy the Eagles need to watch this week is DeAndre Hopkins. Hopkins has great speed and he'll be able to get open deep.
Former Eagle Damaris Johnson has carved out a nice role for himself with the Texans. He's made a few plays for them as both a receiver and a returner.
This week will be a homecoming for DeMeco Ryans, Connor Barwin, and a couple other guys on this roster. It will be particularly interesting to see how Ryans and Barwin respond to the opportunity to play against the team that let them go.
Final Thoughts/Projected Outcome
After suffering a loss to the Cardinals last week, I have to believe that the Eagles come out and play a much more complete and focused game than they did a week ago.
I think the two biggest keys today are for Foles to avoid turnovers and for the Eagles' defense to force Fitzpatrick into some key mistakes of his own. Someone in this secondary other than Malcolm Jenkins needs to step up and make a play. All three of the team's interceptions belong to Jenkins.
I don't see Fitzpatrick outscoring the Eagles' offense.
Pick: Eagles 30, Texans 20