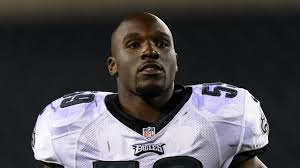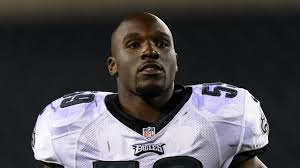 Eagles Win Overshadowed By Key Injuries
The Eagles won today's game against the Houston Texans, but the victory came at a very high price.
The Birds lost quarterback Nick Foles to a broken collarbone, Todd Herremans to his biceps injury and linebacker DeMeco Ryans to a torn Achilles.
These are enormous blows to this football team. With Foles going down, it robs the team of valuable opportunity to get a look at Foles to determine just what his future is going to be in this league and with this team. The third-year pro might not have been playing great football throughout the year, but there's no doubt that he gave this team the best chance to win right now, and even though Mark Sanchez has looked good in the preseason and did some nice things today, Foles is a very big loss for this club.
It was very difficult to see DeMeco Ryans go down today. You have to respect Ryans for what he's meant to this team, and all of the plays he's made and intangibles that he's brought to the table over the last few years. Now there's a very real possibility that he's played his last snap as an Eagle, leaving this defense without its anchor in the middle.
I mentioned before the game in my pregame article that I didn't believe Todd Herremans was going to be able to play through that injury for long, and it turns out he couldn't even make it through one game. Playing with one arm at a position like that just wasn't going to work. The Eagles' starting offensive line from a year ago that featured Jason Peters, Todd Herremans, Jason Kelce, Evan Mathis, and Lane Johnson will not play a single down together during the 2014 regular season.
Quick Thoughts
Offense
Before Nick Foles went out, he was having another up-and-down game. Foles best moment came when he hooked up with Jeremy Maclin for a 59-yard touchdown strike, and his worst came when he tossed yet another interception, a pick-six that got Houston back in the game.
LeSean McCoy registered another 100-yard day, picking up 117 for the day. However, Shady was once again unable to find the endzone.
Chris Polk took the majority of work in the redzone, and picked up a touchdown and 50 yards on eight carries.
Darren Sproles returned to the lineup, and chipped in 46 yards on four receptions, and 17 yards on the ground. He picked up several key first downs throughout the game.
Jeremy Maclin had another enormous game for this team, coming down with 158 yards and two touchdowns on six catches, including a very difficult touchdown reception in the second half.
Mark Sanchez threw for 202 yards and two touchdowns in relief of Foles, including a nice strike to Jordan Matthews in the second quarter.
The Eagles just can't stop turning the ball over. They committed four more today. Its miraculous that they continue to win despite all of these errors.
Defense
Mychal Kendricks played a strong game today, recording 12 tackles, a sack, and a forced fumble.
Brandon Bair and Beau Allen combined to pick up a sack in the first quarter.
It isn't often that you see Connor Barwin get burned for a big play, but he certainly made a mistake today when he allowed Arian Foster to get loose on his touchdown reception.
Barwin would later pick up a sack.
Earl Wolff got the start at safety for Nate Allen, who was inactive today.
The Eagles continue to give up too many big plays. They allowed DeAndre Hopkins to burn them several times, allowing 115 yards to the speedy wideout.
Special Teams
Cody Parkey drilled his only field goal attempt, a 45-yarder at the end of the first half.
Final Thoughts

The injury toll was absolutely devastating today.
Where do the Eagles go from here?
It will be interesting to get a look at Mark Sanchez as this team's starter. Can Kelly's system bring out the best in Sanchez and restore his career?
Its very important that the Eagles' running game become the primary focus of the offense again with Sanchez in. Chip Kelly showed signs of leaning that way today by using the talents of all three of his running backs.
The good news is that the Dallas Cowboys fell again today, giving the Eagles sole possession of first place in the NFC East. A tough Monday night matchup with the Panthers is on the horizon.