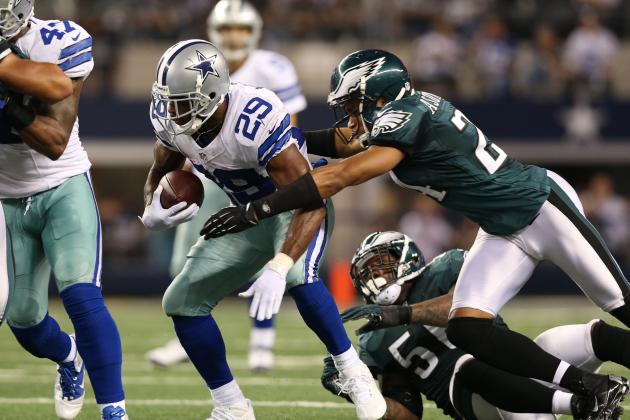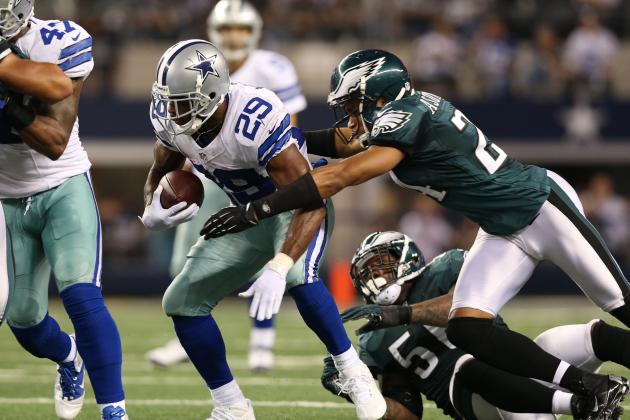 One of the key battles in Thursday's game will be the Eagles defensive front versus the Dallas Cowboys "Stretch Run" with DeMarco Murray carrying the football.  You will see Murray get the football while running laterally toward the sideline.
The Dallas offensive line tries to get the defensive front moving laterally as they push them off the football.  Most of the time a natural gap opens as each of the one-on-one battles take place along the line of scrimmage, Murray looks for an opening and immediately runs upfield when he sees daylight.
"Stopping the stretch run is all about gap discipline," Eagles defensive coordinator Bill Davis told the Philly sports media today. "Need to be athletic and strong to maintain gap integrity."
The Birds defensive line of Fletcher Cox, Cedrick Thornton and Bennie Logan  as well as the linebackers Connor Barwin, Trent Cole, Mychal Kendricks and Casey Matthews will need to attack the Dallas offensive linemen, get their hands on them, but make sure to stay in the gap they're responsible for, while also keeping their eyes on the ball carrier.  It's not an easy job when you have a man weighing more than 300 pounds pushing on you.
The key to the defensive player getting off the block and making the play is using your hands to dislodge from the block. That's one of the reasons Chip Kelly and the Birds player personnel make sure to measure the arm length of their defensive linemen.  They want guys with long arms who can use their hands to get off these "Stretch Run" blocks.
I like this matchup for the Birds because the Eagles offense runs the stretch play nearly as much as the Cowboys and the Philadelphia defense faces the play everyday.  They know how to defend it.  The strength of the Birds defensive line is taking on double teams to stop the running game.
If they stop or at least slow down the Cowboys "Stretch Run", it will put them in position to beat Dallas.