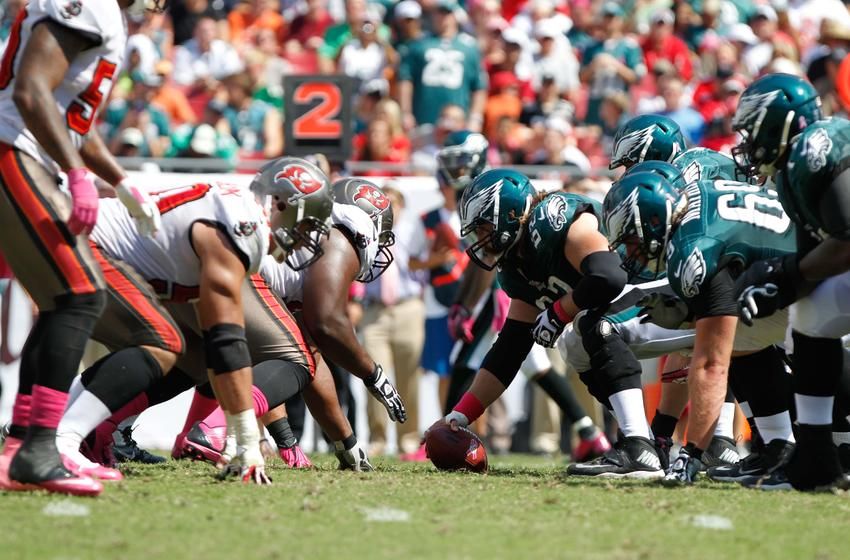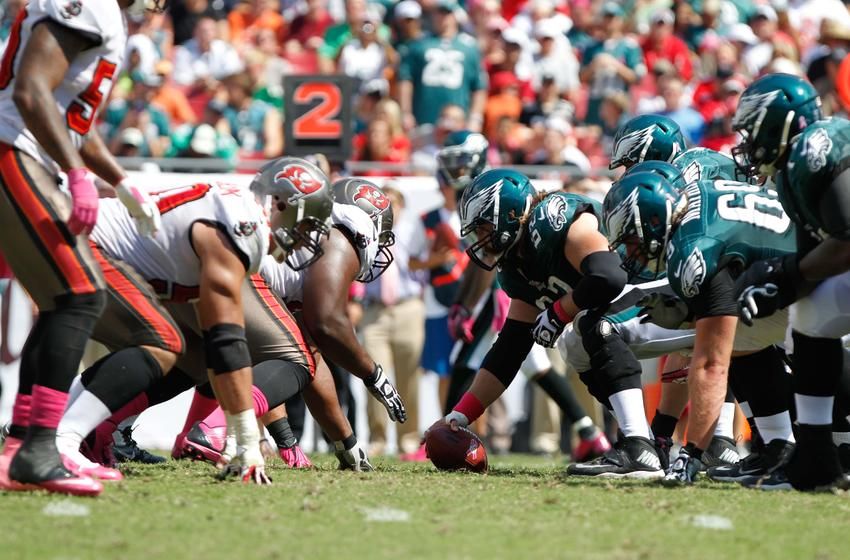 The biggest disappointment of the Eagles 2015 draft was the fact that they didn't get an offensive lineman.  It may be a fact that haunts them in 2015 and 2016 depending on the health of their starters and the success of their backups.  Don't get me wrong, the Birds could still have an outstanding offensive line in 2015, because they still have three Pro Bowl offensive linemen, but the depth is questionable.
If the offensive line returns to 2013 form, Chip Kelly's offense will be one of the best offenses in the league regardless of whether Sam Bradford or Mark Sanchez is leading it.  If the line allows them to run the ball the way they did in 2013, it will take pressure off the quarterback position and cut down on turnovers.  They won't have to throw the football 35 to 40 times if the running game is dominating.
A running attack with DeMarco Murray, Ryan Matthews and Darren Sproles is a handful for opposing defenses.  They will force defenses to make stopping the run their number one objective.  If the Eagles can stay out of second and third and long situations, it will keep the quarterbacks out of must-passing situations make their job much easier.  The quarterbacks won't be pressured as much and they won't have to take chances with their throws.  I'm sure this is what Chip Kelly wants early in the season, as Bradford regains his confidence and gets a better feel for the offense.
In order for this to happen, they need the veteran offensive linemen to stay healthy and play at Pro Bowl levels, and they need somebody to replace a healthy, young Todd Herremans.  Herremans wasn't at the top of his game last year due to injury and age, so solid play from that right guard position will be a upgrade over the 2014 season. This year's line could be much better than they were a year ago, but an injury or two to one of the Pro Bowlers could quickly dismantle them and the football team, since their depth is questionable.
The offensive line starts with Pro Bowl left tackle Jason Peters, who is still amongst the NFL's elite.  Peters came back in 2014 off of two Achilles tendon tears in 2013 and showed flashes of his past excellence.  He wasn't as dominant as he's been in the past, but it was still good enough for another trip to the Pro Bowl.
The big guy can still handle the best pass rushers in the league one-on-one, so that remains a major positive for the Birds.  We can't forget that he's 33 years old and closing in on the end of his NFL career. How long will he dominate defensive ends with his drive blocks and continue to play at a Pro Bowl level?  We don't know, but Kelly and his staff are betting on him being strong and healthy in 2015.  I'll agree with them on 2015, but I wouldn't bet on any more than that.
At left guard, Pro Bowler Evan Mathis has made it clear that he wants to be traded to a team that would be willing to give him a new contract.   He missed seven games in 2014 with a MCL strain, but he was still a plus when in the lineup.  He's a very good athlete for the position with power and drive at the point of attack, plus he's got great technique as a pass blocker.
Mathis and his agent have been making constant noise for the trade, so Kelly took a verbal shot at him after the draft by telling everyone that the Eagles got no offers for him.
I hope they will all kiss and make up because Mathis is already making $5.5 million this year and there aren't a lot of guards in the league making more than that.  The Birds don't have anybody to replace him. He will be turning 34 in November, so his days are numbered and the Eagles know it.  Hopefully, Mathis will be lining up next to Peters this season because there's no guarantee that Matt Tobin or Andrew Gardner can do the job.
Center Jason Kelce made his first Pro Bowl in 2014 and he's one of the best centers in the league.  He's undersized but very athletic for the position.  Kelce is a battler and one of the leaders of the football team. He gets out in front of screens and draws like no other center in the league.  He's smart and tough which is what you want from the position because he's the decision maker on the offensive line and he has to work with the quarterback to make protection calls.
Kelce's lack of size does get him overpowered at times by big nose tackles, but he adds so much with his positives that he is a big plus to the offensive line and entire football team.
The other young starter on the Birds offensive line is Lane Johnson, who has been steady if not spectacular at the right tackle position.  He's a very good athlete for the position and will probably be moved to the left tackle position when Peters hangs them up.
One negative on Johnson is the fact that he missed first four games of the 2014 season because he violated the league's Performance Enhancing Drugs policy.  The next violation could result in a 16-game suspension.
He is really more of a left tackle than a right tackle because of his athleticism, because he's not really a road-grader in the running game.  Usually the right tackle is the physical pounder, but that's not the case with the Eagles with Peters on the left side.  Johnson has got some power but he's more of a technique blocker.  He is going to do nothing but get better with experience as long as he's on the field.
Lining up next to Johnson will probably be veteran Allen Barbre in the place of Todd Herremans.  Barbre has previously stepped in at the left offensive tackle and done a good job, but last year at right tackle wasn't a good one for him.  He started the 2014 season at right tackle in place of Johnson, but got hurt in the season opener and wound missing the entire campaign because of what started out as a high ankle sprain.  They need him to stay healthy this time around.  Usually guard isn't as tough of a position to play as tackle, but Barbre has been better on the left side in the past, so we'll see how he does on the right side.  Obviously, the fact that they didn't draft any offensive line help, says they trust him.
Young backup Matt Tobin, who was a disappointment a year ago, could possibly give Barbre some competition for the right guard spot, but he's got to play more confidently and consistently.  He needs to have a good camp and preseason to earn the respect of offensive line coach Jeff Stoutland.
Andrew Gardner is another backup who has shown some promise but been disappointing when given the chance to play.
Tobin and Gardner are both question marks and good reasons for the team to hang onto Mathis.  If they were to come around it wouldn't be a shock because offensive linemen can take quite a bit of time to come into their own.
Dennis Kelly will be fighting for a job, but he has the potential to help the Birds as a backup for the tackles.  He's got the power, but his technique is inconsistent and he doesn't have the athleticism to recover, if he makes a mistake with his technique.
Young David Molk will try to fight off Bethlehem product Mike Coccia for the backup center and guard spot.  Veteran Julian Vandevelde, who is returning from back surgery could be backing up at center and guard.  Don't be shocked if free agents Coccia and Delaware-native Malcolm Bunche put up good battles for backup spots.  They're both mature kids with size and good work habits.
The Eagles need at one or two of these young guys to step up because their offensive line is the oldest in the league with Peters, Mathis and Barbre all above 30.  Chances are one of the starters will miss some time during the season and there will be a need for a backup to step in and play.  Without some of the backups proving they can play, the Birds could be in major trouble if they suffer some injuries.  It could put great of pressure on both Sam Bradford and DeMarco Murray, if they can't rely on this line.
A gun-shy Bradford can't be expected to produce behind a shaky offensive line as he battles back from knee surgery and Murray isn't going to be nearly as productive in 2015 as he was in 2014, if he has a line that's a major fall off from the outstanding group he was running behind in 2014.
First team: Jason Peters, Evan Mathis, Jason Kelce, Allen Barbre, Lane Johnson
Second team: Andrew Gardner, Matt Tobin, David Molk, Julian Vandervelde, Dennis Kelly
Third team:  Josh Andrews, Brett Boyko, Malcolm Bunche, Mike Coccia,Kevin Graf, Cole Manhart