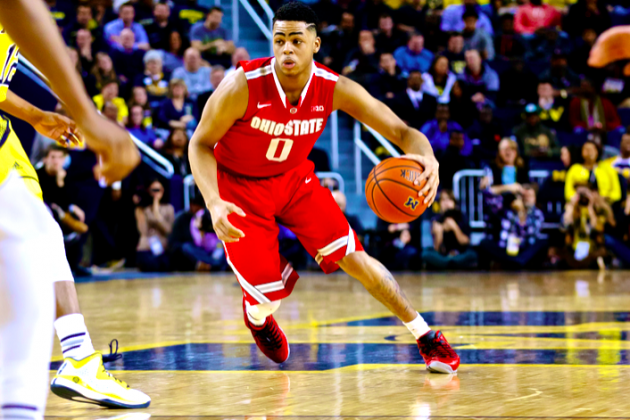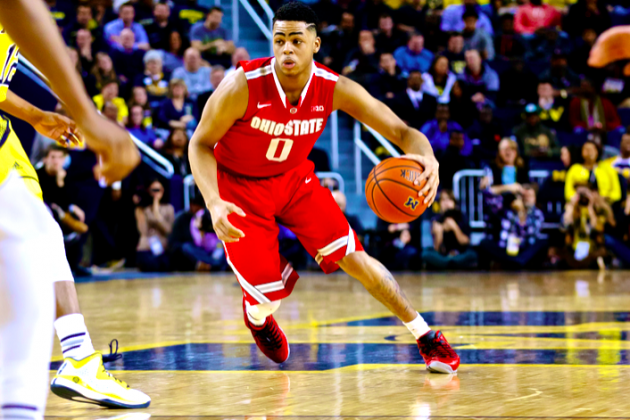 76ers General Manager Sam Hinkie has been staying on message through the ups and downs as he tries to rebuild their basketball team.  It may finally be starting to pay off.
The Sixers weren't fortunate enough in last night's NBA Lottery to the get the Lakers picks or the Heat's pick, but they did get the 3rd pick in the NBA draft, so they'll be able to final meet one of the needs that has had the franchise running in place for far too long.
Most people act like it's a done deal now in the June 25, 2015 NBA Draft with the Minnesota Timberwolves selecting Kentucky's big man Karl-Anthony Towns and the Los Angeles Lakers grabbing Duke's low post monster Jahlil Okafor.
That will allow the 76ers to grab the guy everybody thinks they're going to select and that guy is Ohio State's 6'5″ point guard D'Angelo Russell.   Russell, who is a lefty  is expected to come in and be the floor setter and distributor needed to utilize the talent of Joel Embiid and Nerlens Noel.  He's got a very high basketball I.Q., a nice handle, the ability to create his shot and an accurate jumper from long distance.
"There's been a lot of talk, but you never know what's going to happen", Russell said responding to a question about the 76ers picking him. "I don't know what they want. I know they need a wing, a guard or whatnot."
Although, Russell is the favorite to be the Sixers pick at number three, there's still a chance they could be sold on Duke's swingman Justise Winslow.
Hinkie traveled all the way to China to see guard, Emmanuel Mudiay.  Mudiay is said to be quite a player, but he can't shoot from outside in much the same way as Michael Carter-Williams.
We won't know what Hinkie's going to do until they make the announcement on June 25th.  It's about time, the Sixers gave us a reason to really pay attention.