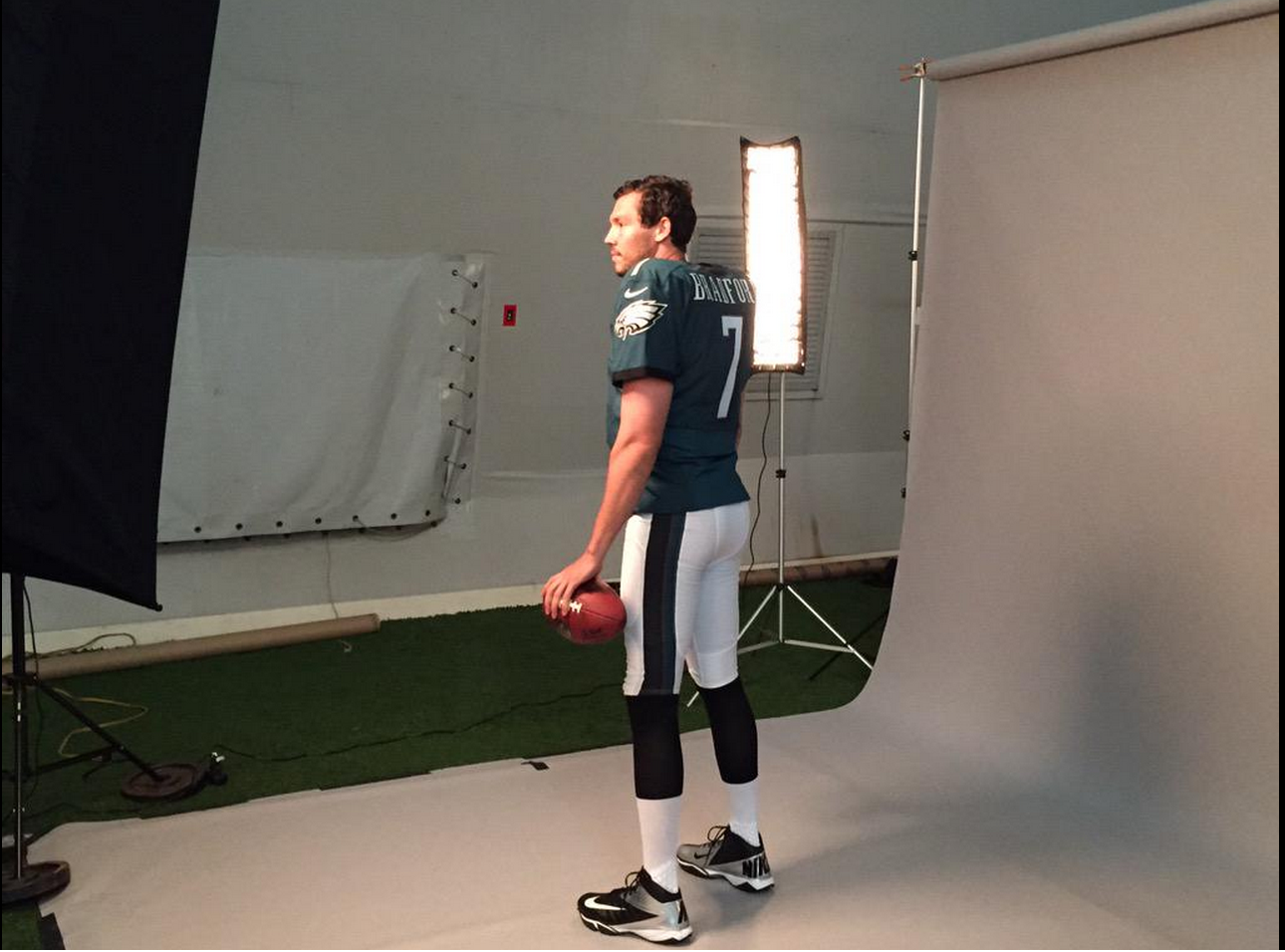 Eagles second-year wide receiver Jordan Matthews was on the 94-WIP Morning show and he asked about how his teammate and quarterback, Sam Bradford was coming along in his recovery process.
"He looks great and he looks extremely poised", Matthews said when describing Bradford.  "His ball speaks for itself.  The guy has an amazing arm.  It almost seems effortless the way he can throw and the way he can sling the rock."
"He's very reserved but he talks when he has to, but he's also very friendly. Great guy in the locker room. He really fits the team.  I can't wait until he gets really healthy and we can really get rolling."
I doubt we get to see Bradford in action on Thursday when the workouts are open to the media, but he's getting better each day according to his teammates and coaches.
You could hear that his teammates have assumed that he's the starting quarterback because of his ability to throw the football.  Mark Sanchez doesn't have a big time NFL arm, but from what I have heard, Bradford has a great arm and he can get the ball there without a lot of effort.
Matthews went on to talk about Bradford's rehab.
"Right now he's doing the right thing. He's being smart  He's being really aggressive with his rehab.  I think once he's back to 100% he's going to really help us out."
The young wide receiver made it a point to complement the team's second-string quarterback who will likely throwing the ball to Matthews this week at the OTA workouts.
"The good thing is that we have good quarterback depth," the former Vanderbilt wide out said..  "Mark (Sanchez) is going to be able to handle the job too."
"Sam has time to make sure he's being responsible", Matthews emphasized the wisdom in Bradford not rushing back from the ACL tear.  "I think sometimes everybody tries to rush these type of injuries and they like get back on the field early, but we've seen in the past it's not the best thing to do."
"He's doing the right thing taking his time.  The Eagles training staff, they're really working hard with him.  I feel like that's the best thing they're doing for him.  Throw when he needs to.  Continue to stay in the playbook. And definitely get healthy. I feel like he's doing the right thing."
I think Matthews is right.  It's not smart to rush back and wind up getting reinjured because you didn't give the injury enough time to heal.  I think that's what happened to Bradford last year.  He even mentioned it during his first news conference.
Bradford needs to get the knee strong enough to be able to take a hit or two, then start practicing with the rest of the team.