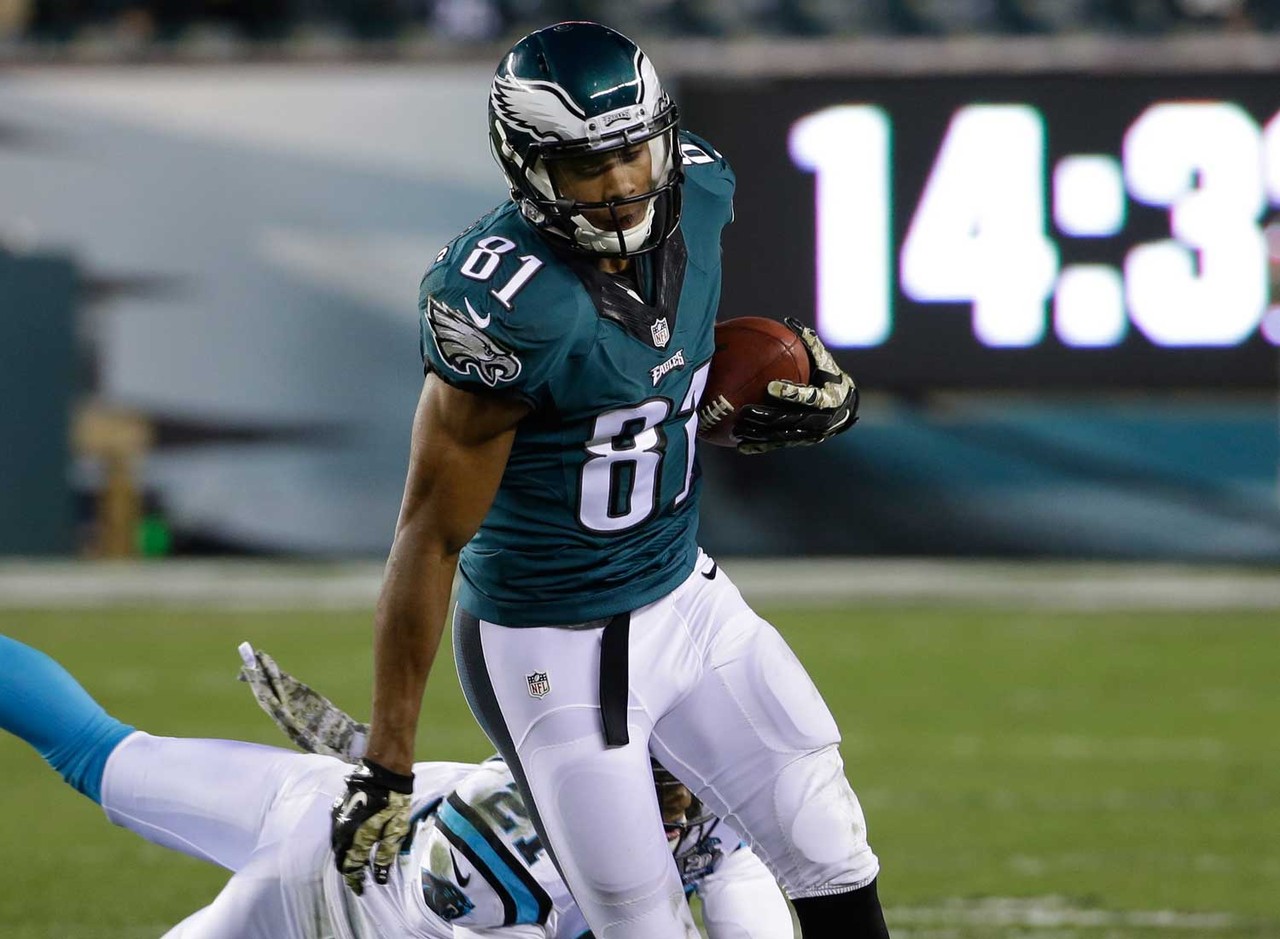 The Eagles are starting their OTA workouts today and the team's second-year wide receiver Jordan Matthews was up there early this morning and he was also on the 94-WIP Morning Show.   He had a lot to say during the brief time that he was on the air.
Howard Eskin asked about how he felt about whether there was a number one receiver in the Chip Kelly offense like other offenses in the league.
"I look at it differently because we're a different type of organization. I played at a college where it was more west coast, where we ran the same offense kind of the [San Francisco] 49ers ran. Usually the "Z" was considered the number one wide receiver. I would never like to talk in that type of language, but that's just what it is."
"In all honesty, the type of offense we play in is very dynamic," Matthews said when describing the Chip Kelly offense. "It's a lot of weapons out there, so you can't really say, 'Oh this guy is this option, this guy is this option.' I mean, if you go look at a depth chart, I think of our best players on the whole offense most people think he's a number three running back. I doubt that Darren Sproles is a quote-unquote number three running back.  He's one of our best weapons and one of our best targets. We have so many moving parts so many guys that can go out there and make plays".
"We don't have to put labels on stuff.  We don't want to go there and say you're the number one this and you"re the number one that, that's unneeded pressure.  We just have to go out there and work our butts off and be the best guys we can be. Like, when I go each day into work and compete, I compete as if I want to be the best receiver in the NFL regardless. But I"m not going to go I want to be this guy or Josh is going to be this guy.  We're all teammates."
"That's what we want to be. We want to be a room of comradery where everyone just comes in, works, doesn't put labels on anything. We're just gonna go out and play as a team and I feel like that's gonna set us up for success in the end. Not just one guy thinking he's the guy."
You can believe that Chip Kelly is going to be lining these guys up all over the place.  You're going to see Matthews inside on the one play and outside on the next, and the same will be true of all the other receivers.
When asked by Eskin about which of the young receivers had been standing out, Matthews singled out number-one draft pick, Nelson Agholor.
"You hear a lot of great things, but then we you actually get him on the field and see what type of guy he is, you're like OK this kid gets it.  Instead of taking the regular rookie shuttle, he takes a taxi to get here early to the facility. That's a kid that gets it. That's not a facade that somebody who says I want to go and get in the building early. get done what I want to do, then go out and compete."
"He's been really aggressive with his studies. He's always hitting me up, if he needs like signals. If he needs information, he calls me whenever and then we're able to talk over it. And we haven't even gotten to how he is on the field. The kid is explosive."
As for how Agholor has looked out on the field, so far.
"I'm not gonna ruin it for anybody, I just want everybody to see how talented he is. He's going help us out a lot."
Chip Kelly has what he wants which a roster full of players, who are team-oriented, focused on improving and driven.