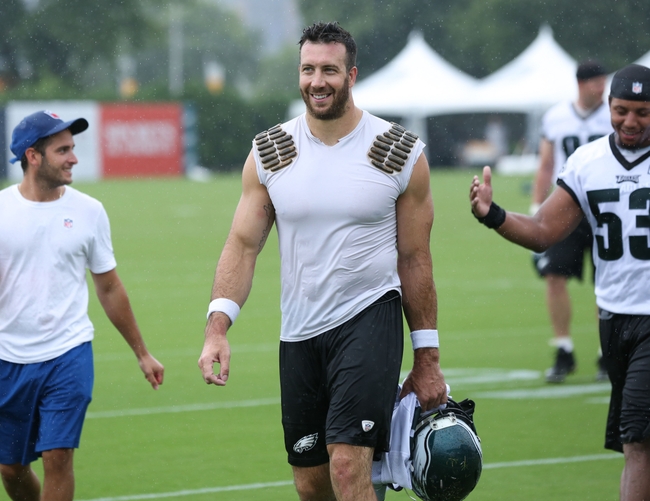 Jul 26, 2014; Philadelphia, PA, USA; Philadelphia Eagles outside linebacker Connor Barwin (98) walks off the field after practice at training camp at the Novacare Complex in Philadelphia PA. Mandatory Credit: Bill Streicher-USA TODAY Sports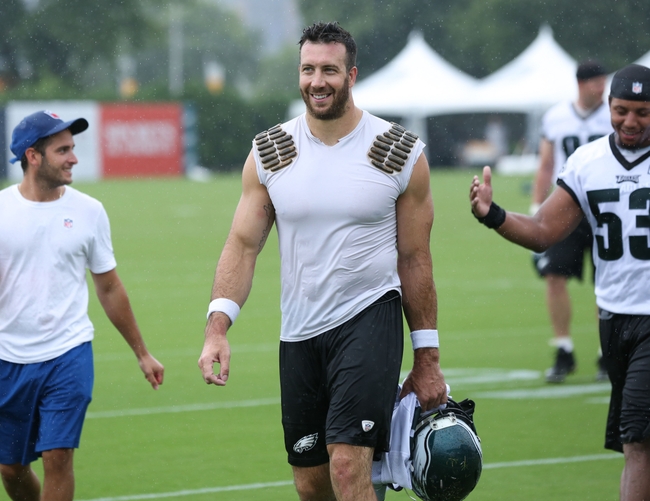 The outside linebackers were working out on Thursday and I'm concerned about the Eagles situation at the position.  We've got Pro Bowler Connor Barwin on one side, and on the other we have Brandon Graham coming into his own, but there are nothing but questions behind them.
Barwin, the tall, long-armed veteran backer is the prototype of outside linebackers that Chip Kelly is looking for.  He's one of the leaders of the defense and they need him to make big plays.  In fact, both starting outside linebackers in this 3/4 defense will need to get to the quarterback.
Of course it wouldn't hurt to have Barwin put up big sacks numbers for another season like he did in 2014.  The former Houston Texans registered 14.5 sacks to lead the team and the NFC.  He's an all around player with good pass coverage skills, as well doing a very good job versus the run.  Offenses are going to know where he is on every play this year.
Graham is a short and powerful pass rusher with good straight ahead speed, but doesn't have the change of direction needed to be a good pass coverage linebacker.  He's a starter this year, but the former first-round draft pick has never started for a season in the NFL.  He's been a back up, since he's been in the league, but now the Birds need more out of him.
There's an accountability factor which is a part of reliable starters.  It means the team needs him to stay healthy and learn to play through pain and discomfort.  Graham must reliable from game to game and he needs to be productive as a pass rusher, since he'll probably get more chances to rush the passer than Barwin.
Teams usually line their tight ends up to the right side more than the left side.  3/4 defenses usually pass rush the outside linebacker away from the tight end because he can get generate better speed pass rushing off of an open corner since the tight end is to the other side.
The Eagles are probably more comfortable with Barwin in pass coverage than they would be with Graham.  They can deal with Graham's mediocre pass coverage as long as he is getting to the quarterback.   Graham must get sacks and pressures on consistent basis.  He contributed 5.5. sacks last year in part time duty, which is outstanding. It would be great to see him register double digits sacks.
Backing up these two in the practice on Thursday was Bryan Braman and Travis Long.  Braman is as Special Teams guy with the Barwin look, tall with long arms.  He's big and he can run, but doesn't seem to have the instincts.  The Eagles like Long, but he's try to come back from an ACL tear. He's another question mark.  They're hoping that he can be a capable backup.
The top backup at the outside linebacker position is last year's number one draft pick, Marcus Smith.  That's reason for concern.
Smit, who has put on 15 pounds of muscle, missed practice yesterday because of a leg pull, which is a joke.  Here you have a second-year player, who was a major disappointment a year ago, now he isn't able to practice during the OTA's.  This guy needs to start showing the toughness you want from your linebackers.
On Thursday,  Chip Kelly barely acknowledged Smith's injury because the youngster hasn't done anything for this football team since he was drafted and you can't even depend on him to be healthy enough to practice.
I wouldn't be able to sleep on the night before a game, if I was a defensive coordinator depending on Smith to come through for me.
I think one or two of the Birds inside linebackers will spend some time at outside linebacker this season.  Don't be surprised to see Kiko Alonso, Mychal Kendricks or Brad Jones lining up at the outside linebacker position.  Alonso is good enough athlete to do it.  Kendricks has the speed and he's a good blitzer.
My favorite for the move is Alonso because he's got the size and smarts to do it.
On another note, they may be able to work out a way in which they can get pass rushing defensive end Vinny Curry on the field more and let him get after the passer.  This is something they must make happen because they are definitely lacking depth at OLB.