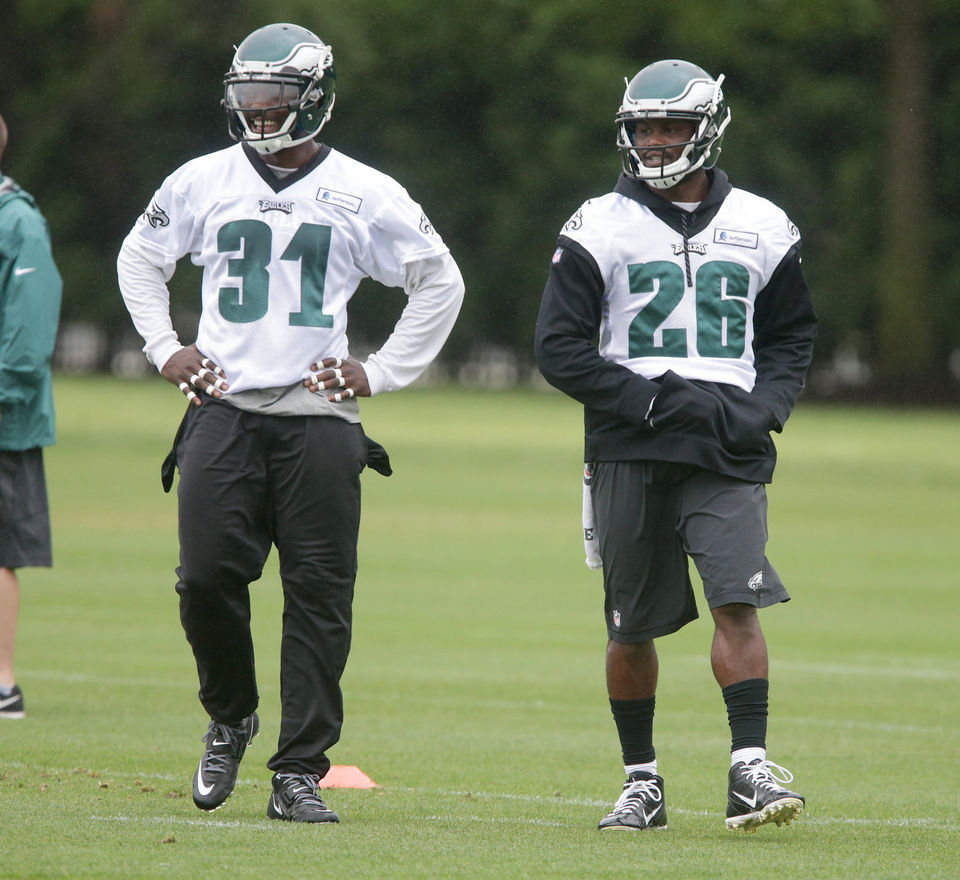 Looking back on the Eagles OTA's week on the defensive side of the ball, we didn't get too much news from the defensive line.  Fletcher Cox is still intent on having another big year.  Cedrick Thornton and Bennie Logan are healthy and ready to go.  We don't learn about the offensive and defensive linemen in the OTA's because they don't have the pads on, so there are no collisions.
I liked what I saw of DeMeco Ryans.  He's already back on the field and the defensive signal caller is well ahead of schedule as he returns from a torn Achilles tendon. The Birds are stacked at inside linebacker with the talented Mychal Kendricks letting everybody know that he's not concerned about the trade rumors because he knows he can play. We all know he can.
The newly acquired Kiko Alonso is also well ahead of schedule as he recovers from an ACL tear. He's doing all the drills and team drills.  He and Kendricks may be the two most athletic inside linebackers in the NFL. Defensive coordinator Billy Davis assured us that he's going to find a way to get all the talent at this position on the field at the same time.
Defensive coordinator Billy Davis is talking about adding packages which will allow Ryans, Kendricks and Alonso to be on the field at the same time.  It's something the Birds have to do.  You want your best football players on the field.
Rookie Jordan Hicks is working hard and learning his craft.
Connor Barwin looks like he's headed for another big year at outside linebacker with Brandon Graham ready to get after opposing quarterbacks.  I'm still troubled by Marcus Smith missing all these practices because of a muscle strain.  The Birds are woefully lacking in depth at this position.
We heard from defensive back Nolan Carroll, who is in the lead for the starting cornerback position opposite this year's top free agent corner, Byron Maxwell.  The new cornerback says he sees some similarities between the Seattle Seahawks culture and what takes place here at the Nova Care Complex.
Carroll has impressed new secondary coach Cory Undlin with his improved press coverage technique. Maxwell has stepped in and not missed a beat, as you would expect. Rookie corner Eric Rowe is quickly picking things up according to Undlin.
Davis has left the door open to matching up Maxwell against the other team's number one receiver.  This would mean Maxwell could be lining up on either side of the formation depending on where the receiver he was matching up with lined up.
Surprisingly veteran defensive back Walter Thurmond, who had been a corner all his career, looks firmly positioned to be the starting safety beside Malcolm Jenkins.  His experience and knowledge about coverages has given him a big advantage.
Jenkins was enthusiastic about his praise of Undlin and his focus on the technique of covering receivers.  I got the chance to hear Undlin and I agree with Jenkins, their new secondary coach is a great improvement.