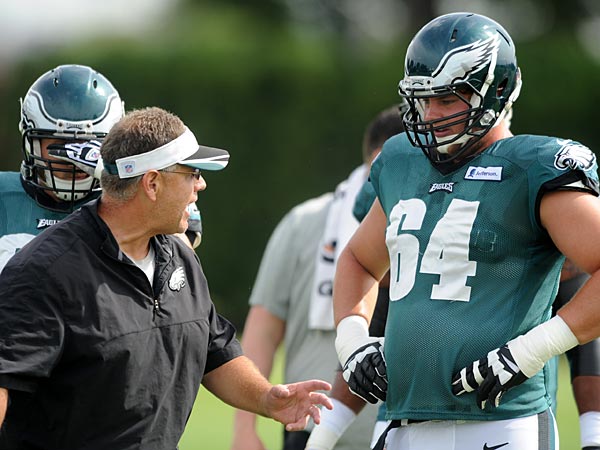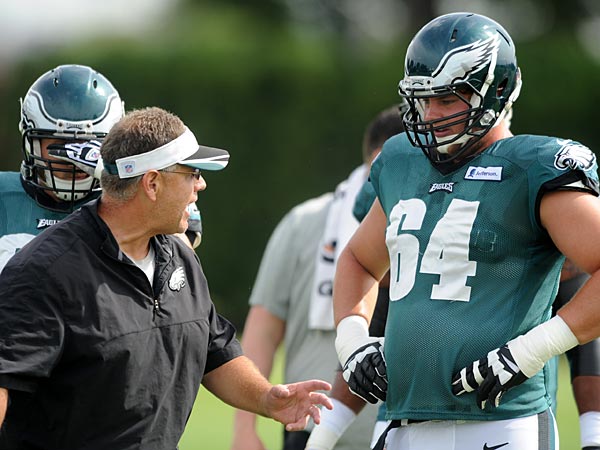 If you were concerned about the Eagles offensive line, I've got reasons for you to stay that way.  There have been a number of reports that the Eagles tried to sign former Washington Redskins right guard Chris Chester, but he decided to sign with the Atlanta Falcons.  ESPN NFL Insider Adam Caplan reported that the Eagles offered Chester a two-year contract.
Now what does that say to you as Eagles Pro Bowl left guard, Evan Mathis continues sits out of OTA's.  The fact that the Birds are going after a veteran guard like Chester tells us they're not really happy with what they already have on the roster.  It says they would rather replace Mathis with a veteran player rather than some of the unproven young backups they have on the roster.
Right now Allen Barbre and Matt Tobin are the starting guards.  Eagles offensive line coach Jeff Stoutland had good things to say about Barbre when he talked to the media.
"He is a really good player. We have a lot of confidence in him and his abilities."
Stoutland wasn't nearly as positive about Tobin, who lost a starting job last year to another backup Andrew Gardner.
"Put it this way", Stoutland said according to PhiladelphiaEagles.com. "There are areas that I thought he needed to improve in and he's very conscious of those things. Whenever it rears its ugly head again, we right away jump on it and talk about it and say, 'You need to keep your hips down and sustain better balance. You need to be more violent with your hands and you need to engage the blocks. You can't get your hands clean."
"I think we have a talented group of guards," Eagles Pro Bowl center Jason Kelce said. "I know that Allen Barbre can play. I've seen him play for a couple of years now, he's a very good player for us. Matt Tobin is a guy who I think was a little bit blue last year, getting his first starts and his first really solid action time. But he's a guy that has all the tools you want to be successful at guard in this league."
So there you have it.  The Eagles seem to feel Barbre can step in and do the job, but he been good at times then at other times he has struggled.  That's why he has been a career-long backup.
It's obvious, they're not as confident about Tobin.  In 2013, they had a competent player like Barbre waiting in the wings in case they sustained any injuries.  Now they not only don't have anyone they're confident in waiting the wings, nor do they five guys they're confident in to start the games.
This doesn't make sense.  The Birds have a starting quarterback who is recovering from two ACL tears and they're going to put him behind an offensive line, which includes a player they have no confidence in and that line is backed up by players, whom they have no confidence in.
I guess they'll cross their fingers every time the ball is snapped, in hopes that Tobin's weaknesses don't appear.  If any of the offensive linemen get injured, it could get ugly.