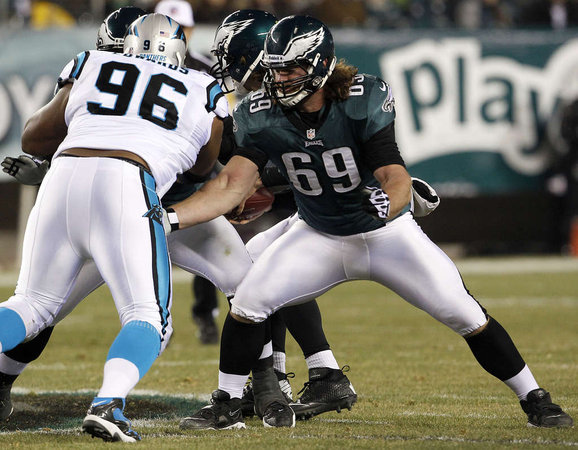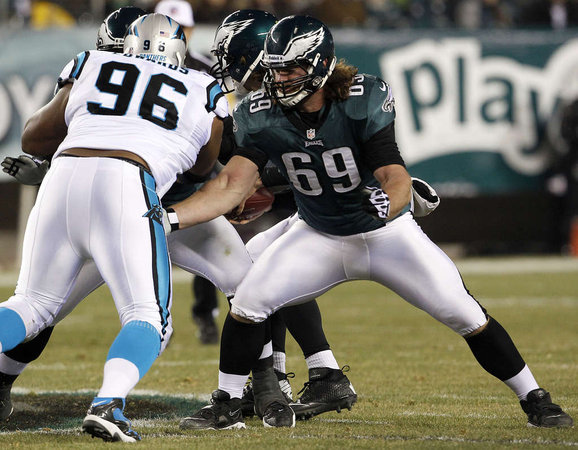 Eagles head coach Chip Kelly said he gave Pro Bowl left guard Evan Mathis what he wanted which was to be released.  Kelly just finished a news conference prior to starting a three-day mandatory mini-camp, which begins today.
Kelly said Mathis is a good football player but they had to work something out .  "We weren't coming to a conclusion", Kelly said.  "He didn't want to be here.  He and his agent had asked to be released numerous times.  He moved on we moved on."
"I think Allen Barbre is an outstanding football player. We'll see what happens on the other side"  Kelly said about Barbre got hurt last year but when he did play he was very good. Chip believes Barbre is comfortable playing either side.
Chip didn't agree with what former Eagles tackle Tra Thomas had said about Mathis not being a good match with Pro Bowl left tackle Jason Peters on the left side of the line.
"We're very comfortable with the guys we have on the roster right now", when asked about the offensive linemen he has on the roster."
He didn't really sing the praises of Matt Tobin the way he did of Barbre.  Kelly just said Tobin was behind last year because of a leg injury.  The only positive he did say about Tobin was that he came back faster than we thought he was going to come back.
Depth is an issue for everybody in the league.  He wasn't concerned He thought he played well but he missed 8 games.  We haven't changed any plays.
"It's June, whoever lines up today isn't an indentation about who is going to be lining up at the start of the season", Kelly said.
Kelly said he didn't read or find out what exactly former Eagles and current Seahawks cornerback Cary Williams said about being fatigued and tired last year.
"Malcolm Jenkins said he felt the best of any time in his career," Kelly said.