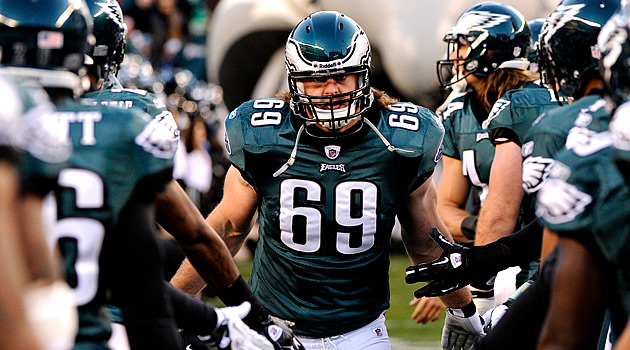 Dec 18, 2011; Philadelphia, PA, USA; Philadelphia Eagles guard Evan Mathis (69) is introduced prior to playing the New York Jets at Lincoln Financial Field. The Eagles defeated the Jets 45-19. Mandatory Credit: Howard Smith-US PRESSWIRE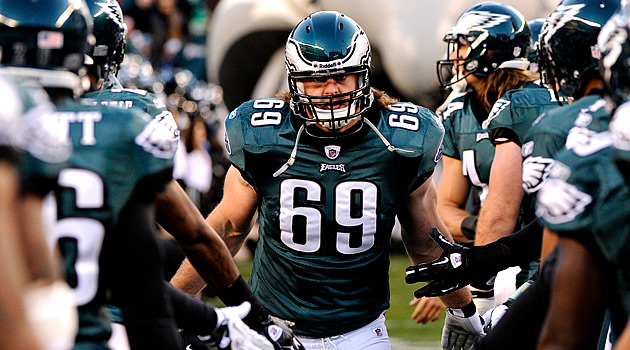 Howard Eskin of FOX29 just reported on the 94WIP Morning Show that a couple of Eagles players told him Evan Mathis was going to retire, so he wouldn't be fined for missing the Birds mandatory workouts.  Eskin didn't give any names of his sources, but he seemed convinced that this was a serious plan by Mathis.
It was reported last week that the former Eagles Pro Bowl guard sent a copy of his itinerary for coming to Philadelphia this past weekend to workout with the team. He said he was going to workout with the team during the mandatory session and was surprised when he was released by Chip Kelly. It seems like a stretch to think he would retire to avoid the fines, then come back with another team.
As far as I can see, Mathis staying out of these offseason workouts with the Eagles is going to cost him millions.  He was slated to make $5.5 million dollars this season, then $6.5 million the next year.  I don't see any way a 34 year-old guard is going to sign with a team this late in the year and get that kind of money.