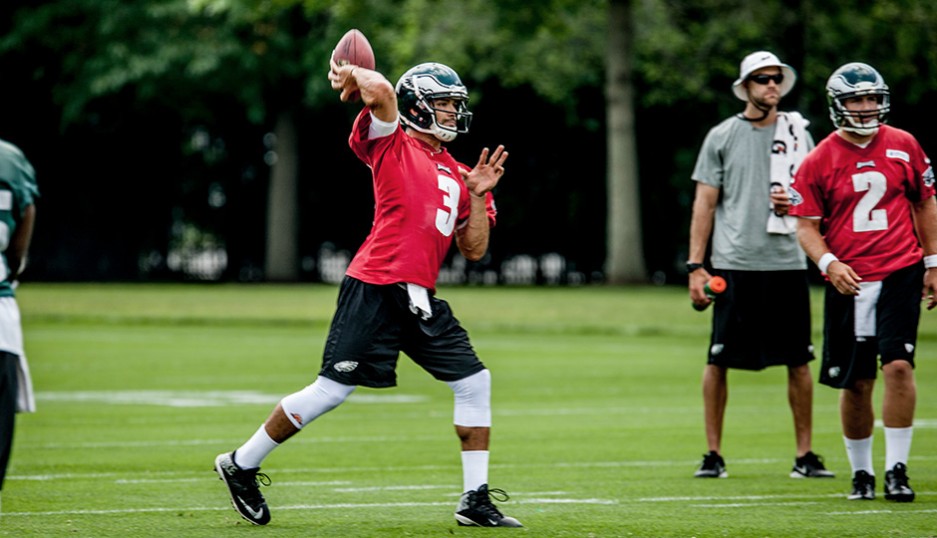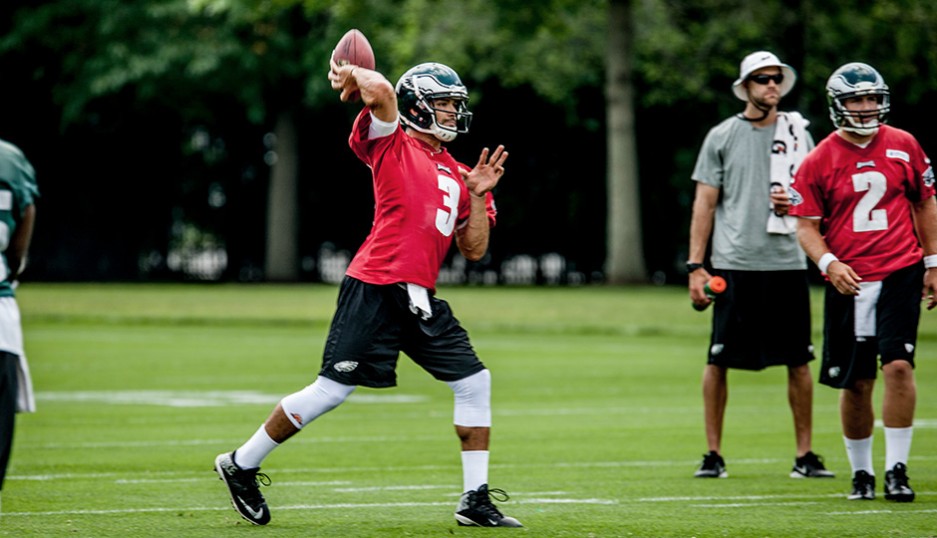 Sam Bradford is expected to be the starting quarterback for the Birds in September but right now here in July, Mark Sanchez is the de factor starting quarterback for the Eagles because of he's leading the team now as they workout in San Diego, California.  Bradford is continuing his rehab work back here at the Nova Care Complex in Philadelphia.
Tim McManus of PhillyMag.com lays it all out as he talks to trainer Todd Durkin, who has been training Darrren Sproles for years and has recently started training Eagles tight end Zach Ertz.   Durkin is helping to oversee the workouts by warming them up and putting them through some movement drills.  He has previously worked with the likes of Drew Brees and LaDainian Tomlinson.  Bottomline, he knows what he's doing.
"Every day they've had field work where they've been on the field and doing their install," said Durkin told McManus. "After they do the weight room work they go over to the high school and they watch film for about an hour and then we do our warm-up with them and bring them through all their agility and movement stuff, and then Mark leads their install and they do all that."
The core of the skill position players on the Eagles are continuing the same workouts that Chip Kelly was putting them through for the last couple of months.  Some of the players working out with Sanchez are Ryan Mathews, Jordan Matthews, Matt Barkley and Seyi Ajirotutu.  That group of Eagles haven't broken stride in their workouts.
Sanchez is taking a leadership role here and it shows his position with his teammates on the football team.  He did these same get togethers in San Diego years ago when he was a young quarterback of the Jets playoff teams.
When the Eagles show up to camp, which quarterback do you think is going to be the sharpest?  Will it be Bradford, who is back here continuing his workouts with nobody to throw to, or will it be Sanchez who is working with the skill guys on the team on a daily basis during practices in San Diego?
Remember that Sanchez got all of the team reps during OTA's and the mini-camps.  Bradford hasn't been able to do any 11-on-11 team reps.  Despite continuing his workouts here in Philly, he can't workout with any of the coaches and nearly all the players are gone.
Sanchez has made it clear that he's going after the starting job.  If Bradford stumbles in his rehab or as he continues to learn the Chip Kelly system, and tries to regain his confidence in the pocket, Sanchez will be totally prepared and ready to go.  Sanchez will be able to put the pressure on Bradford at practice.
Bradford has his work cut out for him.  He will need to conquer the apprehension he will have when offensive and defensive linemen are falling at his feet, near his left knee, as he stands in the pocket.  He'll be learning the Chip Kelly system at the same time as he runs the offense at a breakneck speed.  Bradford will need to be on target with his throws while learning the complex system and regaining his timing and accuracy.
The other players on the team will be watching and comparing the two quarterbacks.  Regardless of what Sanchez does in the preseason, Bradford will probably be the starter in September, if he's healthy, but will he keep the job if he struggles.