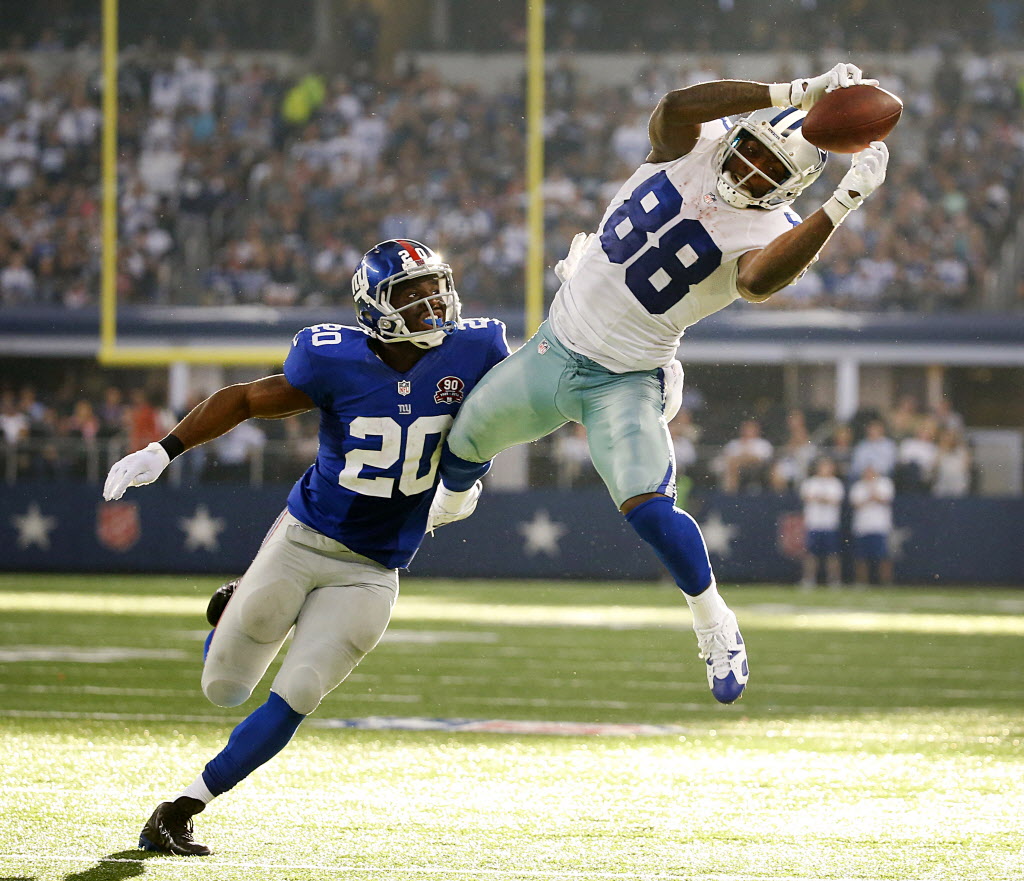 Dallas Cowboys wide receiver Dez Bryant (88) leaps high over New York Giants cornerback Prince Amukamara (20) for a big fourth quarter catch at AT&T Stadium in Arlington, Texas, Sunday, October 19, 2014. Bryant reached across the goal line but came up short on the touchdown. The Cowboys won, 31-21. (Tom Fox/The Dallas Morning News)
Cowboys Pro Bowl wide receiver Dez Bryant has given his word to the Dallas front office and the team's fans that he will not be at training camp, if he and the team can't reach an agreement on a new long-term contract.
Dallas put the franchise tag on Bryant after the season.  He's going to make $12.8 million this season without a long-term deal.  The star wide out argues that's he's proven himself to the organization, so he should be rewarded with a long-term, which would give him some security.  Earlier today, he tweeted the following:
"As much as I love football…on my beautiful babies.. I apologize #cowboynation but I will not be there if no deal #fact."
So it's official now, Bryant won't be at camp if he can't work out a long-term contract with the Cowboys.  Previously, he had even threatened to miss regular season games, if he doesn't get a long-term deal.
Ed Werder of ESPN reported earlier today that Cowboys Executive Vice-President Stephen Jones had texted him and denied that Bryant had threatened to miss training camp time and regular season games.  He tweeted the following.
#Cowboys EVP Stephen Jones in a text denies @DezBryant has threatened to miss training camp, regular-season games
Bryant put an end to all the nonsense and the misinformation campaign by tweeting out his intentions.  Something will have to give one way or another.  If they get a deal done, Bryant will be there, if not, then he has a choice to make.
So there you have it, Bryant says he will sit out, if a deal isn't agreed to by this Wednesday.  So you know what Eagles fans are rooting for.