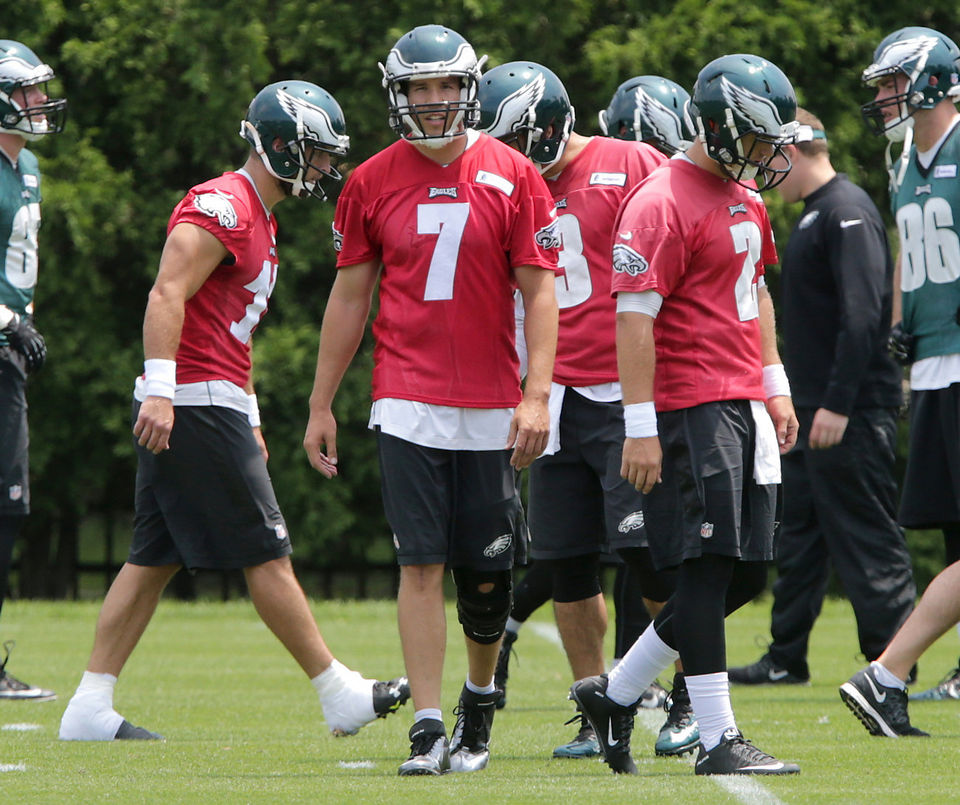 The clock is ticking and the Eagles training camp is getting closer and closer.  I've been digging for information about the Eagles new players and especially the most important new guy, quarterback, Sam Bradford.  NFL analyst and NFL Films senior producer Greg Cosell, who spends nearly every working day with former Eagles quarterback and ESPN NFL analyst Ron Jaworski, gave us his evaluation of Bradford and former Eagles quarterback Nick Foles to Ross Tucker on his podcast right after the deal was made.  I thought the specific points he made about both quarterbacks was very illuminating.
"Well I think right now you would probably rather have Foles, but I think you're dealing with two-flawed quarterbacks at this point", Cosell said.  "Bradford is the most talented thrower, but I think over time what's happened with Bradford is.  He began his career essentially playing behind average to poor "O" lines and he got beat up a lot. Bradford has become "a little skittish in the pocket".  He's become "a little gun shy" and I think it's impacted his accuracy."
"When he came out of Oklahoma, one of his big strengths was that he was precisely accurate.  He hasn't played that way in the NFL and of course he hasn't played for a year in three/quarters, which is another issue in and of itself.   But he hasn't played that way in the last part of his career when he has played. So that is a concern."
"Foles on the other hand obviously had the great year a few years ago and last year really had issues with his mechanics, with his feet, threw way too many ball off balance. I think he became a little reactive to pressure, as well.  So you're dealing with two quarterbacks who have things that they have got to work through in order to play at their best."
First of all, we Eagles fans can agree with Cosell that Foles was definitely having some serious technique problems.  He wasn't setting his feet, so the ball was going any and every where, which was resulting in turnovers.
Now on to Bradford, the reason I have spent so much time disclosing what people like Ron Jaworski and Kurt Warner have said about Bradford "losing his confidence in the pocket", or or "getting a little skittish in the pocket", is that this will give you an idea about what a serious challenge Bradford is facing as he makes his comeback.
It also explains why he hasn't been able to accomplish much during his time in the NFL.  I refuse to believe you can blame a bad offensive line, a lack of quality receivers and injuries as the only reasons why an outstanding talent like Bradford has been a bust so far in his NFL career.  There have been times when he has been healthy, time to throw and open receivers.  Franchise level quarterbacks are able to win and make the playoffs with average and below average talent around them.
Look at Tom Brady, Drew Brees, Aaron Rodgers, Andrew Luck and Donovan McNabb during his early years with the Eagles.  All these guys made the guys around them better.  They made the playoffs with teams with average talent.
Cosell, Jaworski and Warner have made it clear that psychologically the Sam Bradford that the Eagles traded for isn't the same Sam Bradford who was drafted by the St. Louis Rams in 2010.  During the time since he was drafted, he has been beaten up physically and psychologically, which has caused him to get skittish in the pocket and lose his confidence in his ability to make plays down the field.
He not only has to "rehab his knee", he must also "rehab his mind" and regain his confidence in the pocket.  You're also talking about a guy, who hasn't had real success since he was winning the Heisman Trophy in 2008.  That was seven years ago.  I see this as a huge challenge for him and Eagles offensive coordinator Pat Shurmur.  It will be Shurmur's job to hold Bradford's hand through this process.  In all likelihood, Shurmur will be the good guy, constantly emphasizing the positive and encouraging Bradford, while Kelly will be the bad guy, pointing out mistakes and demanding production out of Bradford.
Now if you want to talk about a great reality show, they should just put a mic on Bradford and have three cameras following him around wherever he goes.