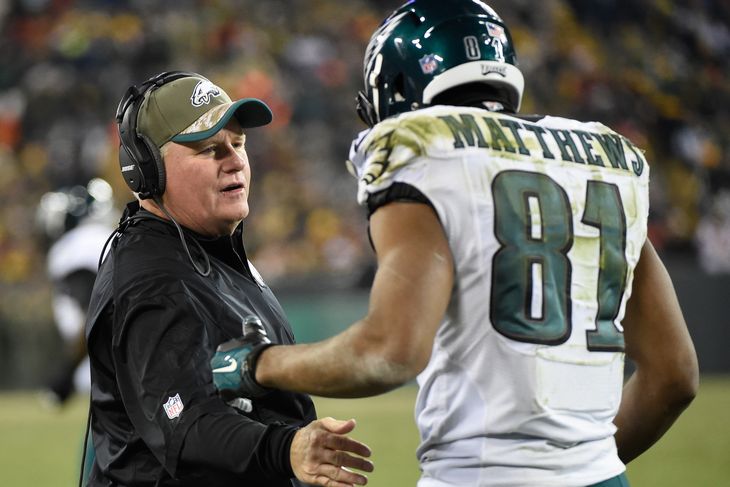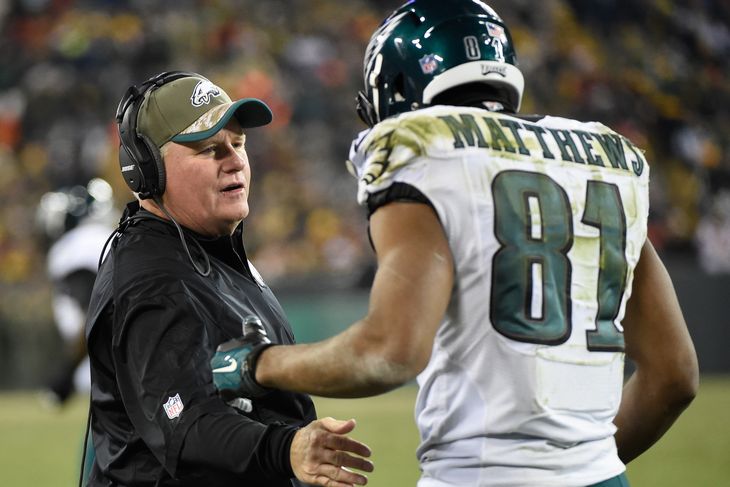 It started out with Michael Vick catching the snap from center, as Chip Kelly debuted his no-huddle offense against the Washington Redskins a few years ago.  Vick was launching missiles downfield to the speedy DeSean Jackson, and on other plays, he was handing the ball off to mercurial running back LeSean McCoy during that exciting opening victory.  Vick, Jackson and McCoy looked unstoppable that night in Kelly's offense.
All around the league, teams were saying these Eagles under Kelly were going to turn the NFL upside down.
Later in the season, Vick got hurt and a virtually unknown in quarterback Nick Foles took over and put together a record-setting performance with 27 touchdown passes and only two interceptions.  Much of Foles' success was credited to Kelly and his offense. Obviously, we know now that Kelly never became a believer in Foles.
In fact, little did we know at the time, that Kelly would be moving on from Foles and all the forenamed skill position players, Vick, McCoy and Jackson.
Kelly's Eagles squad went 10-6 his first year in 2013 and made the playoffs with Andy Reid's players.  His football team lost its only playoff game to the New Orleans Saints, who were then beaten by the eventual Super Bowl Champion Seattle Seahawks.
In his second year, Kelly made some personnel decisions and one of them was to release Pro Bowl wide receiver DeSean Jackson,  The undersized speedy wide receiver wasn't Kelly's type of guy.  He made big plays for the Birds, but he disappeared in that playoff game and most of time when opponents put a quality cornerback against him.  He also wasn't interested in being a leader on the team, or living a disciplined life off the field or buying into the culture of dedicated winning football, so Kelly shipped him out.
Kelly also moved on from Vick, who didn't run the offense at the speed Kelly liked and made too many mistakes for the coach.
Last year without Jackson and Vick on the roster, Kelly's Eagles squad finished 10-6 again but kind of took a step back because they didn't make the playoffs.  After taking a close look at his football team in 2014, Kelly stepped back and decided the team needed a major overhaul, in order to compete for titles.  So, it's been a major turnover of talent here in Philly in this one offseason,
Pro Bowl running back LeSean McCoy had a great season in 2013 under Kelly, while leading the league in rushing.  Last year was a step back and now he's gone.  Kelly wanted a north and south back, who would hit the hole without dancing in the backfield.  Kelly got his guy when DeMarco Murray decided to leave Dallas and sign here.  Ryan Mathews, who is an outstanding back in his own right decided to make Philly his team as well.
Quarterback Nick Foles left in the trade for Sam Bradford and wide receiver Jeremy Maclin is gone because he got more money in Kansas City.  His production will hopefully be replaced by Jordan Matthews, Nelson Agholor and Josh Huff.
Now for the main question.  How many years should they give Kelly to show that he can win big here in Philly?  Should it be four, five, six or seven?
Kelly is on the hot seat, but he's not on it to the point where he's going to be fired, if the Eagles don't make the playoffs this season. Eagles owner Jeffrey Lurie isn't going to fire him now, because this is the first season Kelly will have his own handpicked players.  For the first two seasons Kelly was head coach of the team, he was playing primarily with players that Andy Reid brought here.  He deserves the chance to show what he can do with his own hand picked players.
If Kelly's Eagles don't make the playoffs this year, then show up again next year and don't make the playoffs, there's a chance Kelly could be shown the door, but I'm confident Lurie will be patient with him.  I believe Kelly will get at least the five years of his contract to bring a winner to Philadelphia.  I think that's fair.
At the five year mark, I think Lurie should look at the state of the organization and decide whether he likes the direction it's headed in.
What do you think?  How many years should Kelly get to turn the Eagles into a championship caliber team?