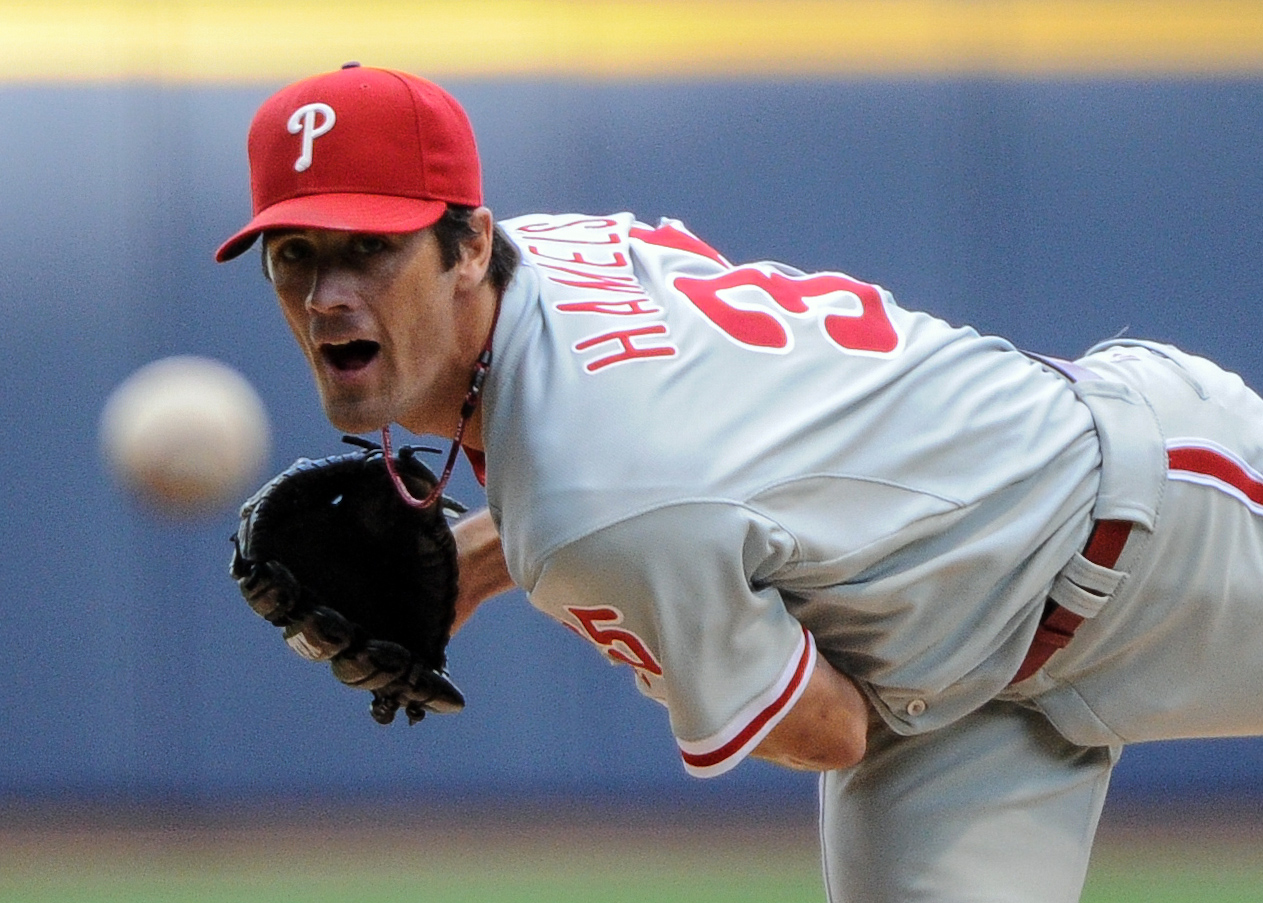 Aug 18, 2012; Milwaukee, WI, USA; Philadelphia Phillies pitcher Cole Hamels (35) pitches against the Milwaukee Brewers in the first inning at Miller Park. Mandatory Credit: Benny Sieu-USA TODAY Sports
Finally, the Phillies got a deal done for left-handed ace Cole Hamels and hopefully some of these young players will turn out to be outstanding Major Leaguers for the Phillies.  We won't know what he Phils have got for a couple of years, but the Phillies needed to make this move.
Reportedly the Phils are trading Hamels and hard throwing left-hander Jake Diekman, to the Rangers for five Minor League prospects.  In return for Hamels and Diekman, they will get three marquee prospects that are considered the core of this deal.
The first of those outstanding prospects is 21 year-old righthander Jake Thompson, who is rated by Baseball America as the fourth-best prospect in the Rangers farm system.
Next up is a promising outfielder Nick Williams, who is a 21-year old powerful left-handed hitting outfielder and regarded as the fifth best-prospect in the Rangers farm system.
Then final outstanding prospect is Columbian born power hitting 22-year old catcher Jorge Alfaro, who is regarded as the sixth-best prospect in the Rangers farm system.
The Phils will also pick up 25 year-old righthander Jerad Eickhoff, who is considered the 17th best prospect and 23-year old right hander Alec Asher, who is considered the 29th best prospect.
The Phils will be taking on the contract of 29-year-old lefthander Matt Harrison, who has had multiple surgeries and is considered a bullpen arm, but nothing to write home about.  lfaro, 22, is one of baseball's top catching prospects but has been sidelined since June 10 with a potentially season-ending ankle injury.
Let's talk in two or three years and we'll have an idea if Phillies really got something for Cole Hamels.