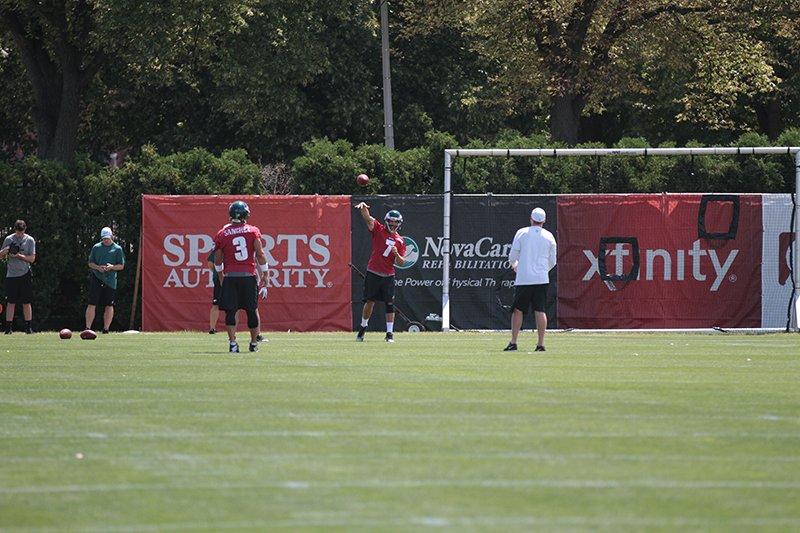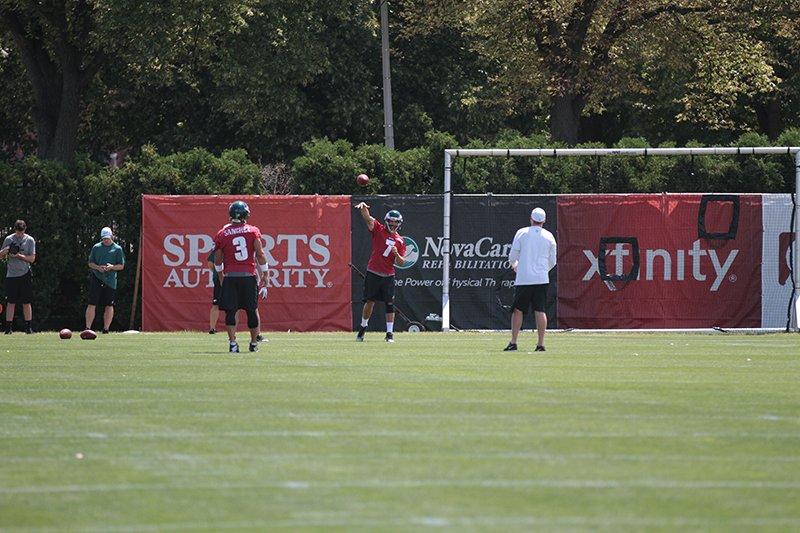 Eagles new signal caller Sam Bradford was especially sharp and on the money with his throws yesterday at practice.   He was like a machine with so many passes completed and they were right where they needed to be.  I also like the intensity with which he's working.  Even on his first day, you can see that he came out here to work.
You can also see at the end of the practices, his leg is getting fatigued as you would expect, but he's making it a point to lift it and push it, which is the only way you come back from these types of injuries.  I know it was sore from all the work he put on it on Sunday, but he's pushing it and the entire city of Philadelphia is watching.
Back to his performance yesterday, I like the way he can accurately makes those outside throws and he puts the ball on the money. Bradford has the confidence in his arm to get the ball there and he let's it go.  The sixth quarterback throws an accurate ball that is very easy to catch because it's not too hard, but it has a nice zip on it.
Bradford must have hit Jordan Matthews 10 times on perfectly placed throws yesterday. He hit Matthews with a beautiful deep throw yesterday for a score.  The second-year wide out was going down the right sideline and Bradford dropped over his left shoulder into his bread basket about 40 to 50 yards downfield.
On one play, Matthews was running 10 to 15 yard out route and he had his man beaten, so Bradford put the ball right there.  Matthews let the ball go right through his hands.  He missed the ball so badly that the pass seemed to not even touch his hands as it went through them.
Next play, Matthews was lined up in the slot on the right side of the formation and Bradford got the snap and hit the second-year wideout on a curl route to let him know I still believe in you and I have no problem coming to you, when you're open.  You can see that they have a chemistry.  Both of the players must have a confidence in each other to succeed together and that clearly is forming and growing with Bradford and Matthews.
You don't see Bradford straining on throws.  Every throw seems to be made effortlessly.
Matthews caught quite a few passes from the other quarterbacks yesterday as well.  He was getting open and he was catching the football. The big young receiver is working hard and looking great.  I wasn't counting but he caught a lot of passes yesterday.
Mark Sanchez didn't have as good of a day on Monday as he did on Sunday.  Sanchez was the best quarterback on the field on Sunday, but you couldn't say that yesterday.  I don't know that all of it was his fall, but there were a lot more of his passes on the ground.
Matt Barkley is having a good camp so far. He gets the ball out of hands quickly and he's been throwing the ball accurately.
Tim Tebow is throwing the football well and when he pulls the ball down, the guy runs like a running back.  He hasn't connected on anything deep, but his accuracy was very good yesterday.
The quarterback play has been much better at this Training Camp than it was during the OTA's and the mini-camp as you would expect.  These new guys, Bradford and Tebow are getting comfortable in Chip's offense.  A lot of the Eagles passing game is the west coast offense.