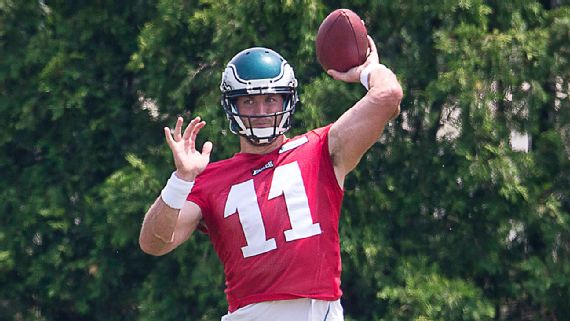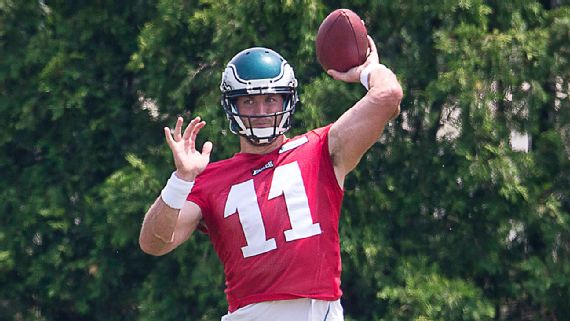 The Eagles quarterbacks were shining this week at the Nova Care Complex.  On Thursday, it was all Tim Tebow.
Tim McManus over at PhillyMag.com's Eagles 24/7 wrote that Tebow took over practice with three throws.
The sequence that defined it came towards the end of Thursday's training session with the lefty manning the third team. It started with an on-point fling to Mike Johnson down the seam, followed by a strong out throw that Quron Pratt hauled in along the right sideline. The capper was a deep pass down the left side that dropped right into the arms of running back Raheem Mostert, who shook loose on a wheel route.
I don't think there's any question that Tebow is getting better.  He's dedicated himself to work as hard as he can in order to fulfill his dream of being a successful NFL quarterback.  His throwing motion is better, his accuracy is improving and he's getting more comfortable in Chip Kelly's offense.
Brandon Lee Gowton over at BleedingGreenNation has a quote from Tebow that lays out what he is focused on as he competes at training camp.
"I think so, yes sir," he said, before going a little bit more into specifics. "Learning the offense, getting the ball out quicker, fundamentals, mechanics, all those things. Decision making."
We all know that Tebow holds a tremendous trump card that is one of the main reasons Chip Kelly brought him here.  I his trump card is going to put him on this football team.
"Tim obviously has a lot of skills that other quarterbacks don't have because of his ability to run the football", Chip Kelly said the other day.
Tebow makes it a habit to pull the ball down and run in the 7-on-7 periods and in the 11-on-11 team time.  Each time he takes off on a scramble, he reminds Kelly that he is the one quarterback on the roster, who can execute the running part of his offense the best because he adds the run threat.
Phil Sheridan of ESPN.com writes about how Tebow loves the competition he's involved in with Matt Barkley and the other Eagles quarterbacks.
"This is football, this is sports," Tebow said. "The reason you play is for competition. It's exciting. It's fun. You want to get out there and be the best you can. At the same time, root on everybody you're competing with because you are on the same team."
I've told everybody from the beginning that Tebow is going to make this team.
I give credit to Barkley, who is having an outstanding camp and he really runs the offense better than Tebow, but he doesn't have that x-factor that Kelly's in love with about Tebow.  Barkley is playing well enough to earn a job in the NFL, if he doesn't beat out Tebow, here.
NJ.com let's us know that the former USC quarterback isn't bothered by "Tebowmania" because his arm feels good and he believes in his ability.
"It doesn't matter who he is, Barkley said."

"Just confidence and having my arm back," Barkley said. "That first year I was here, I was really struggling with my motion and dealing with pain. That is all gone."
Barkley does a great job of getting the ball out of his hands quickly.  He makes good decisions with where he goes with the football and he's usually very accurate.  I'm sure there are scouts from other teams at the Eagles open practices and they're going to pounce on Barkley if the Birds let him go.