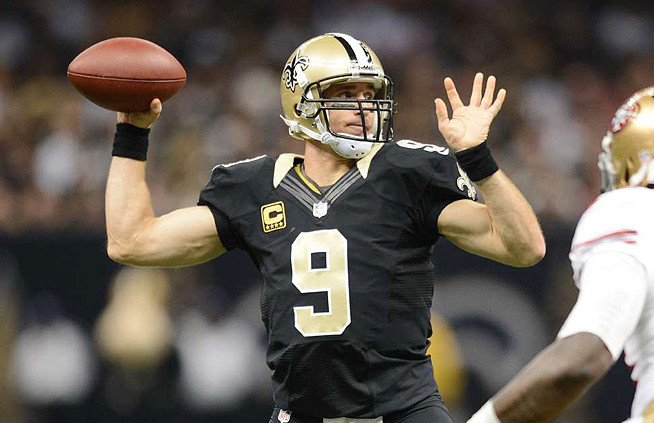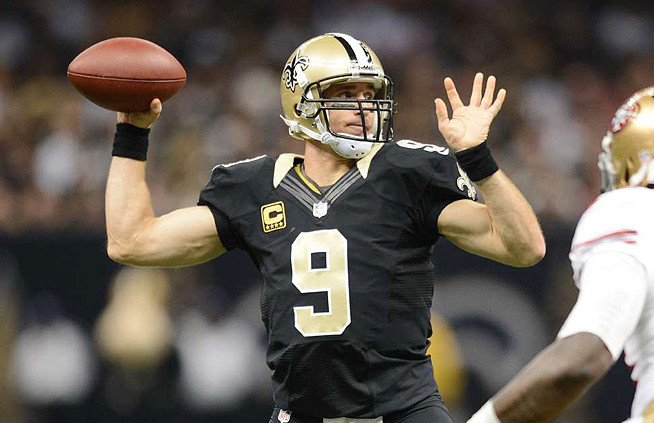 New Orleans Saints
The Saints finished a disappointing 7-9 last season, but New Orleans believes that they aren't that far away from getting back on top of the division with double-digit wins again.
Drew Brees is still in place as the franchise quarterback, coming off of another solid season where he threw for just under 5,000 yards with 33 touchdowns and 17 interceptions. However, Brees will have to adjust to life without his favorite target Jimmy Graham, who was traded away to the Seahawks. The team hopes that second-year man Brandin Cooks will take a large step forward in his second season.
New Orleans may be ready to lean more heavily on their running game. Mark Ingram turned in a career-best 964 yards and nine touchdowns a year ago, leading the Saints to award him with a new contract. The team also brought in explosive C.J. Spiller, who can serve as both a running and receiving threat.
Defensively, the team released their top pass rusher from a year ago in Junior Galette. They still have Cameron Jordan, who notched 7.5 last season, but no other member of the Saints notched more than 3.
Second-round pick Hau'oli Kikaha will likely be counted on to step into Galette's spot on the defense.
The Saints turned to free agency for the second year in a row to upgrade their secondary. They signed Brandon Browner away from the Patriots, and they hope to get last year's prized acquisition Jairus Byrd back healthy.
The loss of Jimmy Graham is a big blow to the offense, but Brees is still a top quarterback and within a weak division, the upgrades in the secondary and at running back should be enough to give the Saints a leg up on the rest of the division.
Projected Finish: 10-6, 1st Place
Atlanta Falcons
The Falcons finally moved on from head coach Mike Smith, replacing him with Seattle defensive coordinator Dan Quinn, who promises to make Atlanta a much more physical football team.
Quinn walks into a much better situation than a typical head coach. He already has a franchise quarterback in place with Matt Ryan. He's also got an elite receiver in Julio Jones. However, the Atlanta defense was what needed major work, and its what Quinn made his priority to address.
In the first round of the draft, the club took Vic Beasley, who they hope will give them the dominating pass rushing presence that they've lacked. In the second round, they added a tall, physical corner in Jalen Collins, who they also expect to start in his rookie year.
Rebuilding takes time, but the defensive-minded approach of Quinn could be exactly what Atlanta needs to give themselves a leg up on the rest of the division. The new head coach may need another year to put some more of his guys in place, but in a weak division the Falcons should very much be in the mix for the top slot in the NFC South, and could certainly give the Saints a run for their money.
Projected Finish: 9-7, 2nd Place
Carolina Panthers
With a 7-8-1 record a year ago, the Carolina Panthers may have been the worst team to make the playoffs in some time.
Cam Newton battled injuries last year and still had a fairly effective season, and with a clean bill of health he should be able to put up much better numbers than what he had a year ago. The Carolina offensive line remains a weakness. Their only move to address the position was to add Jonthan Martin, who was released by the 49ers.
The Panthers got a solid rookie season from last year's first-round pick Kelvin Benjamin, and they added another big target for Newton by selecting Devin Funchess in the second round. Veteran Jerricho Cotchery is back for at least one more season, and should be a fine complimentary wide out.
Linebacker Luke Kuechly is emerging as one of the top middle linebackers in the league. He's the anchor of the defense, and has led the NFL in tackles two times in the last three years.
The team's secondary is improving. Bene Benwikere stepped up and established himself as the team's top corner in his rookie year, and Charles Tillman was signed away from Chicago in order to bring some good veteran leadership to the position.
Carolina has added to their defense, which was already a strength for them, but the offensive line remains a problem and unless Newton is able to really ratchet his game up a couple of notches from what it's been, it's hard to see Carolina emerging from the pack in this division for the second straight year.
Projected Finish: 8-8, 3rd Place
Tampa Bay Buccaneers 
Tampa Bay is hitting the reset button once again, spending the top draft pick on a quarterback. The club hopes that Jameis Winston will prove to be a long-term answer for a club that just seems to have an ever revolving door at the position.
The Bucs can offer Winston a unique opportunity that not a lot of first-year quarterbacks have: the opportunity to play with two elite receivers. Mike Evans and Vincent Jackson are an impressive duo to throw to, with Evans coming off of a rookie year where he managed over 1,000 yards and 12 touchdowns. Jackson is showing some signs of age, but at this stage of his career he's still a very effective second option.
The running back and offensive situations remain a mess. Tampa Bay didn't have a running back go over 500 yards in 2014, and didn't add anyone significant to the picture. On the offensive line however, they added tackle Donovan Smith in the second round.
Linebacker Lavonte David is an emerging star at outside linebacker, and Danny Lansanah broke out with 81 tackles and three interceptions, giving the team a couple of solid guys in the front seven.
DaShon Goldson is no longer in the secondary, and the team replaced him with Chris Conte who Lovie Smith is familiar with from his Chicago days. Jonathan Banks has made nice progress in each of his three seasons.
Tampa Bay is looking at another year of growth and development. The best case scenario that they've got to hope for is that Winston is able to establish himself as a good young quarterback and provide hope for the future.
Projected Finish: 5-11, 4th Place