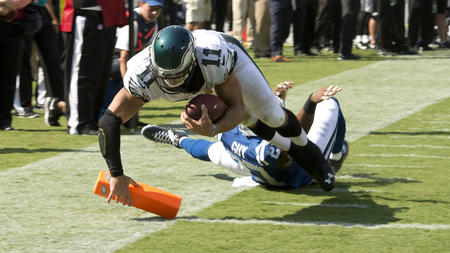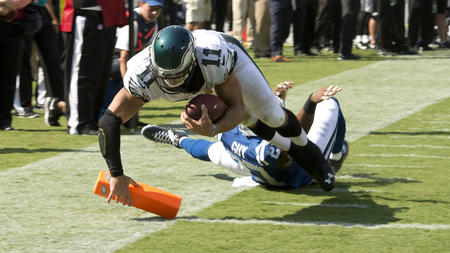 Chip Kelly's news conference this morning was full of evaluations of his players and information about the health of different players.
Regarding the battle for the 3rd quarterback position, Kelly said he thought Matt Barkley and Tim Tebow both played well.  He also said they both threw the ball well on Sunday afternoon.  Kelly said each got in trouble for something that wasn't their own doing. (Barkley on the interception and Tebow on the sacks)
"They were accurate with their throws", Kelly said. "Matt got a little bit more throws than Timmy had just in terms of play-calling, but that wasn't by design, it was just how the game was expressing itself, but I thought both of them took advantage of their opportunities."
That should tell you a lot right there.  I thought Barkley threw the ball better than Tebow, but Kelly seems to see them at the same level.  Of course you know he is using the scramble for a touchdown by Tebow to even the score.  The Heisman Trophy winner used his speed and power to get into the end zone, which are abilities that Barkley doesn't have.
There's no question that Tebow adds the running element to his game and it is viewed as extremely valuable by Chip Kelly.  I would venture to say that Kelly values the running ability of a quarterback on a higher level than any other NFL head coach.  That's one of the reasons, Tebow is on the team in the first place.
Regarding the right guard position Kelly responded: Andrew Gardner is very consistent. You know exactly what you're getting. He's always in the right spot.
It wasn't a raving endorsement of Gardner but it was enough to let you know he's in the lead for that starting position.
Regarding the one top receiver on the roster, who was missing in action Sunday, Josh Huff – I thought he has been very consistent during this training camp.  He wasn't targeted on Sunday, but we think he's had a great camp.
In regards to injuries: Earl (Wolff), DeMeco (Ryans), and (Zach) Ertz  will not practice today.
He praised the play of nose guard Bennie Logan – I thought he played really, really well. He understands the plays they're running against him.  He recognizes the blocking scheme.
Kelly talked about the wide receiver position: We will be doing more rotating at the wide receivers because we have upgraded the bottom of the position.  (It's a way of getting Agholor on the field for passing plays and having Cooper on the field for running plays. Even if Aghlolor doesn't start, he will be on the field a great deal and we will be throwing the ball to him.)
Kelly: I think Miles Austin has a role on special teams. (Austin did not play any ST snaps Sunday)
Kelly singled out the play of rookie CB Eric Rowe for causing two fumbles.  He caused one fumble that was recovered by the Eagles and another that was recovered by the Colts.
Chip talked about some of the reason Kenjon Barner is playing better: There's an advantage for Barner being here last year? Advantage over rookies. Watch the nice job Kenjon did on returns. His experience here gives him a leg up on the rookies.
Kelly let us know that LB Kiko Alonso will be back today but will work back in slowly.  Mychal Kendricks is back out there practicing with his teammates.
In regards to the motivation to playing against Ravens, who they will practice against tomorrow, Thursday and Friday:  For the defense, Baltimore will have more two running backs sets.  The defense will also get the chance to compete with a very good quarterback in Joe Flacco.