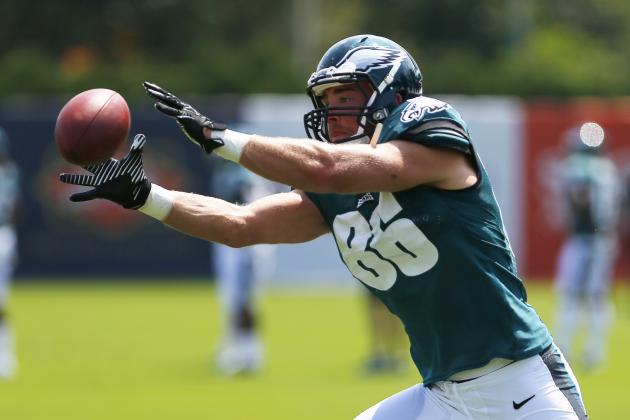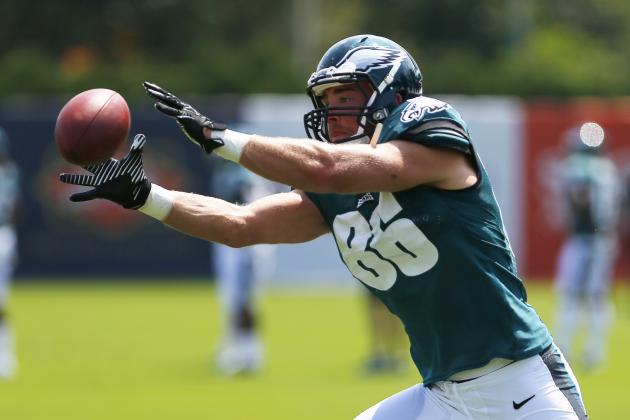 Eagles tight end Zach Ertz is going to be a key member to this offense and he's a big target in the middle of the field.  Big receivers are able to use their size to get open even if they're covered because they can screen off the defender, just like a good rebounder in basketball can use his body to screen off an opponent.  Ertz has this ability, so he will be a big target of the Eagles on third downs and in the red zone.
Ertz will also benefit from the Eagles powerful ground attack because a good pass catching tight end goes well with a dominant running game.  Linebackers and safeties who have to cover the tight end, lose sight of the him in the midst of a good run fake by the offense.  The tight end comes out aggressively and the linebacker or safety sheds the tight end as they triy to fight off the block and unbeknownst to them, they're pushing the tight end out into his route.
The Eagles aren't the same offense without Ertz.  A good pass catching tight end makes an offense more consistent, because the throws to the tight end over the middle of the field aren't hard throws for the quarterback and a good tight end is virtually impossible to stop without double-teaming him.  The Eagles have too many good wide receivers for a defense to be able to double team the tight end.
I said all of that to say the Eagles aren't as good of an offense without Ertz.  Will they have Ertz for the Monday night opener on September 14th in Atlanta?
I suspected it from the time of the core muscle injury that Ertz might miss some games at the beginning of the season.  Eagles head coach Chip Kelly had given a best case scenario about Ertz returning to action for that first game.   It might not happen.  Ertz is still recovering from the surgery, so he's been standing on the side and watching at practice this week.
We knew from the time of the injury that he wouldn't be playing any more in the preseason, but what about week one in Atlanta.
"No comment yet," Zach Ertz replied when asked by NJ Advance Media if he still believed he would return to action before that Atlanta game. "I should know soon, though."
Eagles offensive coordinator Pat Shurmur was asked if Ertz was still on schedule to return for the opener like Chip Kelly had said.
"I don't know," Shurmur responded. "I'm assuming so. Behind the scenes he's taking care of all his treatment obligations. He's in all the meetings and he's doing everything he can physically."
"He's right there, mentally. Again, he's a guy that has been around here for awhile. He knows what we're doing. So, it'll just be a matter of him getting back out there practicing."
We will keep you posted on Ertz and his recovery.