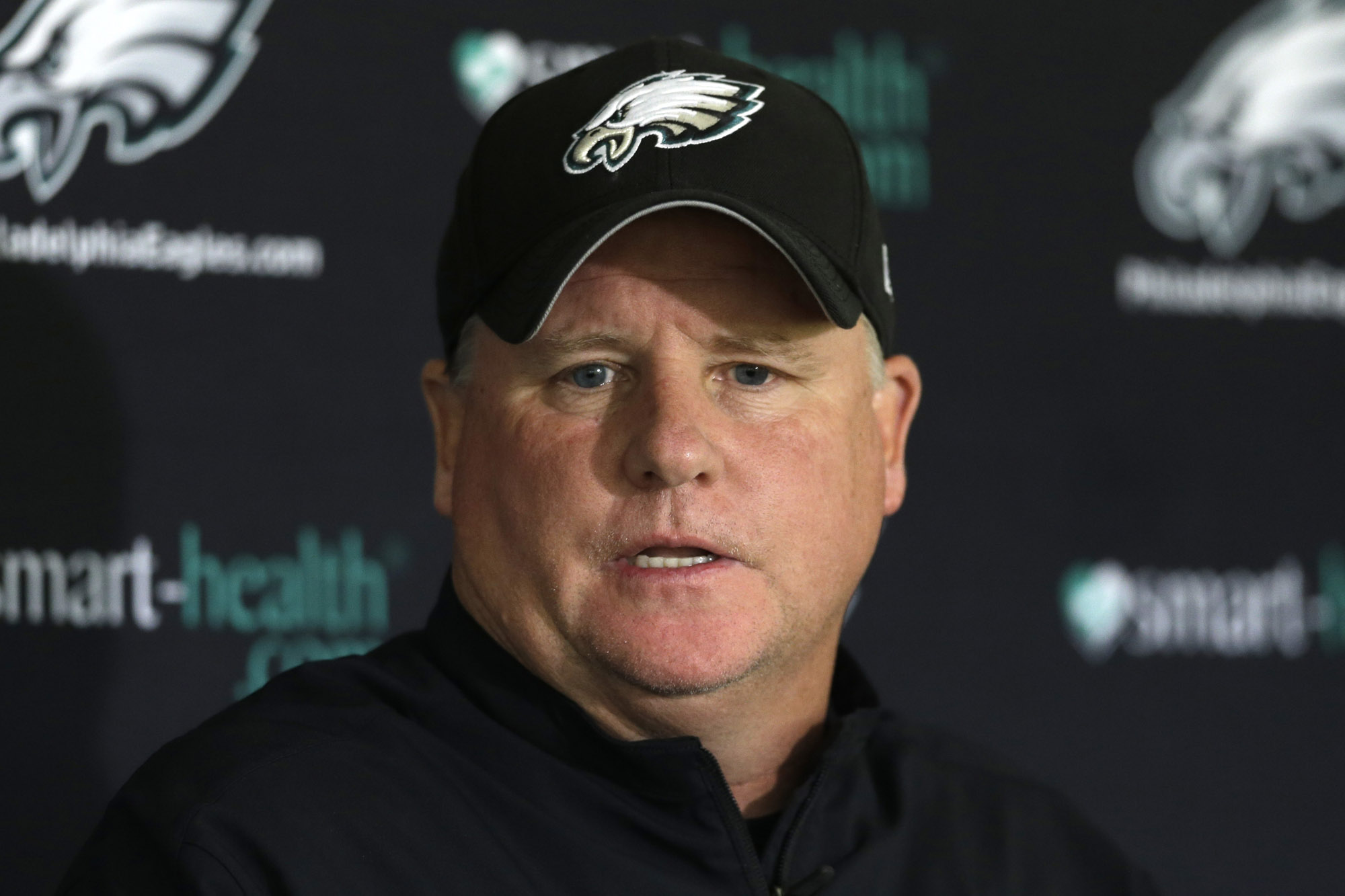 Philadelphia Eagles head coach Chip Kelly speaks during a news conference at practice at the NFL football team's training facility, Monday, Sept. 16, 2013, in Philadelphia. (AP Photo/Matt Rourke)
Dallas Cowboys
The Dallas Cowboys finally began to figure things out last year. Jason Garrett stopped asking Tony Romo to do too much, and designed an offense around DeMarco Murray that controlled the clock and helped Romo limit his mistakes. They were able to keep a questionable defense off of the field, and came one questionable call away from advancing to the NFC Championship Game.
That same approach may not be possible in 2015. Murray departed for the Eagles in free agency, and Dallas was only able to bring in Darren McFadden to address the position. McFadden will rotate with Joseph Randle until one of the two establishes themselves as a top running back, though neither is a particularly appealing option.
Tony Romo may be forced to do all of the heavy lifting for the Cowboys, and although he's got supreme weapons in Dez Bryant, Terrence Williams, and Jason Witten, he's also been dealing with significant back problems over the last couple of years that could become more of an issue moving forward. If Romo were to miss any amount of time, it'd be a crippling blow to Dallas.
The Cowboys have the league's best offensive line, and received a gift after the draft when they were able to add La'el Collins, who could have been a top-five pick.
The best things that Dallas did in this off-season however, were the upgrades on the defensive side of the ball. The team spent their first-round pick on cornerback Byron Jones, and came back in round two to get pass rusher Randy Gregory. They also went out and signed Greg Hardy away from Carolina, and they expect Sean Lee back healthy to bolster their linebackers.
This is potentially a much more capable defense than what they were able to field a year ago.
With the exception of running back, the Cowboys appear poised to come back a stronger team in a lot of areas. If Romo's health holds up, this team should be a lock for double-digit wins and a return to the playoffs.
Projected Finish: 10-6, 1st Place
Philadelphia Eagles
Chip Kelly and the Eagles were anything but conventional this off-season, purging the Eagles of all of their top talent from a year ago, removing Nick Foles, LeSean McCoy, Jeremy Maclin, Evan Mathis, Todd Herremans, Trent Cole, and Brandon Boykin from the picture and bringing in Sam Bradford, DeMarco Murray, Ryan Matthews, Byron Maxwell, and Kiko Alonso.
Before the preseason, I was very concerned about this team. I thought that it would take some time for all of the new players to mesh with one another that could potentially lead to a slow start, but based on what I've seen in the preseason, I don't think that's going to be an issue anymore.
However, I'm also not getting too caught up in what the team has done in very limited action. I hear people call for this team to go 12-4 and reach the NFC Championship Game or even the Super Bowl, and I think that talk is still overly optimistic.
There are still a lot of question marks surrounding this team, and to expect a 12-win season and a deep playoff run is asking for quite a lot in the first year of Chip Kelly's overhaul.
Can Sam Bradford stay on the field for all 16 games? Plain and simple, history says no.
Have the issues in the secondary truly been fixed? Maybe. Byron Maxwell brings a lot of swagger and ability to the defensive backfield, but he's going to have his hands full shadowing a number of elite receivers. Nolan Carroll has had an excellent training camp, but he's still a guy that's been nothing more than a career-backup until now.
Most important of all, can Chip Kelly finally start beating some quality opponents? Kelly went just 2-5 against teams with winning records last year, and his vaunted offense was much less effective when stronger clubs came into the picture. Its one thing to be able to run up the score against teams like the Panthers, Titans, and Giants, but its another to fold and go 1-3 in the month of December.
These are all very real questions that could have an impact on the coming season.
I think the Eagles may in fact be on the right path, but they ultimately may need one more off-season before they can be thought of as any kind of significant contender.
Projected Finish: 9-7, 2nd Place
New York Giants
Tom Coughlin has been in this position before. With his team coming off of a couple of rough seasons, the old head coach is once again on the hot seat facing a do-or-die season.
The last two times Coughlin has been here, he's rallied his team and won Super Bowls. Can he do it a third time?
Coughlin brought back Steve Spagnulo to be his defensive coordinator. Spags famously coordinated the team's defense during their Super Bowl year in 2007, shutting down the undefeated Patriots.
Wide receiver Odell Beckham provided much-needed energy to this team once he returned from a hamstring injury, and went on a dominating run where he went over 100 yards in nine of his final 12 games, finishing with 91 grabs for 1,300 yards and 12 scores. He's become Eli Manning's favorite target, and defenses could find it harder to limit what he can do with New York welcoming Victor Cruz back healthy to join him.
While New York has a lot of explosive talent, they're also lacking in several areas. The offensive line still has concerns, and the defense may have lost top pass rusher Jason Pierre-Paul and still has issues at linebacker and the safety position.
New York should be capable of moving the ball and putting up points, but they don't have the defensive backbone to shut down or even limit opposing teams.
Projected Finish: 7-9, 3rd Place
Washington Redskins
The laughingstock of the NFC East, the Washington Redskins continue to occupy the basement of this division.
Dysfunction and chaos reign supreme annually in Washington, as the franchise continues to make puzzling decisions under Daniel Synder's leadership.
It's amazing that both quarterback Robert Griffin and head coach Jay Gruden return to start the season. The two clearly showed they were not capable of coexisting with each other, with Gruden giving Colt McCoy and Kirk Cousins every opportunity to win the starting job.
Griffin didn't even make it to Week 1 as the starter, and its bizarre that he's even on the team at this point.
Alfred Morris is one of the few reliable elements of this football team. He's not an elite running back, but he's as solid and sturdy as they come, and he's a lock for over 1,000 yards and eight touchdowns. Third-round pick Matt Jones could take some snaps away from Morris on passing downs.
DeSean Jackson and Pierre Garcon make for a solid receiving tandem, with Jackson serving as the home-one threat and Garcon being a guy that can rack up receptions and yards after the catch. Durability will always be a concern for these two, however.
The team tried to upgrade their secondary by acquiring former 49ers Chris Culliver and DaShon Goldson. Ryan Kerrigan is the anchor of the defense, coming off of a 13.5 sack effort a year ago. Brian Orakpo departed in free agency.
The Redskins have taken some steps forward in several areas on paper, but the larger problems are still in place and always place a low ceiling on what this franchise can do. The tension between quarterback and head coach is one that will derail yet another season, and could result in the team moving on from both at year's end.
Projected Finish: 5-11, 4th place