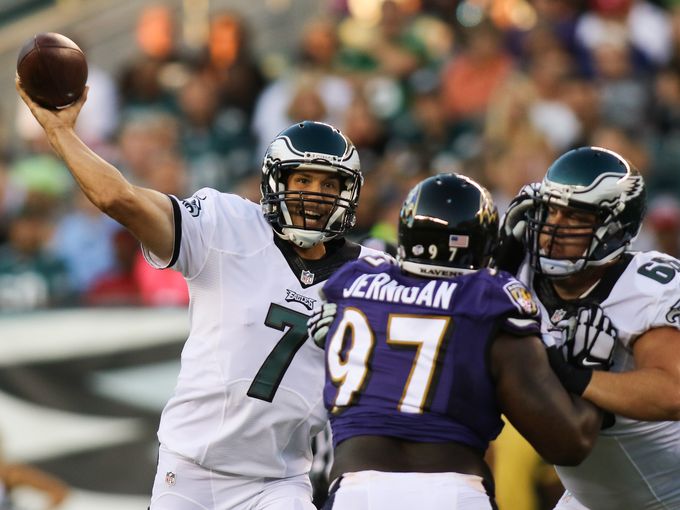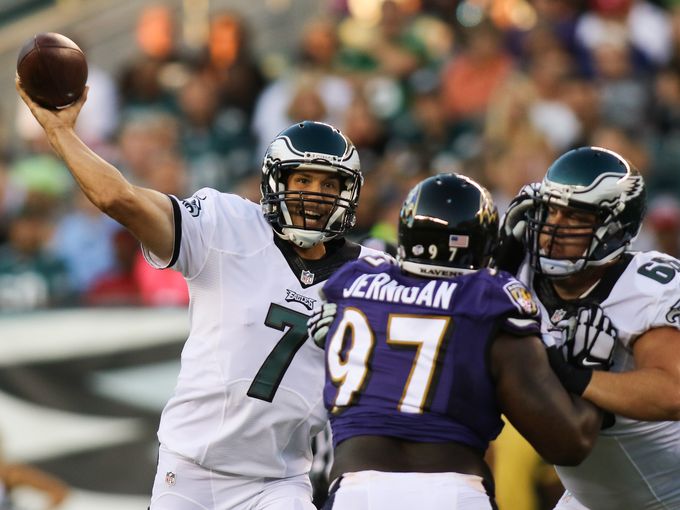 I know everybody is talking about the New England Patriots game last night and the fact that the Pittsburgh Steelers coaches were unable to communicate with each other throughout the first half of the game.  The Patriots have been painting a target on their backs and their reputation is going to tarnish all the success they've had over the years.
I don't want to discuss the Patriots and their foibles.  I want to talk about something that I'll be looking for when the Eagles take on the Falcons on Monday night.
I'll be looking for passion in Sam Bradford.  I'll be looking for the passion I see in Tom Brady.  His passion was on display last night and it was shining bright.  He is a tremendous competitor.  We've seen Bradford show that he can throw the ball with Brady's accuracy, but does he have the passion, leadership and desire to win that Brady exudes.
Brady is a fighter.  He's hard on himself and the guys who play with him.  He accepts nothing but excellence.
Is Bradford a fighter?  Is he a "Philly Guy"?  We haven't seen it yet.  He's as quiet as a church mouse off the field and soft-spoken.  He's going to need some fire around here.  The city of Philadelphia demands that a player give everything he has.  They want to see passion.  The City loves Brian Dawkins because he left it all out on the field.  You can feel that in the Hype Video which Dawkins narrates.
After an OTA practice in the spring, I asked Bradford if he was ready for Philadelphia, and he answered, "I guess".
I can imagine it's been fun for Bradford to see the excitement his excellent play in the preseason has generated here in the Delaware Valley, but there's another side to the excitement.  If you're not a fighter and somebody who is going to give everything you've got, you're not going to enjoy your time here in Philly.  That excitement can turn quickly and it can be vicious, if you don't go out and fight.
Brady's passion and demand for excellence makes his teammates better.  Can Bradford elevate the play of his teammates and make them better?  He surely didn't do it in St. Louis with the Rams because they were horrible before Bradford got there and they were still a poor team while he was there.  But that's the past.  Bradford needs to take notes as he watches Brady lead his Patriots into battle.
Brady enters every season thinking of winning another Lombardi trophy regardless of whom is lining up with him.  Will Bradford's thirst for victory and greatness act like a virus which infects the entire Eagles organization?  Everybody talks about Brady's smarts and his accuracy, but it's his passion which has allowed the Patriots to surround him with mediocre to above average players and he has been able to lead them to championships.
Oh how this city yearns for a leader like number 12 up in New England.
Brady takes his game to another level in the playoffs and Super Bowl.  Does Bradford have that very special quality that Brady has to raise his level of play when everything is on the line?  Can he step in the huddle with fire in his eyes and confidence in his voice and tell his teammates that they're going to march the length of the field with only a minute left on the clock and score a touchdown to win the game.
The throwing motion and accuracy won't get it done alone.  The courage, passion and leadership will be needed as well.
Go get em Sam.