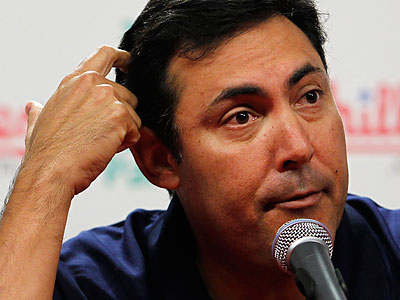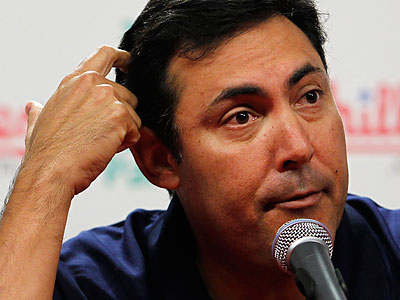 Its officially time to be excited about the Philadelphia Phillies again!
Word broke earlier this afternoon that the team will not be renewing the contract of village idiot General Manager Ruben Amaro Jr. and president Andy MacPhail will begin a search for his replacement immediately.
The Angel of Mercy has finally arrived!
There was some concern among Phillies fans that Amaro might actually be retained after this year's promising flurry of trades that have restocked the team's farm system, but now those worries have been put to rest.
For the record, I don't give Ruben Amaro an ounce of credit for any of trades made over the last year and a half. When Pat Gillick was brought back on board in a full-time role last summer, that was the first clear sign that Amaro had been stripped of his power.
Amaro had to report back to Gillick on every and any move that was to be made moving forward, and while the Phillies were willing to tell anyone that would listen that Amaro did a lot of Gillick's leg work, the reality is that Ruben was operating with essentially the power of an intern, with Gillick holding his hand throughout the entire process.
I think the Phillies organization kept Ruben around to try and do him a favor and help him find another job somewhere else. By keeping him through the regular season and through the trade deadlines, and allowing him to be at the press conferences and attach his name first and foremost to a lot of these trades that were being made, the club made it possible for some dignity to be restored to his name, and maybe now another organization might take a shot on him in a lesser role.
Amaro was without a doubt one of the worst general managers in the history of not just the Phillies, but the entire city. There's a school of thought out there that suggests Ruben isn't completely to blame, and that a lot of his moves were forced upon him by David Montgomery and the other members of the team's ownership group. And while that may play in to the team's decline over the last four years, there's no denying that Amaro was among the top of the list of culprits.
His talent evaluation was poor, his trades were disasters, and he felt the need to hand out easily-attainable vesting options and no-trade clauses to a lot of the veterans they signed, leaving the franchise stuck with a number of bad contracts that tied have tied this team down since 2012.
The release of Amaro is a sign that some of the deep-rooted issues that have been impacting this franchise may be no more. Along with Ruben, guys like Dave Montgomery and the other incompetent owners are no longer in the picture. In their place, John Middleton, Andy MacPhail, and a new general manager will rise to take their places, and hopefully restore this franchise to a respectable level.