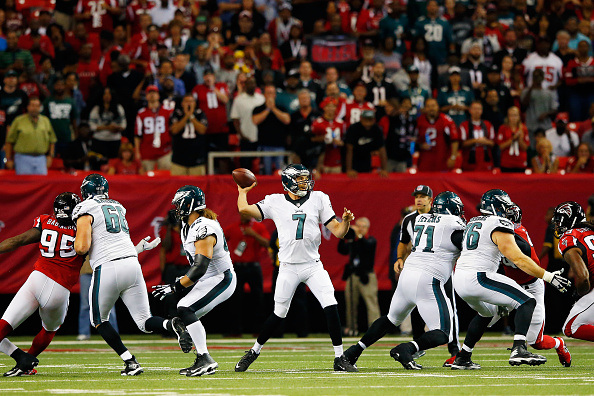 ATLANTA, GA – SEPTEMBER 14: Sam Bradford #7 of the Philadelphia Eagles throws a pass during the first half against the Atlanta Falcons at the Georgia Dome on September 14, 2015 in Atlanta, Georgia. (Photo by Kevin C. Cox/Getty Images)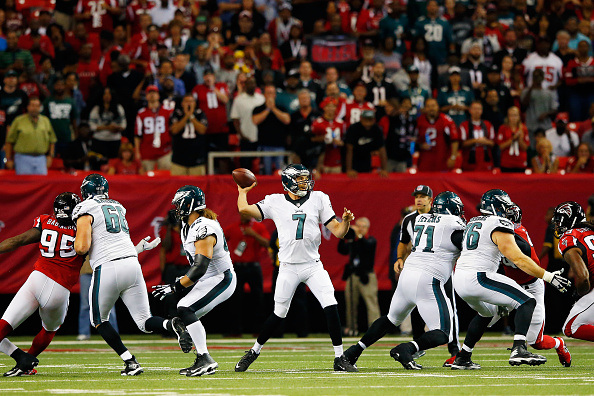 Chip Kelly talked to the media today at the Nova Care Complex.  He made a point to be positive about the Eagles situation with one loss under their belt.  Regardless of their attitude going forward, I thought the Eagles lost to an inferior Atlanta Falcons team on Monday night.
Chip explained to us that it was the style of defense the Falcons were playing which led Sam Bradford to throw so many short passes.  He threw only one pass in the game that was for more than 20 yards.
"I think everybody knows we can do it.  I mean, [QB] Sam's [Bradford] got as strong an arm as anyone in the league.  But when you're playing that type of defense, they are not going to let the ball get over their heads and that's part of their theory, they kept the ball in front of them.
"But when they're keeping the ball in front of them, we had no issues moving the ball in the second half.  He was 21 of 25 and we were moving the ball down the field.  Really the only thing that set us back in the second half were the penalties.  We slowed ourselves down. But if that's what they are going to do, I don't think you prove anything to anybody and say, 'Even though they are back there, we are just going to throw the ball up.'  I mean, that's kind of silly to be honest with you."
Taking the short throws wasn't the problem that I had with the offense, it was abandoning the running game.  I don't think the Eagles can let teams make them one-dimensional because it's going to increase the likelihood that Sam Bradford will get hurt.
The Eagles tried to run the ball in the first half and the Falcons were able to get so much penetration that DeMarco Murray had a 12-yard loss on the play.  The Eagles were also unable to get any movement inside at the center and guard positions, but Kelly still feels the guards played good football.
"We thought both guards played well and graded out well", Kelly said about Allen Barbre and Andrew Gardner.  I wasn't as impressed with their play as Chip Kelly was.  I saw inside penetration on the failed run plays they ran in the first half.
I wasn't thrilled with the play of Vinny Curry on Monday night.  He didn't look comfortable coming off the corner in a two-point stance with a tight end in his face.  They can't flood him with assignments at outside linebacker and defensive end to the point where he's not playing instinctively.
According to Chip, "He was a little up‑and‑down there.  A couple times, he lost containment: once on the quarterback when we had a naked back our way.  But I thought the transition for him, never really having played there and just got his feet wet in the preseason, we felt he did a good job.  But we have got to get dialed in a little bit some on responsibilities."
In other words, Curry needs more reps to get used to playing outside linebacker.
From a health standpoint, Eagles wide receiver and punt coverage guy, Seyi Ajirotutu wasn't at practice today.  He is still going through the concussion protocol.  Ajirotutu suffered a concussion in Atlanta and he's still recovering.