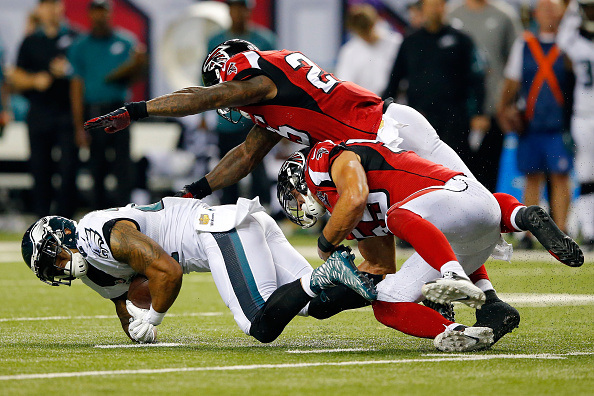 ATLANTA, GA – SEPTEMBER 14: Ryan Mathews #24 of the Philadelphia Eagles is tackled by Paul Worrilow #55 and Tevin Coleman #26 of the Atlanta Falcons during the second half at the Georgia Dome on September 14, 2015 in Atlanta, Georgia. (Photo by Kevin C. Cox/Getty Images)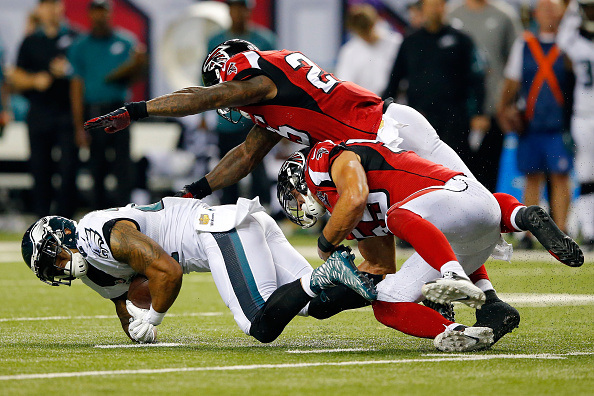 Chip Kelly and the Eagles came out in the second half and looked like the offense we expected to see this season, but they have a serious problem that needs to be addressed.  Short yardage and goalline remain a problem for Chip and his offense.
The game was on the line in the fourth quarter and the Birds couldn't gain a yard on a 3rd down run with Ryan Mathews carrying the ball.  That's been a problem and it remains a problem for Chip Kelly and the Eagles offense.
They ran the same play on the goalline that they ran with the game on the line in the fourth quarter.  Mathews was really stopped on both plays, but on the play by the goalline, left guard Allen Barbre pushed Mathews into the end zone after he was stopped.
In the fourth quarter with the game on the line, Mathews was stopped dead in his tracks and it forced the Birds to try a 44-yard field goal.  Of course the kick was missed and it cost them the game.
I think the Eagles need to put the quarterback under center and go to a three-tight end set and outmuscle the defense.  Chip doesn't seem to think so.
He was asked about running the ball with the quarterback under center and running the ball out of the shotgun
"There's no difference", Kelly said.  "It's just the path of the back and how we want to get the ball handed off to him.  We don't think there's much difference between the two."
I think there's a big difference.  The short yardage and goalline plays have already hurt the Birds and they will continue to, if they don't find an effective short yardage package.