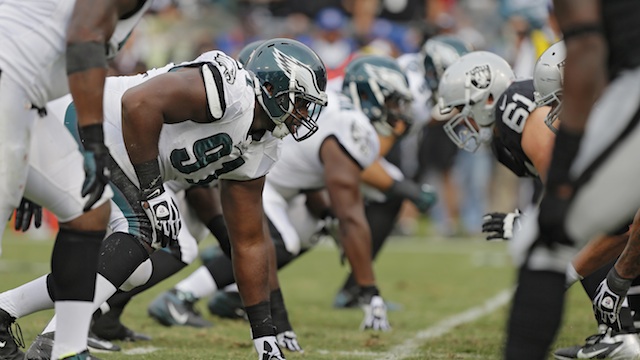 OAKLAND, CA – NOVEMBER 03: Defensive end Fletcher Cox #91 of the Philadelphia Eagles lines up against the Oakland Raiders in the second quarter on November 3, 2013 at O.co Coliseum in Oakland, California. The Eagles won 49-20. (Photo by Brian Bahr/Getty Images)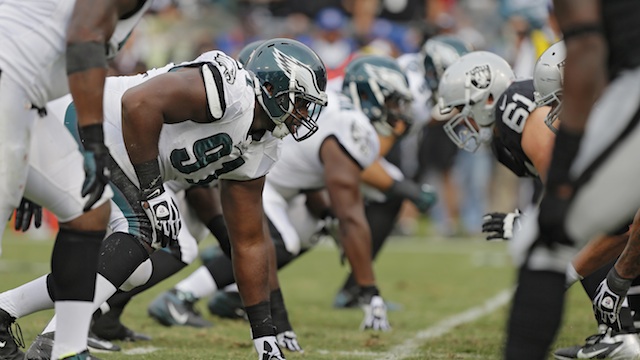 The Eagles defense will need to take away the Cowboys running game.  The defensive front was unimpressive on Monday night against a rebuilt Falcons offensive line.  They've got to play much better against the big physical Dallas offensive line, which is considered the best in the NFL.  If the Cowboys are able to run the ball on Sunday, the Eagles will be in trouble because that will take the pressure off of Tony Romo and his receivers.  They will be able to lean on their running game and throw the football, only when they want to do so.
Fletcher Cox, Bennie Logan and Cedrick Thornton will need to be in complete union with the linebackers, when it comes to run defense.  DeMeco Ryans is the best run defenders of the Eagles inside linebackers, but who knows how much he will play on Sunday as he continues to recover from the Achilles tendon tear.  Ryans is still laboring, so he won't be effective against the pass. You know the Cowboys would love to get their speedy backs, Joseph Randle, Lance Dunbar and Darren McFadden matched up against Ryans in the open field, so Billy Davis will need to watch how much he uses Ryans.
Mychal Kendricks and Kiko Alonso will need to be on top of their game against the run.  Romo will be looking to tight end Jason Witten when he throws the football, but he will also target his running backs.  Romo has the patience to throw the football underneath to his tight ends and running backs.  The Dallas backup tight end Gavin Escobar is also capable of making plays.
Romo will take his shots downfield to Terrence Williams and on third downs, he'll try to find Cole Beasley.  I expect him to be patient for the most part, but he's going to take a few shots and the Birds must be ready for them.
With Dez Bryant out of action, the Eagles defense will be counted on to keep the Cowboys scoring to a minimum.  They can't let Dallas score over 24 points.  Romo is capable of taking over the game, if the Cowboys are able to run the football.  The Eagles have got to make the Dallas offense one-dimensional.  They can't let them run the football. It's as simple as that.
If Dallas is able to run with some success, Romo will be able to peck away underneath and control, and keep the Birds offense off the field.   The Eagles front seven has said that they're good, on Sunday, they'll need to prove it.