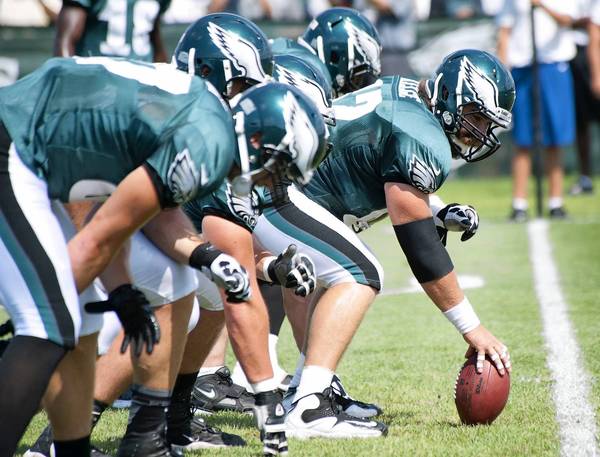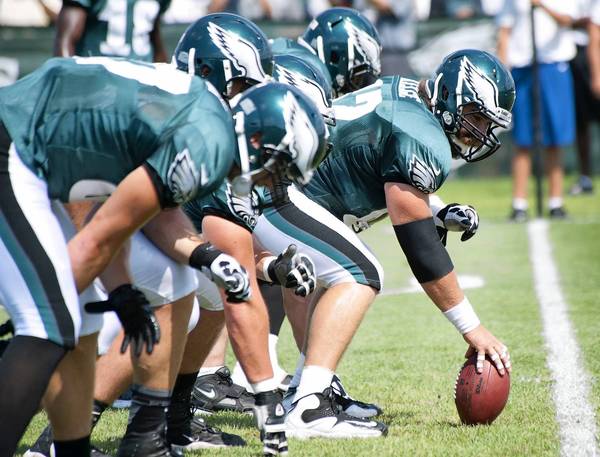 It's true that defenses have been able to anticipate what the Eagles are running, but it isn't the main reason the Birds have had so much trouble running the football.  They've had trouble blocking stunts which my high school used to run.  The players, especially the Eagles offensive line haven't been playing at a National Football League level, so you  can't use that excuse as a reason why they haven't done their jobs.
It's going to be quite a battle for the Eagles offensive line this week.  They will be facing two dominant defensive linemen in the Jets Pro Bowl defensive end Muhammad Wilkerson and rookie number one draft pick defensive end Leonard Williams.  Nose tackle Damon Harrison is 350 pounds and he's going to make it very difficult for Eagles center Jason Kelce to get any movement in the middle of the line.  Fortunately for the Birds, Pro Bowl defensive lineman Sheldon Richardson will miss the game because of a four-game suspension, but the Eagles had better show up at MetLife Stadium with a "Warrior" mentality.
The Eagles offensive line needs to get back to the basics.  They need to work on their fundamentals by working on starting their blocks from their lower bodies through their core, which is their butt, stomachs and lower backs, then up through their upper bodies.  Good blocking starts from the ground.  You come off low with your feet under you and get underneath the guy you are blocking and stay with him.
Double-team blocks will be the key to getting the job done.  They've got stay with the double team until they get the defensive lineman moving backwards, then one of the offensive lineman has to come off the block and pick up the linebacker, who will be in pursuit of the ball carrier.
Jason Peters has been a Pro Bowler numerous times and he has a "Take No Prisoners" attitude should share his attitude with the rest of that line.  You know he wasn't happy with the way he played. Peters will be double-teaming either Wilkerson and Williams with Barbre and they must be on the same page.
Kelce will be double-teaming with both guards, Barbre and Andrew Gardner.  They must be on balance and aggressive as they approach these double-teams because Harrison is as strong as a bull and he will try to split the double-team.   They've got to stay low and not let Harrison get underneath them.
Blocking isn't pretty and many times good blocking is just a matter of staying with it.  You're not going to win every battle in the National Football League, but you just stay with it and battle.  Attitude is important in everything and that's also true in blocking.  It's matter of refusing to accept getting beaten. Good linemen stay after the guy that they blocking to the point, where the defender gets tired of him staying after him.
Notice last week that you didn't see the Eagles offensive linemen staying with their blocks.   A good offensive lineman is a pest because they don't stop until they hear the whistle.
If the Birds were to rush for 100 yards, they deserve some trophies because this isn't going to be easy.
Hopefully, the offensive linemen had a talk amongst each other and committed that they are going to battle and fight with the New York Jets for the entirety of the football game.  They also needed to talk to each and make sure they were all on the same page.   They must realize that they're fighting for everything they represent.  This game should be personal for that line.
Chip Kelly should let all these guys know that establishing a running game is the only way they're going to win this game.  Running the football is a must or they'll be carting Sam Bradford out of MetLife Stadium.   Once they establish a running game, it's going to make their pass blocking much easier.
Offensive line coach Jeff Stoutland should build up the confidence of the offensive line by having them look at videos of positive runs  from last year and the year before.  They need to get what happened last week out of their minds and gain confidence that they can do the job this week.  They've got to walk on that field tomorrow seeing themselves winning the battle.
The rest of the Eagles offense should do the same thing.  It should start with Chip, Sam Bradford, the running backs and the receivers.  This is heart check time for everybody having anything to do with the Eagles offense.