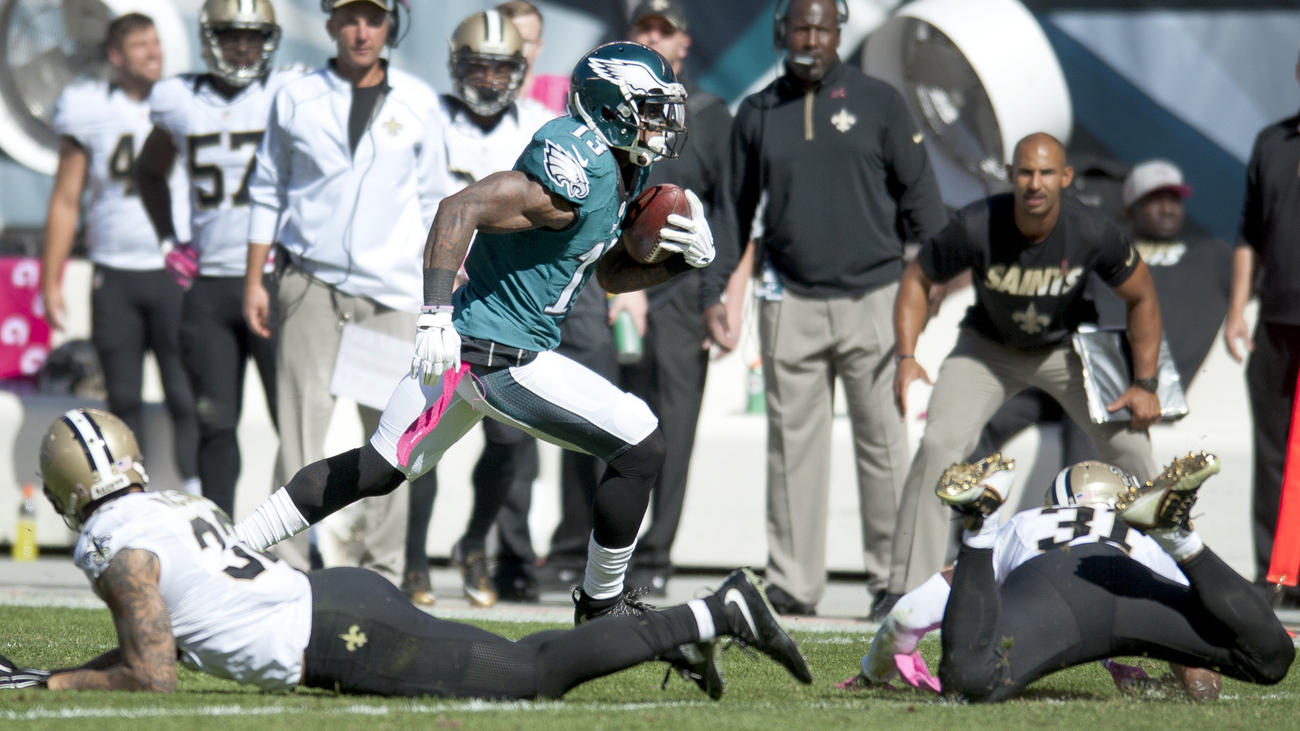 The Eagles offense scored 39 points gained over 500 yards, but they could have easily scored over 50, if they had taken advantage of all the opportunities they had against the poor Saints defense.  The Birds won the battle at the line of scrimmage and it allowed their playmakers to do their jobs.
The Birds offensive line finally showed and played well.  They did a good job opening holes on all the sweeps the Birds ran against the Saints.   They finally stopped the penetration into the backfield on those sweeps. The New Orleans run defense is one of the poorest in the NFL, so I don't think the Eagles offense can start thinking they have arrived.
Chip Kelly did change things up with some of his runs, by having the running back line up to the left of the quarterback, then take the handoff as if he's going to his right only to come back to his left behind a couple of pulling guards.  Defenses had gotten the book on the Eagles running game that they always ran the ball to the opposite side of where the running back lined up.
DeMarco Murray had some good runs and touched the football 27 times in the game.  He carried the ball 20 times for 83 yards and a touchdown, while also catching 7 passes for 37 yards.   Those aren't eye-popping stats and Murray didn't look great getting those stats. On one run, he fell to the ground after trying to move on a defenders.  To make it plain, Ryan Mathews is breathing down his neck.
Mathews continues to make a statement with his play, that he should be the main ball carrier on this football team.  He had 8 carries for 73 yards with a touchdown as well as three catches for 23 yards.  Mathews continues to exhibit his outstanding speed and explosiveness.
Sam Bradford started off like yesterday's game was going to be another disaster with the two drive-killing interceptions in the end zone in the first half.  In the second half he got together by completing 13 of 15 pass attempts with two touchdowns and zero interceptions.
Bradford spread his throws out to all of his receivers.  Josh Huff has four catches for 76 yards with one touchdown.  On his touchdown catch, two of the Saints defenders ran into each other as Huff ran uncontested into the end zone.  They need Huff to step up because rookie Nelson Agholor might miss some time with an injured ankle.
Tight ends Zach Ertz and Brent Celek combined for eight catches for 104 yards and a touchdown.  Jordan Matthews pulled down five passes for44 yards.  I want to see him settle down after a catch because he's going to get a taunting penalty in the future.  Riley Cooper chipped in with three catches for 32 yards.
The Birds had to have this game, so it was great that they were able to score 39 points, but they won't be playing against poor defenses each week and they will need to take advantage of their opportunities much better.