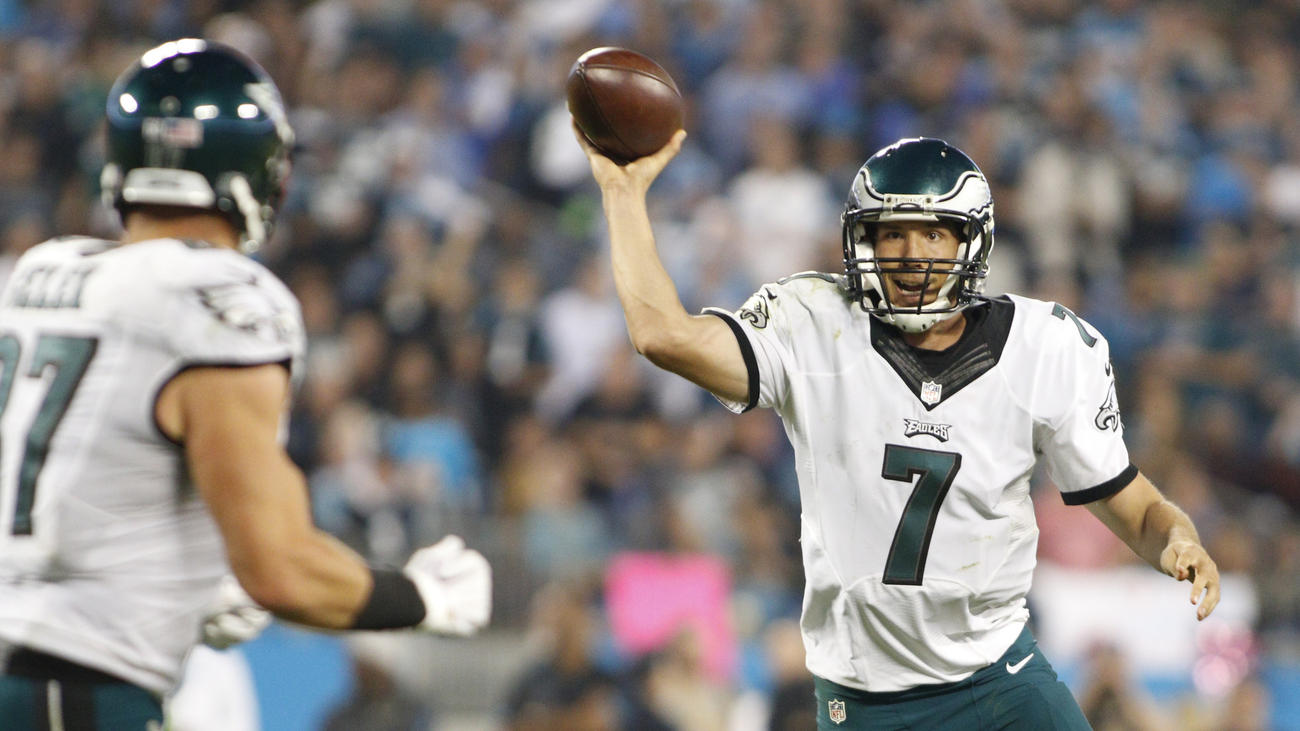 Eagles head coach Chip Kelly made quite a few moves during the offseason to try and improve his football team from a talent standpoint.  He may have improved their talent, but he disregarded an accepted rule in the NFL, that players need to play together for a while before they gel together and that's especially true on the offensive side of the football.
Kelly is suffering through that lesson right now, but he may be the one smiling at a later date, if the acquisitions of Sam Bradford, DeMarco Murray and Ryan Mathews yield a run deep in the playoffs.  They've got a quite a way to go to even start talking about getting above .500 giving themselves a good chance of making the playoffs.
This is not an excuse for losing, but it is a reality.  The history of the NFL has proven it.  You don't need to make so many changes in one off season. You can make a move here or a move there, but you can't overhaul a team and expect them to play well together in the next season.  Understand that I'm not taking the players off the hook for not doing their jobs, but something always seems to go wrong when guys are not used to playing with each other.
Back to offensive players playing together and getting used to each other.  The execution of an offense is dependent upon how well the players know each other and how well they know the offensive system they're playing.  If you look at some of the best quarterback/wide receiver combo's like Aaron Rodgers, Gordie Nelson and Randall Cobb.  They know what each other are thinking when they walk to the line of scrimmage and they see a certain defense.  You see much the same thing with Tom Brady, Ron Gronkowski and Julian Edelman.
They call it chemistry, but it takes many games or seasons to develop.  That's why you don't see good teams with winning records making as many trades of their core players at the same time.
Bradford is new to his teammates and Kelly's system  is new to him. After every game it's been I didn't know this was going to happen or I didn't know that was going to happen.  Familiarity is a good things in the NFL when you're talking about executing offensively.  It's especially true with the offensive linemen and how they work with each other and it's also especially true with the quarterback and his receivers.
The Eagles have a very good chance of having a good football team at the end of the season, but there's no guarantee that will be the case in October and November.  This could cost them a place in the playoffs, but we'll have to wait and see.
Case and point regarding what I'm talking about is the Eagles passing game.  For most of the season, Bradford has been off target with his throws.  He's failed to put some air under balls and gotten them picked off.  In other cases when he should zip the ball into the receiver, the throws have come up short.  The receivers confidence in him had to be on shaky ground at best.
Last night he was on target with most of his throws, but his receivers, Jordan Matthews, Miles Austin, Josh Huff, Darren Sproles and Zach Ertz were dropping ball after ball.  They were probably thinking more about whether Bradford was going to do his job rather than are they going to do theirs.
In the NFL, you have to be focused on doing your job and that alone.  If anything is more on your mind than doing your job, then you usually fail to do your job.  Last night the Eagles receivers didn't do their jobs.