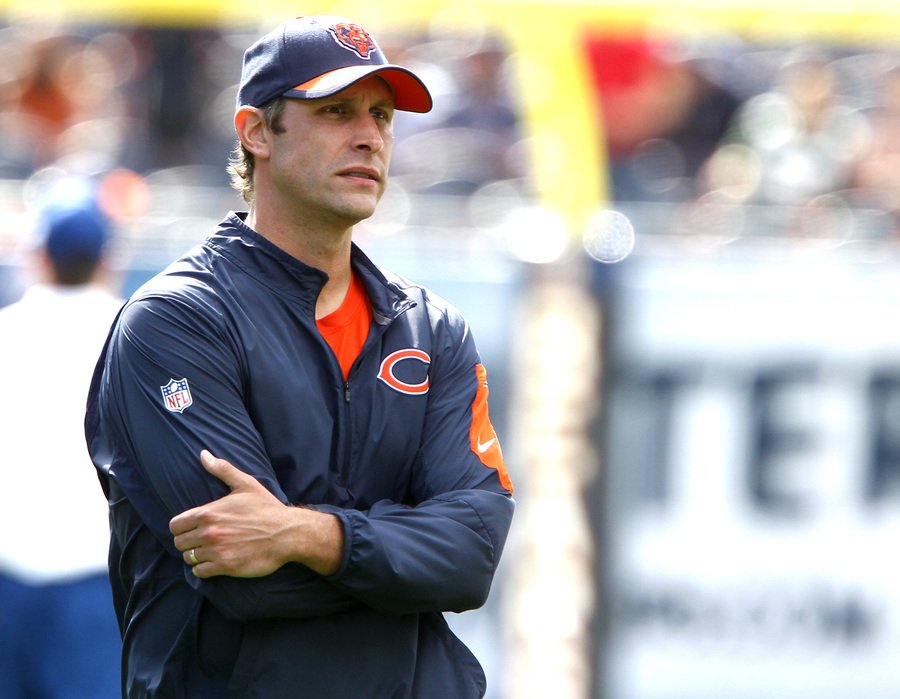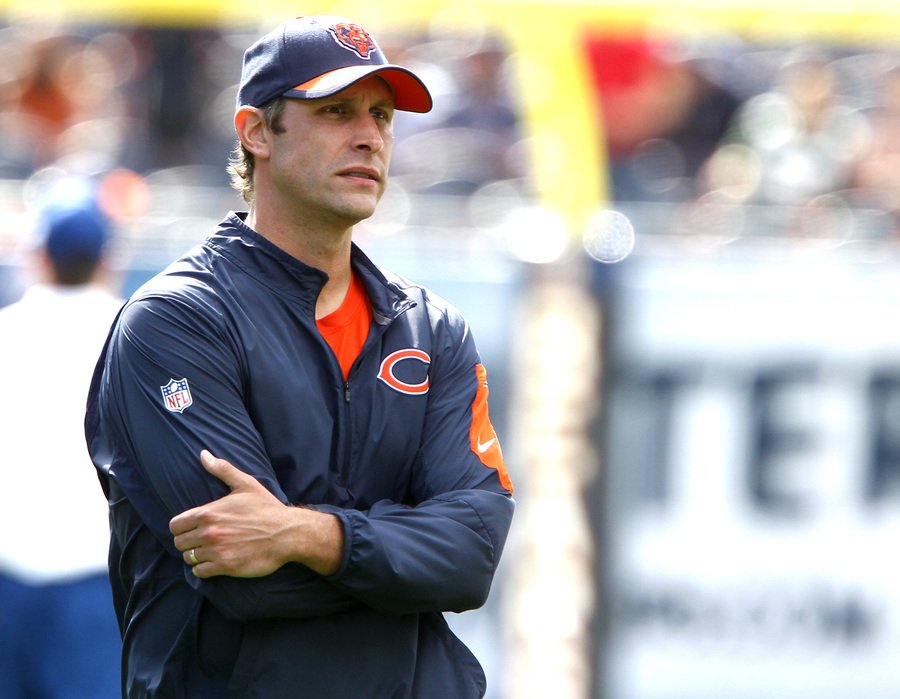 There's a report in the ProFootballTalk.com that the Eagles are eagerly pursuing Chicago Bears offensive coordinator Adam Gase. He's credited with getting Bears quarterback Jay Cutler back on track.  Gase worked with Peyton Manning in Denver for the previous three years.
Gase is regarded as a great quarterback coach.  Bringing him in to Philadelphia could mean the Eagles are prepared to commit to Sam Bradford for a period of time.  Eagles owner Jeffrey Lurie has made it clear for a long time that he believes in the importance of the Franchise Quarterback.
Former Eagles quarterback and current Kansas City Chiefs offensive coordinator Doug Pederson is considered a hot name.   Adam Schefter of ESPN names Pederson as a leading candidate of the Eagles job and you know he would come with the blessing of former Birds head coach Andy Reid.
Panthers defensive coordinator Sean McDermott who spent a decade with the Birds, is being talked about a great deal by the media.  He has been an outstanding defensive coordinator in Carolina under former Eagles linebacker coach Ron Rivera.  He grew up in the Philadelphia area, ran the Birds defense for a year under Andy Reid in what was an awful situation.  He would be a great candidate for the job, but Lurie may want an offensive coach to take over.
One of the reasons, the Birds owner gave for firing Chip Kelly when he did was so that the team could get a head start in finding a new head coach.  The extra is extremely valuable during this time of year.  After this final weekend of regular season, the Eagles will get the chance to interview assistant coaches of teams that have a bye week.  Teams like Cincinnati, Carolina, New England, and Arizona will off this week.
It won't matter with Gase because the Bears didn't make the playoffs, but assistant coaches like McDermott, Carolina's offensive coordinator Mike Shula, Cincinnati offensive coordinator Hue Jackson, New England offensive coordinator Josh McDaniels and defensive coordinator Matt Patricia will all be available to be interviewed during the bye week, but afterwards they could be off limits until after the Super Bowl.
If any of these guys are on the Eagles list, they will get the chance to talk to them this week.
Other coordinators which might be on the list are Bears defensive coordinator Vic Fangio, who did a great job in San Francisco, but was passed over when Jim Harbaugh was fired.  Greg Roman who was the offensive coordinator in San Francisco during their recent run, has done a nice job with young quarterback Tyrod Taylor.
Should the Birds be interested in taking another shot at a college coach, which I doubt strongly, Stanford's David Shaw is a highly regarded prospect, but it's very unlikely that he's ready to leave for the NFL.