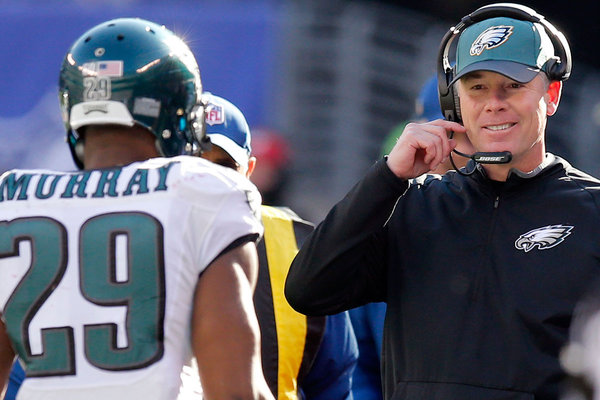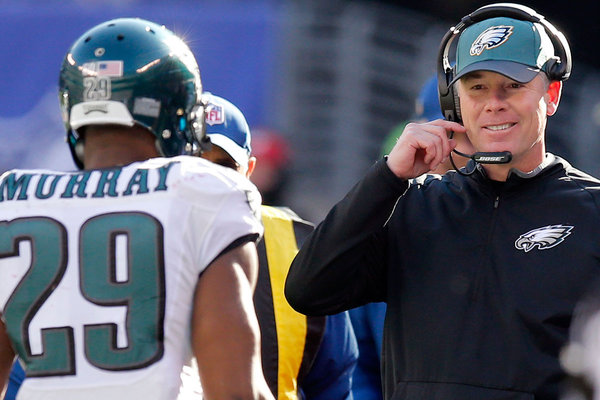 Predictably, Eagles Win Meaningless Game, Screw Up Draft Position
Chip Kelly may be out of the picture, but the painful shortsightedness that existed throughout his regime carried over for at least one more game.
With nothing to play for but a higher draft position and deciding key matchups next season, the Philadelphia Eagles predictably came out and played one of their best offensive games of the season, putting up 35 points in an effort to take down the New York Giants in the final game of the season.
Had the Eagles lost this game, they likely would have secured a top-10 pick. Unfortunately, the organization somehow felt there was more to gain by going all-out for one more win.
How did that mentality work out for the Eagles last season when they won the empty Week 17 finale against the Giants? Did that silly win carry over in any way to this season? Sure, it gave Chip Kelly the hollow right to claim that he had a 10-win season. But it pushed the Eagles farther down in the draft order, harming their ability to get closer to making a trade for the quarterback that they desperately needed.
Flash Of DeMarco Murray Offers Glimmer For Next Coach
Chip Kelly criminally misused DeMarco Murray this season.
On his first touch of the game, Murray took off for a 54-yard touchdown to give the Eagles an early lead.
Murray began the run from under center, and the downhill runner hit the hole provided for him quickly, and rumbled his way into the endzone.
Throughout the season, Kelly foolishly had Murray running slow-developing stretch plays out of the shotgun, which didn't give the running back much of a chance to succeed.
Murray's season in 2015 may turn out to be a blessing in disguise. Chip Kelly kindly decided to phase Murray out of the offense, greatly reducing the workload he took on. He can now serve as an attractive piece for the next head coach to build his offense around.
Ertz Finishes Breakout Season With Another Strong Effort
One of the only legitimate bright spots of the Eagles' offense this season has been the play of tight end Zach Ertz.
Ertz has emerged as one of the team's top weapons, finishing his season with a nine-catch effort for over 150 yards, including a 60-yard reception that set up the team's first touchdown.
Chip Kelly may have torn down the offense, and stripped it of most of its talent, but Zach Ertz is one of the few legitimate building blocks that the next staff will have to work with.
Quick Thoughts
Offense
Did I mention how thrilled I am that we don't have to put up with this gimmick offense anymore?
Pat Shurmur dialed back the fast-pace of the Eagles offense, resulting in a number of quality drives, including a 16-play march down the field resulting in a touchdown. Its quality over quantity, Chip.
Not too interested in a Sam Bradford return next year. Bradford isn't a god-awful quarterback, but he's not taking this team, or any other, on any kind of run in the playoffs. I wouldn't necessarily be upset if he came back, but if I had my choice I'd turn the page and purge a lot of the players that Chip Kelly brought in.
I can't figure out what went wrong for Nelson Agholor. When he gets the ball in his hands, he's got good shiftiness and elusiveness to his game, but for whatever reason the Eagles never seemed to make it a priority to get him regularly involved.
Not a fan of Jordan Matthews at all. Guy drops too many passes, and is the absolute king of garbage time stats and touchdowns, highlighted by today's two-score effort in a meaningless game.
Just four carries for 11 yards for Ryan Mathews. He really wasn't the same after the concussion.
Defense
The Eagles played a lot of 4-3 looks throughout the game.
Marcus Smith picked up a sack, rushing an end on a third down, forcing the Giants to kick a field goal on their second red zone possession of the day.
Smith also had a hurry on the final drive of the game, forcing Eli Manning into an incomplete pass. Both of Smith's plays were made with Smith rushing as a defensive end.
Kiko Alonso, shockingly, led the Eagles with nine tackles.
Connor Barwin picked up a sack and forced a fumble.
The Eagles held Odell Beckham to just 54 yards on five catches.
Final Thoughts
Even though the Eagles hurt their draft position, and earned themselves a road game in Seattle next season, I can't say I'm too bothered by today's outcome.
The victory this week was the firing of Chip Kelly.
No more smoothies. No more Tuesday practices. No more sports science. No more gimmick-offensive systems.
Jeffrey Lurie had enough foresight to recognize that the Eagles were a sinking ship under Chip Kelly, and that things weren't going to get much better next season.
The 2015 season is mercifully at an end. Now the focus shifts to the coaching search, and the shape that the team will take as it transforms from the flawed vision of Kelly, to the image of the new head coach.
Follow Denny Basens on Twitter, @DennyBasens