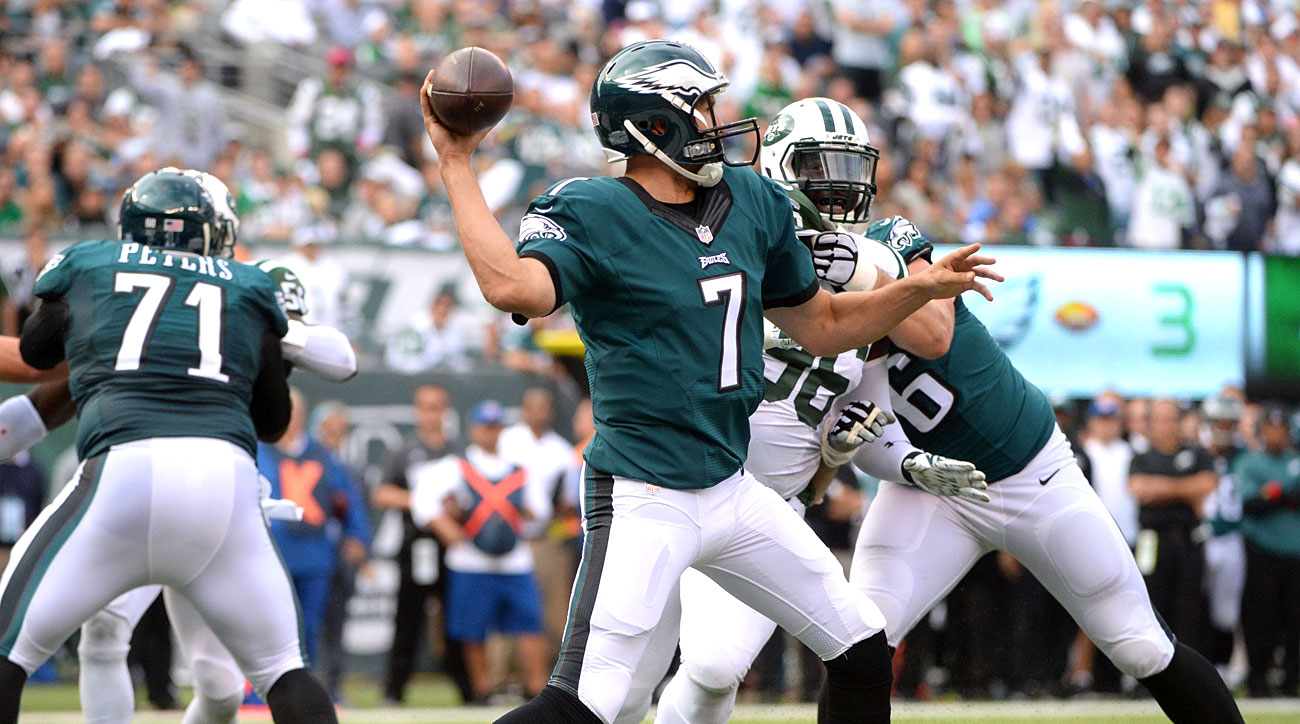 Sam Bradford : Go
No, I'm not interested at all in a return by Sam Bradford.
Is the Eagles' best option to win games in the short-term? Yes. He's far and away the best veteran option available.
However, there are a number of things at play that make me think a Bradford return is not in the team's best interest.
First, there are the salary cap implications. Keeping Bradford is going to be very costly. If the Eagles want to do a long-term deal, you're looking at a ballpark of $18 million per year for a guy who has more than a fair amount of questions surrounding him. A popular idea is to keep Bradford on the franchise tag, but that just makes the salary cap situation even worse, and likely forces the Eagles to cut ties with an extra quality veteran or two to make it work.
If the Eagles keep Bradford, they can say goodbye to the majority of their top defensive free agents. It will become much harder to keep guys like Walter Thurmond, Vinny Curry, Nolan Carroll, or work out extensions with key guys like Fletcher Cox or Bennie Logan with Bradford's projected cap number sucking up a good deal of the club's flexibility.
Then there's the injury factor. Bradford made it through 2015 without a major injury, but his history of durability remains a great risk.
And then there's the fact that I just don't think Bradford is a true franchise quarterback. When I look at the former Ram, I see a guy who week-to-week is simply happy just to be out on the field playing the game, rather than spending his time rehabbing from a surgery. He's never displayed the same killer-instinct that a lot of other good or great quarterbacks in this league possess.
Six years into his career, we're still waiting for Sam Bradford to win a big game. This is a guy who has only thrown for more than 20 touchdown passes once in his career, and has never surpassed the 4,000-yard mark. He's also not a guy who makes the players around him better, another must-have trait of a franchise quarterback.
To me, all of the signs surrounding Bradford spell out a guy who has "potential", but nothing more. He'll occasionally tease people with a picture-perfect throw here and there (see preseason game vs Green Bay), or a nice game here and there. But he's not a next-level guy.
Committing to Bradford would be to continue the same flawed, desperate line of thinking that the Eagles have applied to the quarterback position since Donovan McNabb was traded away. This team has tried the reclamation-project route so many times before, from Michael Vick, to Vince Young, to Mark Sanchez, to Bradford, and the end result is always the same: mediocrity.
This team needs to draft a quarterback, develop and build around him. No more shortcuts. No more quick-fixes. I'd much rather send Bradford on his way and use the salary cap room to extend Fletcher Cox and retain some of this team's defensive free agents.
Mark Sanchez: Go
I can't take another year of the "Sanchize".
He's terrible. I never bought into the idea that he was a great option as a backup quarterback. The guy is a heartbreaker, plain and simple. Sanchez will find his way to the most painful, back-breaking turnover imaginable.
Thad Lewis: Go
He was only on the roster because Chip Kelly couldn't find a better option for the third-string role. At best, maybe he's a guy that can develop a bit as a backup, but the ceiling is pretty low here.
Possible Veteran Addition: Chase Daniel
Kansas City's backup quarterback is set to be a free-agent after the season, and after having the spent the last three years working with Doug Pederson, could be a fit to come in here as a guy Pederson feels comfortable with to run the offense in the short-term while a younger quarterback is developed.
What I Think Will Happen
Obviously I'm not in love with this team's quarterback situation in the least, considering I would want to move on from all three guys on the roster.
Realistically though, I expect the Eagles to do everything they can to retain Bradford. They invested a lot to bring him here, and I think Jeffrey Lurie and Howie Roseman will still be enamored enough by his "potential" that they'll want to take another shot on him.
If something should fall through with Bradford, the team does have the "luxury" of having Sanchez under contract that they can fall back on.
I don't see both Bradford and Sanchez returning next year, however. If Bradford returns, I would very much expect the team to try to trade or release Sanchez because the team will need some additional salary relief, and he carries a high number for a backup. I do think Chase Daniel is a very real possibility to join the Eagles next season, either as a backup to Bradford or competition for Sanchez.
Follow Denny Basens on Twitter, @DennyBasens