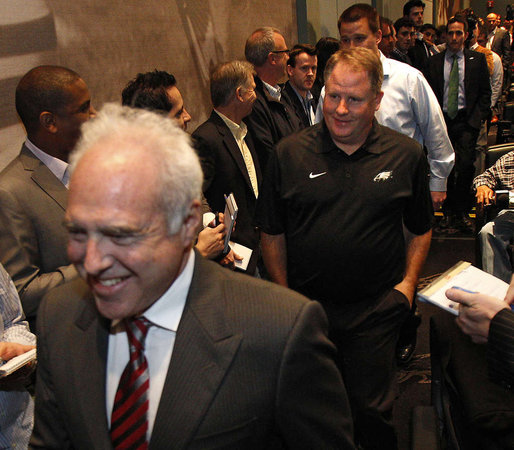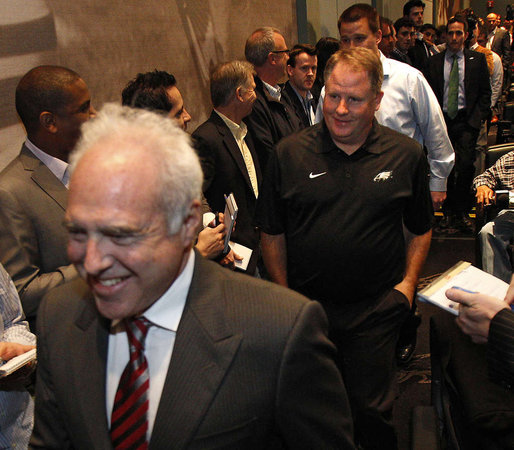 Former Eagles head coach Chip Kelly talked to the media yesterday at the NFL Owners meetings in Boca Roton, Florida.  Some of the comments he made were amazing because it shined a light on the dysfunction, which took place in the Birds front office after team Vice President Howie Roseman fired Kelly's friend and confidante Tom Gamble.
"I never really saw him, so I don't know what he did on a daily basis," Kelly said about Roseman, which is very unusual because normally a NFL team's player personnel evaluator (Kelly) would be working closely with the team's top contract negotiator (Roseman).
"I've never negotiated a contract in my life", Kelly crediting Roseman with negotiating the DeMarco Murray and Byron Maxwell contracts. "Never had a conversation with an agent in my life. I had nothing to do with any contracts."
Kelly also said he didn't demand anything from team owner Jeffrey Lurie or give him an ultimatum when they met after Gamble was shown the door by Roseman.
"I didn't like the way it was (direction of the organization), but I didn't ask for anything," Kelly said. "It's [Lurie's] organization and his team. He can run it however he wants to run it. It wasn't like I'm walking out the door."
Of course, there was an abrupt change of who was running the player personnel department, but Kelly says it was Lurie's idea to put him in charge of the team's player personnel.  The former Birds head coach admits that he was in charge of the 90-man roster at the beginning of training camp, as well the 53-man roster that suited up each week.  Despite that he still refuses to admit he was the team's defacto Player Personnel Boss.
Now we have heard Kelly's side of the story as well as Lurie's and Roseman's but we're still no closer to learning what really happened.