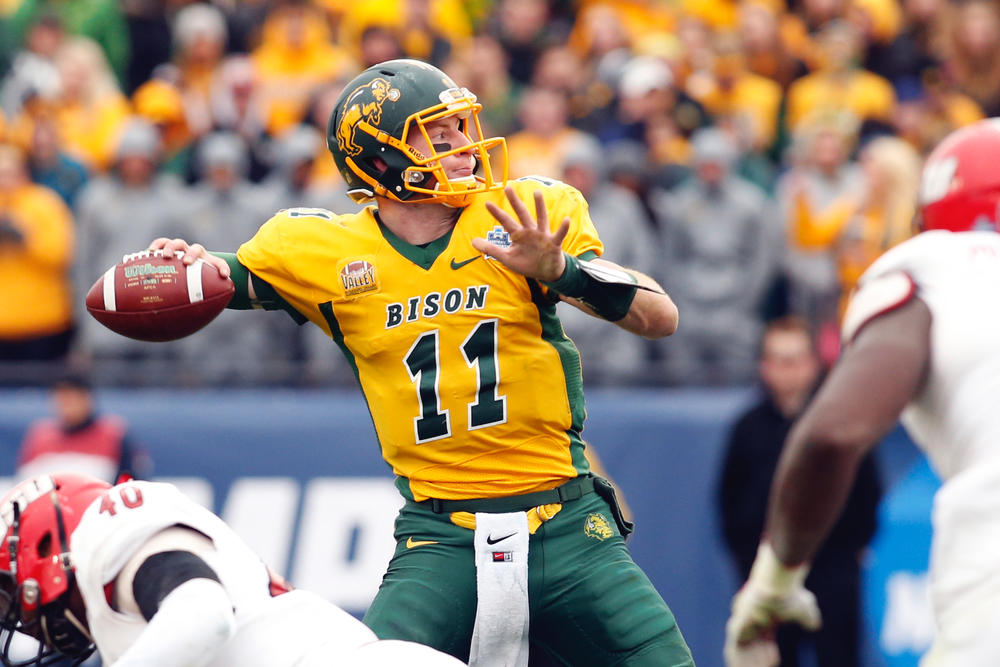 Jan 9, 2016; Frisco, TX, USA; North Dakota State Bison quarterback Carson Wentz (11) throws a pass in the third quarter against the Jacksonville State Gamecocks in the FCS Championship college football game at Toyota Stadium. North Dakota State won the championship 37-10. Mandatory Credit: Tim Heitman-USA TODAY Sports
It's Workout the Quarterbacks Week for the Eagles.  Ian Rapaport of NFL Network has reported that the Eagles brain trust are working out North Dakota State's quarterback Carson Wentz today and will be working out Memphis' Paxton Lynch tomorrow.
Rapaport adds that team owner Jeffrey Lurie will be taking the trips to the workouts as well.
On Monday, head coach Doug Pederson and VP of Football Operations Howie Roseman flew out to San Francisco and worked out University of California quarterback Jared Goff.
Is that knowledge shocking?  No, but it does tell us that the Eagles are doing their homework.  It would be a sign of incompetence for them to not have taken a good, long up close look at a promising young quarterback prospects like Wentz, Goff and Lynch.
There has been a report that the Birds took a look at Stanford's Kevin Hogan on Tuesday when they were in the Bay Area.
"I think it's important to evaluate all of them, especially those top three, four, five, six guys and really spend some time," Pederson said regarding working out quarterbacks. "Because you never know when somebody's a free agent and you got to exhaust all the positions. It's something that I look forward to doing here in the next couple of weeks."
"I won't go to the Pro Days as much.  I prefer the individual workouts where you can go a little more hands-on, one-on-one with a guy."
Wentz has some great numbers.   He's a big guy at 6'5″, 237 lbs and he can run.  He ran a 4.77 in the 40-yard dash at the combine.   Jon Gruden says he's the most NFL-ready quarterback that he's seen in a while.
Former Eagles John Middlekauf reported that Wentz had scored 40 out of 50 on the Wonderlic test, which is the team's way of testing the intelligence of the prospects.  40 is an excellent score.
Goff, who is not considered to be on the level of Wentz, when it comes to size and arm strength, had a 36 on the Wonderlic test.
Does this mean they're going to select a quarterback with the eighth pick in the draft?  Perhaps yes, perhaps no, but it does put that scenario in the minds of all of the teams, who are following them in the first round of the draft.  Putting ideas in the minds of those teams could wind up being a very good thing for the Eagles.
For instance, the Birds could have their eye on an offensive tackle like Michigan State's Jack Conklin, who they think is going to be around at the 13th, 14th, 15th or 16th pick.  Setting at the eight spot, they could work out a deal with one of those teams drafting in the teens and re-acquire a second round pick, in exchange for letting a team move up to eighth.  The team could move back to a position in the teens and gain that second round pick.