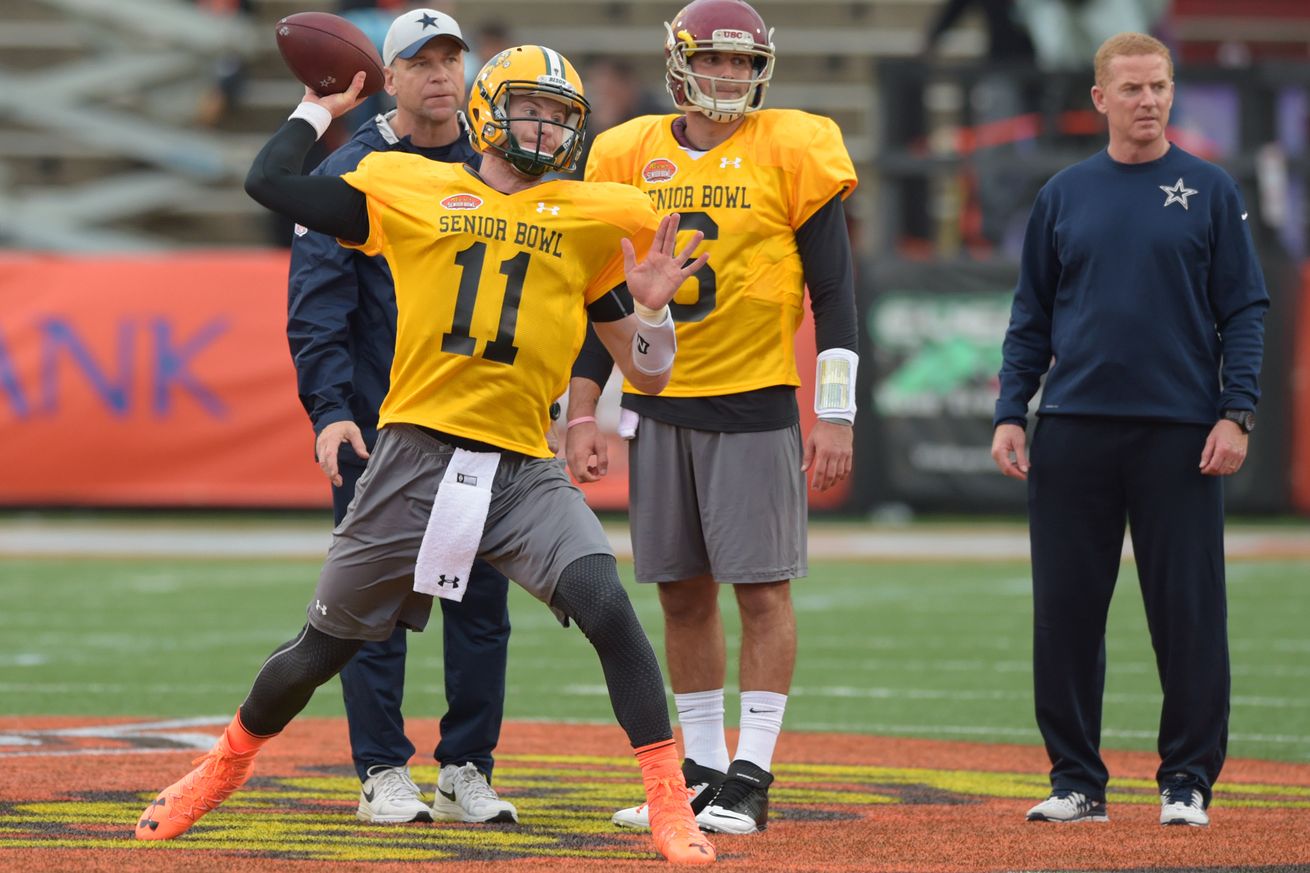 In a daring move,  Howie Roseman, Doug Pederson and the Eagles have moved up to the second pick in this year's NFL Draft by making a blockbuster trade with the Cleveland Browns.
The Eagles have given the Browns their first, third and fourth-round picks in this year's draft, as well as their first pick in 2017 and a second round pick in 2018.  The Eagles will get a pick up a fourth round pick on the 2017 draft.
Everybody thinks the Birds have moved up in order to draft Carson Wentz, but no one can be sure because it's not a definite that the Los Angeles Rams are going to draft Jared Goff.  He's been rumored to be their guy, but they haven't come out and said it.
I give the Eagles credit for moving up and getting a "Franchise Quarterback", but they had better be right about the guy they get, whether it's Wentz or Goff.  Pederson had no problem telling us earlier in the week that he thought both Wentz and Goff were "Franchise Quarterbacks".  He had better be right.
They're very close," Pederson said of Goff and Wentz. "Similar characteristics, good height, good size, smart, intelligent guys. Good arm strength, mobility."
Roseman: The only way to make this trade is to be comfortable with both of the quarterbacks at the top of the draft.

— Philadelphia Eagles (@Eagles) April 20, 2016
The future of Roseman and Pederson along with the franchise is tied to the quarterback they draft, which most likely be Wentz because Goff is expected to be the Rams target.
Make no mistake that this was a move by Howie with Pederson in agreement.   Roseman is the guy calling the shots, despite the fact that he's relying on others to point him in the right direction.
Sam Bradford has to know his days are numbered as a Philadelphia Eagle.  He will get the chance to show the rest of the league what he can do, then the Birds will be able to trade him for draft picks or good players.
Howie Roseman: Let me be clear, Sam Bradford is our starting quarterback. The #Eagles will not trade Bradford

— Philadelphia Eagles (@Eagles) April 20, 2016
If Bradford has a great year, it will put the Eagles in a great situation because teams will be climbing over each other to make a deal with them. Having too many good quarterbacks isn't a problem in the NFL.  On the other hand, if he doesn't play well, then it legitimates the Birds having moved up to get their "Franchise Quarterbacks".