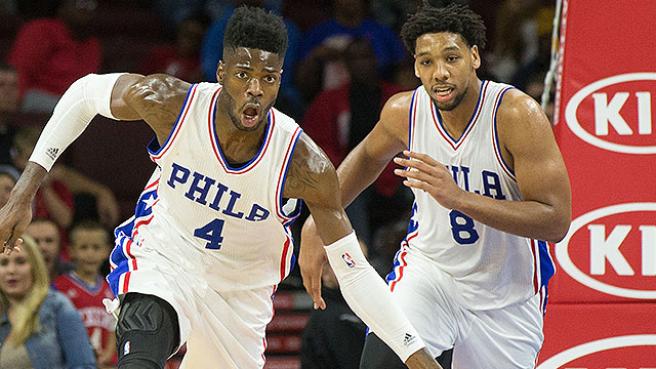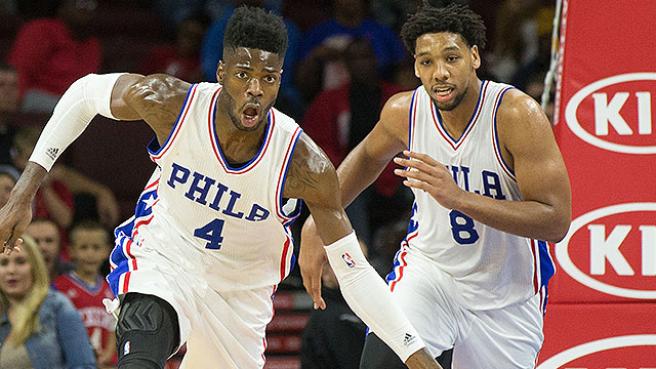 I think the Sixers did the right thing by not trading Nerlens Noel or Jahlil Okafor during this past week's draft.  I would have understood them trading Noel as compared to Okafor because Noel isn't much of a scorer.  Okafor has the potential to be a 20-point a game scorer.
Noel has the potential to be both an outstanding rebounder and defender.  He may never be a prolific scorer, but rebounding and playing defense are extremely valuable to a good team.  He's also a very good athlete who can run the floor and fill the lanes on a fast break and of course he can finish around the rim.
Okafor is only 20-years old and he already has the footwork and scoring ability to force NBA teams to double him in the post.  While in college, he showed he has the ability to pass out of the post if he is doubled.  I could see a good NBA team running a good portion of their offense through him.   Remembers he's only 20-years old, his potential is enormous, so you only trade him for a great asset of some kind.
In this situation the Sixers did the right thing by holding onto their young big men because the offers they were getting weren't any where near being good enough to give up a talented young big man in the NBA.
Another huge reason they need to keep Okafor and Noel is because we won't know the real deal about Joel Embiid until he plays through the 2016-17 season.  I've said numerous times that "Big man and Big feet don't go well together".  We all know the stories of Andrew Bynum and how his bad feet forced him to end his career prematurely.
What about about Yao Ming and the quick end to his career because of foot problems?  What about Bill Walton?  Big men and bad feet don't work well together.
Although, Embiid has been working out and having no problems with his feet that we know of, he's still in jeopardy of re-injuring his feet when he starts stressing them during a season-long 2016-17 schedule.  It's better to be safe than sorry.
The Sixers need to continue to develop Okafor and Noel, so that regardless of when they decide Embiid's foot problems are over they will be able to deal them for valuable trade package.  Okafor needs to improve his defense and rebounding.  I would like to see him get stronger and in better shape.  He needs to learn how to play good team defense.
Noel needs to develop his offensive game, so that he can consistently connect on short jumpers, as well as scoring out of the post with his back to the basket.